Tucker Carlson Tones Down Pro-Russia Rhetoric After Appearing on Russian TV
Tucker Carlson is taking a decidedly muted tone when addressing Russia's war with Ukraine, just a day after being featured on Russian TV for his praise of Vladimir Putin.
The top-rated Fox News personality on Thursday called Russia's invasion of Ukraine a "tragedy" and placed the blame for the conflict squarely on Putin. The remarks by Carlson are markedly different from his Tuesday monologue sympathetic of Russia's authoritarian ruler that was later picked up by RT, an international television network controlled and funded by the Russian government.
"I don't know anybody who thinks the invasion of Ukraine is a good thing," Carlson said on Thursday, speaking to guest independent journalist Glenn Greenwald.
Carlson earlier in the program said that "war always is a tragedy. And the closer you get to it, the more horrifying it seems."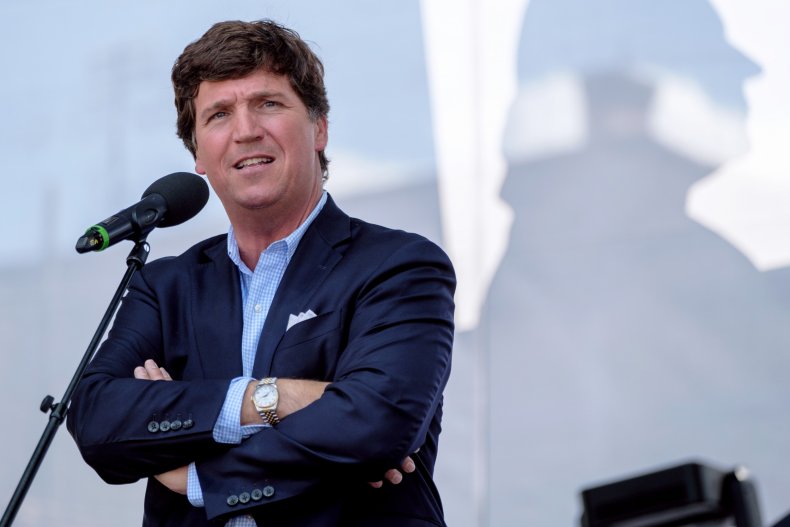 "It's the ugliest thing that men do ever," continued Carlson. "Vladimir Putin started this war. So whatever the context of the decision that he made, he did it, he fired the first shots, he is to blame for what we're seeing tonight in Ukraine."
Just days earlier as Russia was preparing to invade Ukraine, Carlson questioned why so many in the U.S. have a negative opinion of Putin.
"Has Putin ever called me a racist?" Carlson asked on Tuesday. "Has he threatened to get me fired for disagreeing with him?" Carlson rhetorically asked. "Has he shipped every middle-class job in my town to Russia? Did he manufacture a worldwide pandemic?"
"Vladimir Putin didn't do any of that, so why does permanent Washington hate him so much?" Carlson asked.
The segment was picked up by RT and other Russian news services. Sputnik News referenced Carlson's monologue in an article asserting that economic sanctions imposed on Russia for the invasion would harm the American people economically.
A clip of the segment Carlson posted to Twitter has been viewed over 736,000 times and shared over 8,000 times as of Thursday evening.
Carlson on Wednesday, just as the invasion began, called Ukraine "a pure client state of the United States State Department."
In the run-up to the conflict, Carlson defended Putin, asking in January, "Why is it disloyal to side with Russia but loyal to side with Ukraine?" Earlier this month, Carlson asked if it was even worth it to the U.S. to continue supporting Ukraine, suggesting President Joe Biden was looking for a distraction to his domestic challenges.
In a tweet posted Wednesday, retired Lieutenant Colonel Alexander Vindman called Carlson "TuckyoRose," riffing on Tokyo Rose, a code name used by American troops during World War II to refer to English-language broadcasters who spread Japanese propaganda and attempted to demoralize Allied soldiers.
Newsweek has reached out to Fox News for comment.
Update (2/24, 10:30 p.m.): This story has been updated to include additional information about Carlson's previous remarks.
This is a developing story and will be updated with more information.