Tucker Carlson Says 'Exhausted' Trump Faces Losing 2020 Election
Tucker Carlson warned his viewers on Thursday night that an "exhausted" President Donald Trump faced losing the election amid nationwide incidents of unrest and the continued spread of the coronavirus.
The Fox News host said it would be "tough" for Trump to get re-elected if "fundamental facts" about the state of the U.S. didn't change soon, adding that the president "did not act as decisively" as many of his supporters would have hoped.
He also took aim at White House staffers, claiming some had been "actively disloyal" as the country witnessed nationwide protests against police brutality as well as instances of violence.
At the start of his opening monologue, Carlson said: "Not many people are saying it out loud on the right, but the fact is President Trump could well lose this election. In fact, unless fundamental facts change soon, it could be tough for him to be re-elected.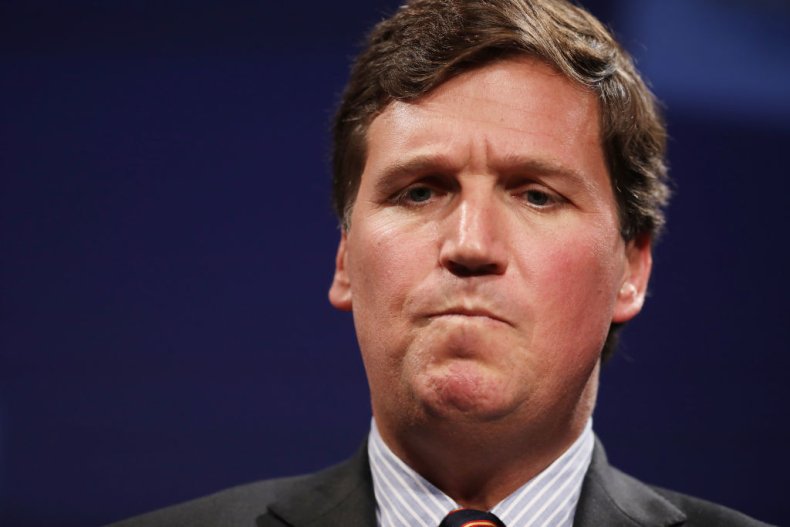 "Now we're fully aware that virtually no-one watching the show tonight wants to hear that, but it's true. And key people around the president know that it's true. They've seen the numbers, they're concerned."
Arguing that historians would "marvel" that Trump lost electoral ground amid a pandemic and mass riots, the Fox News host later added: "Trump's gut-level instincts were on the side of order, and tradition, and stability. And they still are.
"Yet, when widespread looting and disorder arrived, the president did not act as decisively as many had hoped. He said little, he did less. Some voters felt undefended, some turned against him.
"Why did this happen? Well there are many reasons. Trump was exhausted for one thing after three years of defending himself against Russiagate: the most elaborate and effective hoax in American history."
Carlson also pointed the finger of blame at some Trump administration staffers, saying they had not done very much to help.
"Some of them were actively disloyal; most were just confused. They were not prepared for Chinese viruses or burning cities," he said.
"But the administrations main problems were conceptual. Few seemed to understand what was happening. Their first mistake was forgetting the primary rule of Washington: in an election year, everything that happens is about the election."
Newsweek has contacted the White House for comment and will update this article with any response.
Carlson warned his viewers that Trump faced defeat in November's presidential election as a series of polls showed the commander-in-chief trailing his Democratic challenger Joe Biden.
According to one survey published by The New York Times and Siena College earlier this week, Biden was leading Trump by 50 percent to 36 percent support among voters.
An average of national election polls published by FiveThirtyEight shows a smaller 9-point gap standing between the candidates, with 50.6 percent backing Biden and 41.1 percent opting for the president.
At the time of writing, an election forecast model run by The Economist estimates that Biden has around a 9-in-10, or an 89 percent chance of winning the presidency later this year.