Tucker Carlson Urges Viewers to Oppose Masks as Child Abuse: 'Call the Police'
Fox News host Tucker Carlson has urged his viewers to oppose the outdoor wearing of face masks by children as child abuse. He told viewers to call the police or Child Protective Services if they see a masked child outdoors.
On the Monday night's Tucker Carlson Tonight, the host referenced statements made by Dr. Mary Harrow. Harrow, a general practitioner, told the Colorado Springs School District 11 Board of Education last week that face masks can "cause low oxygen and high carbon dioxide levels, shortness of breath, toxicity, inflammation, increased stress hormones and sugar in the body, and create fear, anxiety, headaches, compromised cognitive performance and other problems."
Commenting on this, Carlson said: "Your response when you see children wearing masks as they play should be no different from your response to seeing someone beat a kid at Walmart. Call the police. Immediately contact Child Protective Services. Keep calling until someone arrives. What you're looking at is abuse it's child abuse and you are morally obligated to attempt to prevent it."
Carlson compared forcing school children to wear masks outside to adults punching children in the face. He later compared people wearing face masks after being vaccinated to grown men who expose themselves in public.
"That's disgusting. Put it away, please," Carlson said.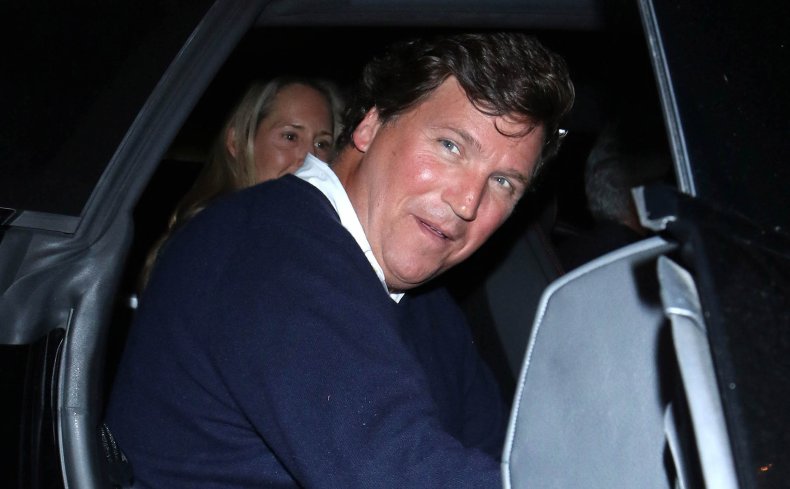 To support his position, Carlson referenced Ari and Avital Eisenberg. The Eisenbergs are a New Jersey couple who were temporarily removed from a Spirit Airlines flight in early April over their 2-year-old daughter not wearing a mask. An airline spokesperson later claimed that the child's parents had also not been wearing masks, but the Eisenbergs denied the allegation.
Carlson then referenced a state of Michigan order requiring children as young as two to wear facemasks in public spaces and places like camps or daycare centers. He also noted that most Colorado school children are required to wear masks in schools, even when playing sports.
He cited an April 2020 Chinese study of 318 COVID-19 transmissions, which found that just one possibly occurred outdoors. He also noted a November 2020 review by the Journal of Infectious Diseases, examining all existing peer-reviewed research on outdoor COVID-19 transmissions. It found that the odds of contracting the coronavirus outdoors was nearly 19 times lower than the risk of contracting it inside.
Other disease experts have told the BBC that COVID-19 transmission outdoors is more likely in crowds, when talking face-to-face with another person and when someone coughs or sneezes nearby.
Carlson called masks symbols of "political obedience" that strip people of individuality, turn them into drones and isolate them by depriving them of intimacy and human contact. Additionally, he pointed out that masks used to be reserved for Halloween, "Klansmen and armed robbers."
"At this point, there is no scientific justification for any mask mandate anywhere," Carlson said. "It's that simple."
Newsweek contacted Fox News for comment.