During a July 6 segment on his Fox News show, Tucker Carlson suggested the idea of putting cameras in school classrooms in an attempt to monitor for teachers who may be introducing the concepts of critical race theory to students. Patrick Kearney, a middle school band director in Iowa, welcomed the idea.
In an essay he published on his blog, Kearney said, "Let's make this happen" to Carlson's plan, though he did so not as an endorsement of trying to catch educators in the act of doing something they supposedly shouldn't be doing. Instead, he wrote Carlson's "'spy cameras' will see teachers and students working together to be better every day."
Kearney spoke with Newsweek on Monday, and he went into more detail about what prompted him to write the essay, as well as reiterated that it wasn't written tongue in cheek. He said of teachers, "We are very proud of the work we do, very proud of the students we teach, and more than willing to defend what we do in the classroom."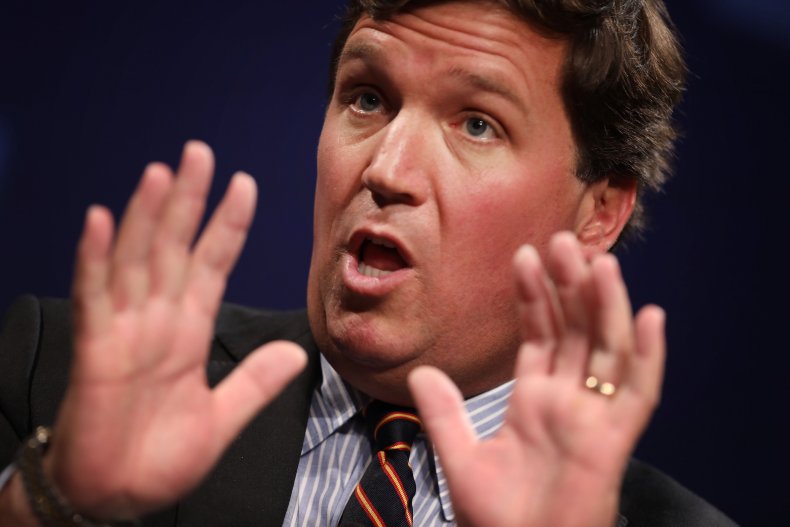 In his July 6 show, Carlson said polls show many Americans do not support the teaching of critical race theory, and he called the theory during the segment "B.S." and "civilization-ending poison." Kearney took offense to such language, writing that "(i)f critical race theory involves talking honestly about American history, I'm probably doing that sometimes."
Kearney also contended that Carlson doesn't fully grasp the concepts of the theory. He told Newsweek that CRT is "a buzzword and Tucker has come across it. It feels like a wedge issue that he can exploit."
Carlson suggested on his show that CRT might be widely taught to young students. He said, "It's everywhere. How widespread is it, well we can't really be sure until we finally get cameras in the classroom as we put them on the chest of police officers, until we finally get a civilian review board in every town in America to oversee the people teaching your children, forming their minds, and let's hope we get both of those very soon."
Until that happens, Carlson claimed, "we can't know exactly how widespread this is.… "
Kearney noted to Newsweek that CRT is quite complicated—"an advanced collegiate concept"—that most teachers would likely struggle to be able to explain to young students. Which is why, Kearney said, "(y)ou can't find anyone who is teaching critical race theory in the K-12 schools."
Kearney said that most of the reactions he's received thus far from the essay have been positive. Many notes he's gotten have been from teachers, and not just from the United States, but also from Canada and even one from Australia.
"It's interesting that it doesn't seem to be entirely a problem or a concern just in our country; it seems to be going on in other places as well," he said of teachers being threatened about the idea they may introduce race as a topic of discussion.
Most of the people who have written him also support the idea of cameras in classrooms. Kearney said he's not entirely surprised by this fact, but he noted it may have been different pre-pandemic. In the past year, though, he said most teachers have been teaching at least part of the time on Zoom, and they've therefore become somewhat accustomed to some level of being monitored.
Kearney also wrote that he would be interested in Carlson explaining the logistics of his proposition. He wrote in his essay, "In a world where school districts are struggling to recruit and maintain teachers, who is going to man your 'citizen review boards' (setting aside the fact that public school teachers already answer to publicly elected school boards)? For instance, in my school district I sense you would need well over 500 cameras going every day. Who watches those 500 screens 10 hours a day (I want you watching my 7 am jazz band and my after school lessons)?"
Should there be a way to make it happen, though, Kearney wrote that only thing the "citizen review boards" would only find in "America's classrooms is teaching and learning."
Talking with Newsweek, Kearney shared an even more personal take.
"Nobody goes into teaching to get rich. Nobody goes into teaching to promote some wild social agenda," he said. "We just want kids to be better people. I have conservative students, and I have liberal students. I'm hopeful that all of them learn to express themselves better."