A contributor to Fox News ripped Tucker Carlson's claim that white supremacy is a "hoax" by suggesting that Carlson himself might be a white supremacist.
Mo Elleithee, who has served as a spokesman for the Democratic National Committee and Hillary Clinton, laid out his logic in a tweet about Carlson's monologue from Brian Stelter, host of CNN's Reliable Sources.
"You know who else believes white supremacy is not a real problem?" Elleithee tweeted. "White supremacists."
Elleithee, executive director of Georgetown's Institute of Politics and Public Service, became a political commentator on Fox News in 2016.
On Tuesday—three days after a gunman who allegedly wrote a manifesto denouncing an "invasion of Hispanics" killed 22 people—Carlson described white supremacy as a "hoax" and "not a real problem."
"If you were to assemble a list, a hierarchy of concerns, problems this country has, where would white supremacy be on the list?" Carlson said on Tucker Carlson Tonight. "Right up there with Russia probably. It's actually not a real problem in America."
Carlson continued: "It's a hoax, just like the Russia hoax. It's a conspiracy theory used to divide the country and keep a hold on power."
The Fox News host claimed "the whole thing is a lie" and that "the combined membership of every white supremacist organization in this country would be able to fit inside a college football stadium."
He added that he's never met anyone who ascribes to white supremacy.
"I don't—I mean, they are making this up, and it's a talking point which they are using to help them in this election cycle, obviously," he said, "Because Russia died."
Carlson is a fierce defender of President Trump and has pushed back on Democrats' accusations that Trump's anti-immigrant rhetoric might have emboldened the El Paso shooter.
On Tuesday night, CNN host Don Lemon replayed the Tucker Carlson Tonight segment and laughed in disbelief.
"Wow. Hold on a second, was that not the dumbest thing you've ever heard?" Lemon said. "Listen, I don't know how anybody could say that considering what happened this weekend." Lemon added that Carlson's statement "directly contradicts what the FBI director said."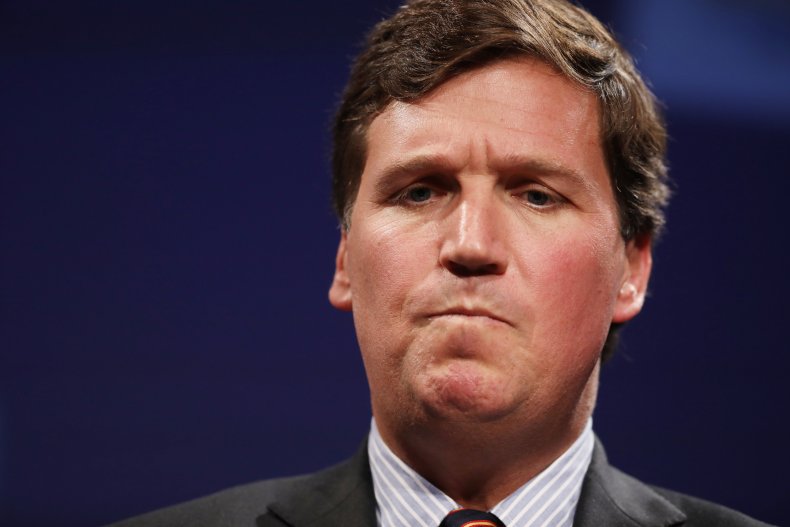 On Wednesday morning #FireTuckerCarlson and #BoycottTuckerCarlson were trending on Twitter as users attacked Carlson's claim.
Conservative radio host Joe Walsh, a former Congressman, tweeted, "What happened to you Tucker?"
Anti-racism activist Tim Wise cited examples to undercut Carlson's opinion.
"So, those boys in Charlottesville were figments of our imagination? Dylann Roof isn't real?" wrote Wise, author of White Like Me: Reflections on Race From a Privileged Son "The HUNDREDS killed in white racist terror attacks in past 5 years didn't die? On behalf of their victims: f*** u very much."