Tucker Carlson Compares Lester Holt 'Whiteface' NBC Critics to Megyn Kelly Blackface as 'Self-Righteous'
Fox News host Tucker Carlson compared a "whiteface" Halloween costume worn by NBC News host Lester Holt to that of recently fired "Today" show host Megyn Kelly, deeming all people offended as "self-righteous."
Using his typically hyperbolic primetime news show to attack politically correct behavior, Carlson and guest Mark Steyn both ridiculed NBC's seemingly hypocritical reactions toward racism. Carlson lamented what he called "the America of cable news and social media," of which he is a leading figure, for making "snap judgments on the basis of incomplete evidence in order to implicate their political opponents in crimes they did not commit."
Referencing a years-old joke by Hillary Clinton, Steyn said, "At a certain point, we have to let Hillary survive her 'they all look alike joke' because the price of living in a world where one little remark absolutely destroys you, the cure is worse than the disease."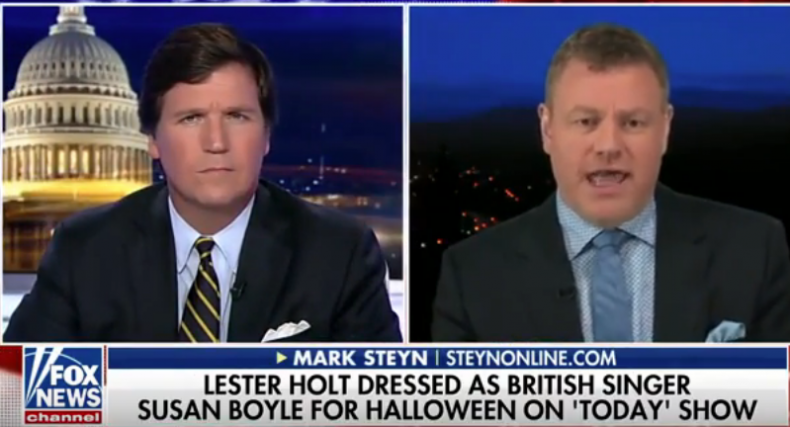 Carlson added, "I know. And I wonder if all these people encouraging the mob on these cable channels ever think about the country they're creating."
Carlson went on to ridicule NBC News host Lester Holt dressing up as Scottish singer Susan Boyle on a past "Today" show episode. Several photos from the shows past Halloween episodes have several allegedly offensive outfits, including disgraced former host Matt Lauer in a bikini and fake breasts.
"I would like Lester Holt to do the news as Susan Boyle for a week. We should all get over this stuff," said Steyn.
"Take a look very quickly, this horrifying image," Carlson interjected. "This is CNN's [sic] Lester Holt, of course of NBC, dressed up as Susan Boyle, the singer. He has changed his appearance in a way that is now very controversial. He wore that costume for a Halloween episode of the 'Today' show, Megyn Kelly of course was just fired for suggesting that it wasn't always bad to dress up as a member of an opposite race."
Carlson continued, "Look, I just want to be clear, I don't think there's an equivalence between the two. There is a long history of one and not of the other. But I also wonder, I don't think, there are like five people in America who would be deeply offended by what Lester Holt did. I'm not offended by it. Maybe though if you dress like that you should be slightly less self-righteous in the face of other people's transgressions."
Steyn suggested there is an offensive element of "Susan Boyle–aphobia in that whiteface is offensive to northern English women of a certain age. But the fact is again, it's not about anything real."