Tucker Carlson's Criticisms of Trump's Handling of Iran Crisis Scores Highest Ever 8PM Rating
Fox News host Tucker Carlson strong opposition to President Donald Trump's decision to kill top Iranian General Qassem Soleimani last week earned his eponymous show its highest rating ever.
On Tuesday evening, Fox News drew its biggest audience since Trump's State of the Union address last February. Tucker Carlson Tonight—described by the network as an "hour of spirited debate and powerful reporting"—was among the network's top performers, with 5.7 million total viewers, 1.39 million of which included the key advertising demographic of adults between the ages of 25 and 54, according to Nielsen Media Research. The rating amounts to the biggest figure the show has ever seen in the 8 p.m. slot.
Fox News' Hannity, however, beat Carlson's rating with 5.74 million overall viewers and 1.42 million in the 25-54-year-old adult demographic.
Newsweek reached out to Fox News for comment but did not receive a response in time for publication.
Carlson, during the show, harshly condemned Trump for escalating war tensions between the U.S. and Iran through his decision to strike Soleimani. As the events were still unfolding, Carlson asserted that the move was made with little debate and could result in America "lumbering" into war.
"There's been virtually no debate or even discussion about this, but America appears to be lumbering towards a new Middle East war. We have to say, it's one that officials in Washington wanted for decades," he said. "Disgraced National Security Adviser John Bolton has made it his life's mission to start a war with Iran and Bolton might be getting his wish."
"Should you be happy about that?" Carlson added. "Well, the last time we took John Bolton's advice in the region, Iran became far more powerful than it was before."
The controversial Fox News host continued to question the Trump administration's decisions regarding Iran on his show in the days following. Last week, Carlson suggested it was "no exaggeration" to believe that America could be engaged in a military conflict with Iran by the time his show airs next. "From Iran's perspective, we're already there. If Iranian forces killed the chairman of our joint chiefs of staff, for example, would you consider it an act of war?" he said.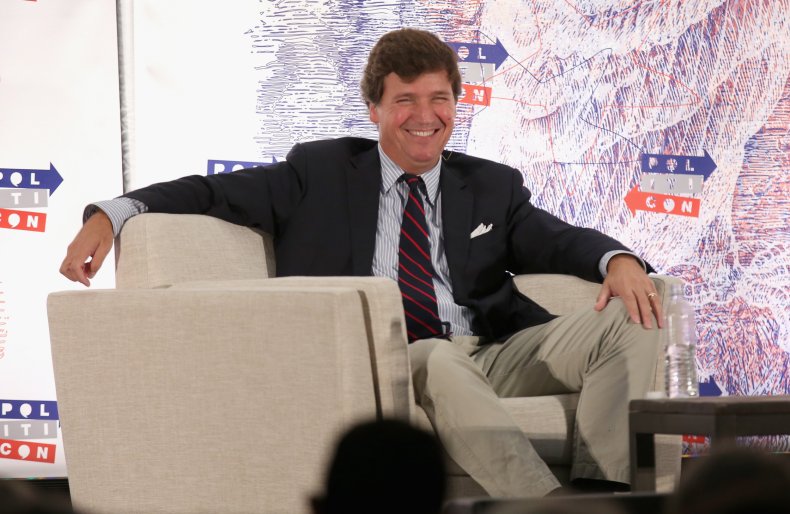 Earlier this week, Carlson called out his own colleagues for quickly believing U.S. intelligence's assertion that the risk of terrorism from Iran has increased prior to Soleimani's death.
"Seems like about 20 minutes ago, we were denouncing these people as the deep state... Now for some reason, we do trust them, implicitly and completely," he said. "It's harder to get rich and powerful during peacetime, so our leaders have a built-in bias for war."
"It's hard to remember now, but as recently as last week, people didn't consider Iran an imminent threat," Carlson continued, before criticizing Secretary of State Mike Pompeo's justification for the airstrike.
Carlson's not the only right-leaning public figure to have criticized the administration's latest efforts in Iran. Following an hour-long closed-door intelligence briefing on Iran Wednesday, two GOP Senators—Rand Paul and Mike Lee—announced they are now supporting a resolution to limit Trump's military powers. Lee also told reporters that the meeting was the "worst briefing I've seen, at least on a military issue."