Marine Corps Master Gunnery Sergeant Scott H. Stalker, who currently serves as the Command Senior Enlisted Leader (CSEL) of the U.S. Space Command, publicly called out Fox News' Tucker Carlson, after the host made sexist remarks about pregnant women serving in the military.
During his Tuesday evening Fox News show, Carlson mocked the military for its policies regarding pregnant female service members.
"So we've got new hairstyles and maternity flight suits," Carlson said. "Pregnant women are going to fight our wars. It's a mockery of the U.S. military."
The controversial host's remarks drew substantial criticism from senior military officials. Stalker weighed in with his own thoughts in a video posted to his official Twitter account on Thursday. He stressed that Carlson's viewpoint was based on no military experience.
"I don't watch a lot of drama TV. I understand some comments were made yesterday and I watched the clip that Mr. Carlson produced as he referred to pregnant women in the military," the military officer said. "I'll remind everyone that his opinion, which he has a right to, is based off of actually zero days of service in the armed forces."
Stalker went on to offer his opinion, which he noted was based off of 28 years in military service.
"Let me tell where he's wrong. Those decisions were made by medical professionals, by commanders and our civilian leadership," he said.
Stalker explained that giving women service-members adequate maternity leave actually helped them recover and become stronger before returning to active duty. He said it "actually makes us a more lethal and ready and fit force."
"The bottom line is that we value women in our armed forces," Stalker added.
Concluding the video, Stalker asserted once again that viewers should remember that the opinions "were made by an individual who has never served a day in his life."
"Let's remember that's all about drama TV," he said.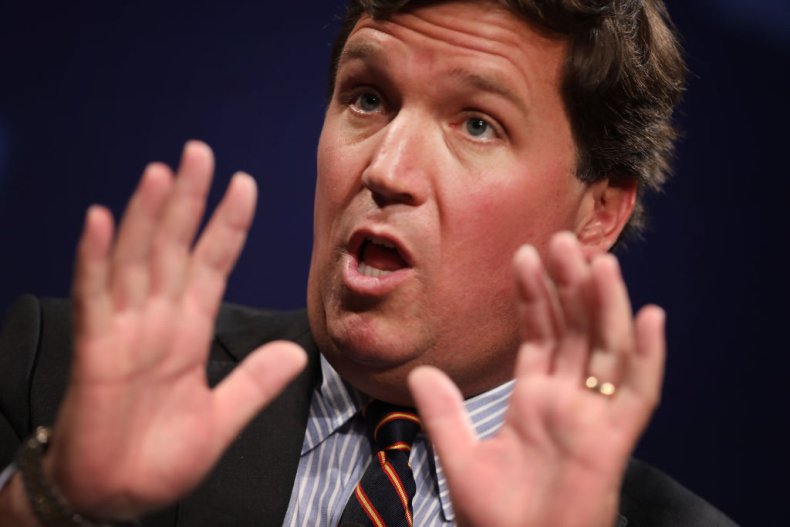 Pentagon spokesperson John Kirby told reporters on Thursday that Secretary of Defense Lloyd Austin shared the "revulsion" of many at Carlson's sexist remarks. Kirby added that the military still has "a lot of work to do" to become "more inclusive, more respectful of everyone—especially women."
Four-star General Paul E. Funk of the U.S. Army tweeted that: "Thousands of women serve honorably every day around the globe. They are beacons of freedom and they prove Carlson wrong through determination and dedication. We are fortunate they serve with us."
Major General Patrick Donahoe of the U.S. Army shared a video of a re-enlistment ceremony for a female service member. He wrote: "This is me, yesterday, conducting a re-enlistment for one of the tens of thousands of women who serve in our Army. Just a reminder that @TuckerCarlson couldn't be more wrong."
Although Carlson has drawn substantial controversy in recent years, the opinion host remains to be one of the most popular opinion hosts on television. Last month, Carlson's show was the second-most watch on cable—only trailing MSNBC's The Rachel Maddow Show.
Newsweek reached out to Fox News for comment, but did not immediately receive a response.