Tucson Mayor Says Police Tribute Organizers Have Ties to White Supremacy
Tucson, Arizona Mayor Regina Romero said Thursday that a request to paint a tribute to law enforcement came from an individual with alleged connections to white supremacists.
Organizers submitted a request to paint a thin blue line in front of the Tucson Police Department as a show of support for law enforcement officers. Many regard the symbol of a thin blue line as being representative of a sign of comradery between police officers across the country. However, some have come to view the mark as a totem of police brutality.
Mayor Romero said her office became aware of the request Thursday but said that the painting would become a point of division within Tucson residents. "I unequivocally disavow the effort that serves to incite and divide our community, and minimizes the Black Lives Matter movement," Romero said. "This request should have never been approved and I am calling on the City Manager to immediately reverse his decision."
Romero said that requests for public art should take the city's values into consideration. "Requests coming from a known white supremacist sympathizer clearly do not pass this test," Romero wrote. "This is unacceptable."
Get your unlimited Newsweek trial >
Romero did not reveal the name of the individual who requested to paint the line in her Thursday statement.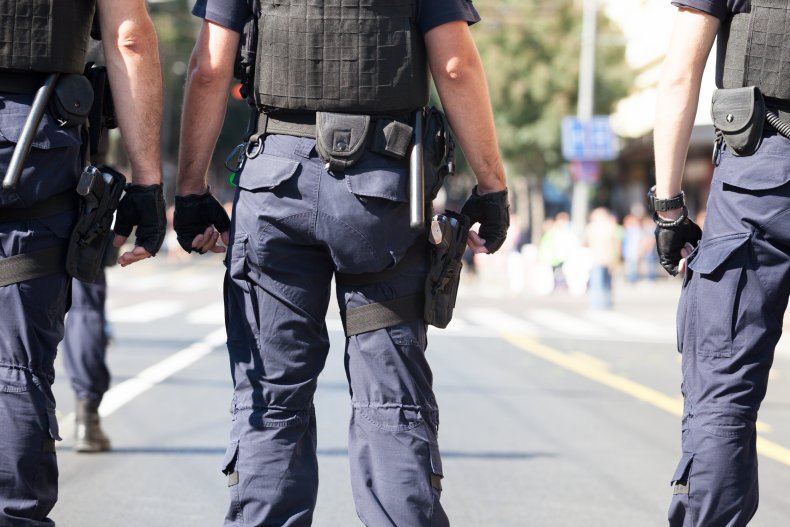 In a statement released Thursday, City of Tucson Attorney Mike Rankin said he advised Ortega that allowing anyone to paint messages on city streets was inadvisable.
Get your unlimited Newsweek trial >
"Doing so would open up our streets as a public forum for this purpose, and the award or denial of a permit request could not be based on the content of the message or the identity of the applicant/speaker," Rankin wrote. "It is my opinion and advice that this would be an untenable situation that could quickly run out of control."
The law enforcement tribute is expected on the same street as a Black Lives Matter sign which was painted by volunteers in June.
Romero has been an ardent supporter of the Black Lives Matter movement. In June, Romero announced the display of a Black Lives Matter banner from the top floor of the Tucson City Hall Building.
In a June statement, Romero said the banner symbolized the city's "solidarity with our Black brothers and sisters across the country in fighting the systemic racism that pervades our society at all levels."
On Wednesday, Tucson began operating under a new budget which allocated $166 million to the city's police department, an approximate $2 million jump over Fiscal Year 2020's funding amount.
According to the Black Lives Matter website, the organization is in favor of defunding police departments on a national level. "We demand investment in our communities and the resources to ensure Black people not only survive, but thrive," the website reads.
Newsweek reached out to the office of City Manager Michael Ortega for comment.
Tucson Mayor Says Police Tribute Organizers Have Ties to White Supremacy | U.S.