Tudor's Biscuit World Accused of Firing Employees Who Wanted to Unionize After Vote Fails
Employees voting against unionizing on January 25, but now some are saying they will file unfair labor practices against the company over allegations that pro-union employees were fired or otherwise disciplined, according to The Associated Press.
Tudor's Biscuit World is a popular, regional fast food restaurant with around 70 locations, most of which are in West Virginia, according to their website. Workers at the Elkview, West Virginia, location began their efforts to unionize late last year, alleging unsafe working conditions related to the pandemic and other inadequate treatment, according to a November press release from United Food & Commercial Workers Local 400, the union aiming to represent the employees.
Tuesday, a National Labor Relations Board representative read the results of votes that were sent in over the last several weeks, the AP reported. About two dozen people work at the Elkview restaurant, with 20 eligible to vote.
The AP reported that of the 14 returned ballots, two were challenged and not counted, and the vote ended 7-5 against unionization. Had it passed, the location would have been the first unionized fast-food restaurant in West Virginia, the AP reported.
After the results were read, employees and union representatives told the AP that they would file the charges of unfair labor practices because they alleged that at least one employee was fired for being pro-union, and other employees were discouraged from voting in favor of the union.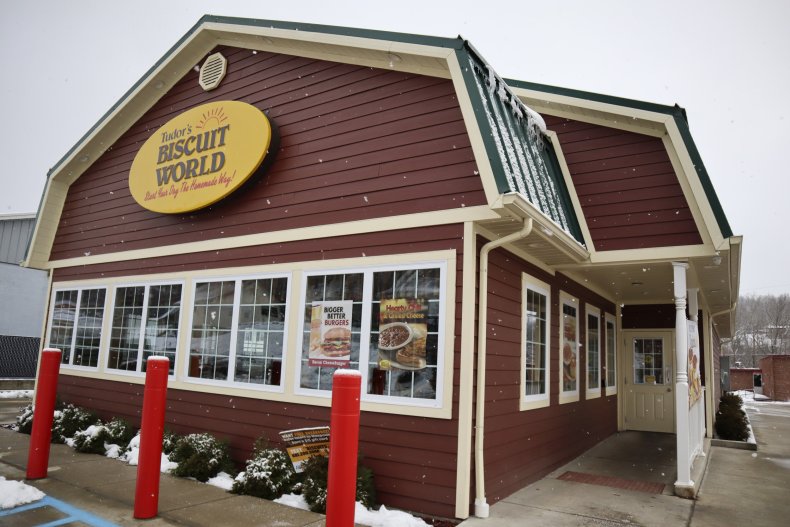 Requests for comment were left Tuesday with Tudor's Biscuit World and UFCW Local 400.
One worker alleged that she was exposed to COVID through a coworker, and when she spoke to the company's human resources department, was told the chain's COVID safety policies were "above her pay grade," according to the union.
Another alleged that she worked several hours of overtime while working between the Elkview location and another nearby Biscuit World, and to avoid paying overtime, she alleged that the company paid her as if she was working two separate jobs at the locations.
Jennifer Patton, former head cashier at the Elkview location, told the AP she joined the unionization effort after she was exposed to COVID and not informed by the company. Patton, 38, said that after it happened and she questioned the company's safety policies, she had her hours cut and was disciplined, then lost her job last week, according to the AP.
Several employees previously told the AP they were motivated to join the union effort because of family members that were tied to West Virginia's history of unionization efforts, largely in the state's coal mining industry.
"We're going to keep fighting because you just cannot let this injustice go on. ... That battle is not over yet," 64-year-old employee Cynthia Nicholson told the AP. Nicholson watched the votes as they were counted while holding a "good luck charm," the badge used by her late husband who was involved with unions during his time working in coal mines and as a pipefitter, the AP reported.