'TUDUM: A Netflix Global Fan Event': What It Is—Plus All the Stars Taking Part
Netflix are turning their iconic signature sound into a global event to get fans excited with their upcoming content.
The streaming giants have roped in their celebrity pals like Dwayne Johnson, Regina King, Chris Hemsworth and Charlize Theron to tease the TUDUM event that will be held in September, which will showcase over 70 upcoming movies and TV shows.
The inaugural event will air for free online, allowing Netflix viewers to be the first to know all about which shows are coming back for a new season, which movies are getting a sequel, and what new content is on its way to your screens.
What is the TUDUM event and when is it on?
Based off of the sound Netflix makes when it loads up, the official title of the occasion is TUDUM: A Netflix Global Fan Event.
It will air online on Saturday, September 25 at 9 a.m. PST, 12 p.m. EST.
The three hour event will be livestreamed worldwide across the Netflix YouTube channels, as well as on Twitter and Twitch. There'll also be a special pre-show four hours earlier in the day that fans of anime, and Korean and Indian content will want to catch.
Fans are invited to co-stream the TUDUM event so they can share their live reactions to the announcements online with their viewers.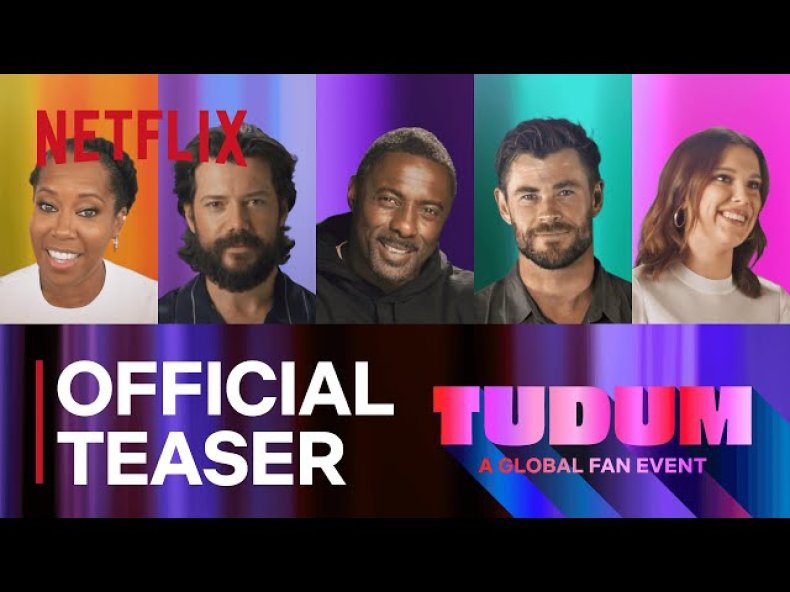 Which celebrities are involved in the Netflix TUDUM event?
In a special announcement video, Netflix recruited dozens of their biggest stars to break the news.
As well as Johnson, King, Theron and Hemsworth, they also got the Stranger Things cast, Jason Bateman, Nick Kroll, Sex Education cast members, John Cho and many more to recreate their own version of the TUDUM sound. They also specified that it is pronounced "To-doom" not "Tu-dumb."
Henry Cavill tells viewers of the trailer, "Join me and all of your favorite Netflix stars in the first ever global fan event."
We also see brief clips of the likes of Idris Elba, Millie Bobby Brown, Nathalie Emmanuel, Adam Sandler and many, many more Netflix faces, implying they'll be present at the event too.
What shows will be featured at the Netflix fan event?
Netflix have promised there'll be breaking news, first looks, new trailers and exclusive clips during the three hour event.
There will also be interactive panels and conversations with the creators and stars from Netflix properties.
Some of the most popular returning shows like Stranger Things, Bridgerton, The Witcher, La Casa De Papel (Money Heist) and Cobra Kai will be previewed. Some of Netflix' blockbuster movies will be explored further too, with the likes of Red Notice, Don't Look Up, Extraction, The Harder They Fall and The Old Guard receiving a spotlight.
Netflix have released the full list of shows and movies that will be featured during the event. They are:
Aggretsuko / アグレッシブ烈子
A Whisker Away / 泣きたい私は猫をかぶる
A Traves De Mi Ventana
Arcane
Army of Thieves
Black Crab
Big Mouth
Bridgerton
Bright: Samurai Soul / ブライト: サムライソウル
Bruised
The Chestnut Man
Cobra Kai
Colin in Black and White
Cowboy Bebop
The Crown
Oscuro Deseo
De Volta Aos 15
Don't Look Up
Emily in Paris
Extraction
Finding Anamika
Floor is Lava
The Harder They Fall
Hellbound / 지옥
Heeramandi
Human Resources
Interceptor
Inside Job
La Casa De Papel
The Old Guard
Ozark
Maldivas
My Name / 마이 네임
New World / 신세계로부터
Pretty Guardian Sailor Moon Eternal: The Movie / 劇場版美少女戦士セーラームーンEternal: 前編・後編
Rebelde
Ritmo Salvaje
Red Notice
The Sandman
Sex Education
The Silent Sea / 고요의 바다
Soy Georgina
Stranger Things
Super Crooks / スーパー・クルックス
Ultraman
The Umbrella Academy
Vikings: Valhalla
The Witcher
The Witcher: Blood Origin
Young, Famous and African
If you want to find out more about TUDUM: A Netflix Global Fan Event, Netflix created the website TUDUM.com for the latest news and information.