Tulsa Community College to Allow Milo Yiannopoulos to Speak, Citing Free Speech Laws
While Tulsa Community College may not agree with conservative provocateur Milo Yiannopoulos, in accordance with the law, school admistrators plan to let him speak at the campus.
On Friday, Yiannopoulos posted a photo on Facebook and informed his followers that he had "great news." The conservative speaker said he would be speaking at the University of Tulsa in Oklahoma, and details would be released soon. However, University of Tulsa spokeperson Mona Chamberlin told Tulsa World there weren't any plans for him to make an appearance at the university.
The day after his first announcement, Yiannopoulos posted an update informing his followers that his team was securing a second venue for a second speech for people who weren't University of Tulsa students.
"My booking agent is hoping Tulsa Community College comes through," Yiannopoulos said. "Would be a great venue. Stand by!"
Nicole Burgin, media relations manager for Tulsa Community College, confirmed to Newsweek that it received a facilities rental request from the watchdog group, Transparency for Oklahomans. The request was for an event featuring Yiannopoulos, which is set to take place at the Performing Arts Center for Education on the Southeast Campus.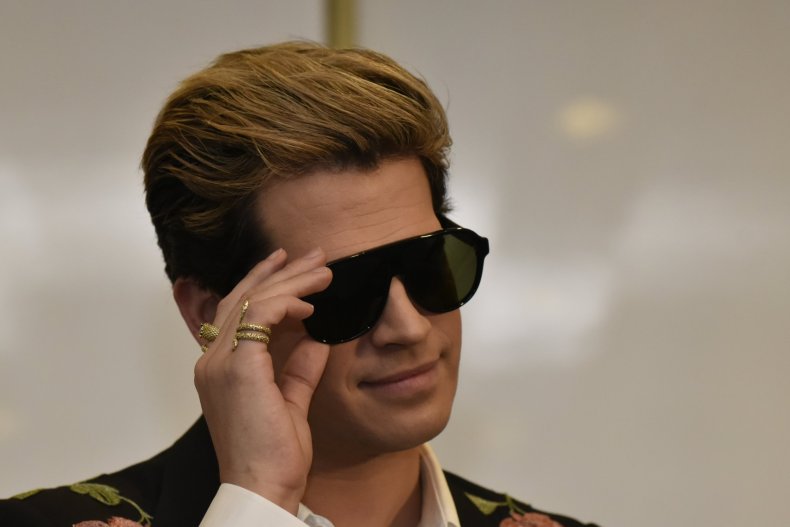 The venue can hold 1,500 people, as detailed on the school's website, and Burgin said the school will work with the third party in accordance with their policies and procedures. She added that there weren't any confirmed details and Yiannopoulos' event wasn't yet listed on the venue's calendar of events as of Tuesday morning.
"This event is not supported by TCC and is privately organized," Burgin added. "While we may not agree with the content of the speakers expected to attend, as a state entity, TCC must follow the law under the First Amendment for the free expression of speech."
Yiannopoulos, known for his controversial comments and talent for inciting outrage, the former Breitbart editor is no stranger to criticism. In February 2017, his presence at the University of California, Berkeley, sparked a violent protest that ultimately led to the cancelation of the event.
Four people were injured during the protests filed a lawsuit against the university, its officials and the Berkeley Police Department. In March, a judge denied the defendants' request to dismiss the suit, according to KTXL.
"There was no police protection and the students were told to go down a certain path. It turned out to be a very violent gauntlet," Shawn Steel, who represents the four plaintiffs, told KTXL. "A young conservative on most American campuses [is] really in trouble."
In October, New York Mayor Bill de Blasio requested that Yiannopoulos' speech at New York University be postponed because of security concerns, since it fell on the same day as the city's Halloween parade. Yiannopoulos addressed the cancellation on his Instagram, calling himself the "most censored man in America."
"The entire city of New York is terrified of one gay man stepping out of line and calling out the Left as the intolerant, censorious crybabies they are … RIP, First Amendment. They're not even pretending any more," Yiannopoulos said.
Along with having invitations retracted from in-person appearances, Yiannopoulos was banned from Twitter in 2016 for violating the company's policies about inciting or engaging in targeted abuse or harassment of other users.