As a proud daughter of Tulsa, I've witnessed the vast well of strength, love and resilience that our black community has drawn from time and again in the face of trauma. Since the 1921 Tulsa Massacre, we've rebuilt our families and our foundations while powerful and committed forces of white supremacy have fought to crush us.
We have repeatedly lifted ourselves up amid the drum of racial terrorism, brutal policing and an ongoing incarceration crisis that disappears too many black Oklahomans. I've always felt this trauma with and for my community. But never more so than when I lost my own beloved twin brother when he was shot and killed by a Tulsa police officer in September 2016.
To be black and Tulsan is to have your histories and truths erased and replaced by politicians, newspapers, memorials and neighbors. But this is our history: On May 31 and June 1, 1921, gangs of white Tulsans burned our prosperous Greenwood community to the ground in a horrifying frenzy of racist terrorism. Mobs of white Tulsa residents murdered up to 300 of their black neighbors, including families, children, doctors and business owners. They firebombed 40 city blocks, including from airplanes. And they reduced the most prosperous black community in America to ash.
On top of the horrific death count, 10,000 black residents were left homeless, and millions of dollars in black wealth evaporated in hours. In nearly 100 years, no one—not one person—has ever been held accountable. No reparations have ever been paid. The scars of this devastation trace across Tulsa today. And if you were raised on standard-fare American history, in Tulsa or throughout the U.S., you likely never heard of the Tulsa Massacre in school—maybe not even until reading about it right now.
This is part of why these past few weeks have been so tumultuous and triggering. When we gathered in Tulsa to protest the death of George Floyd and to demand, once again, justice for my brother, Terence, and for other black Tulsans killed by police, we were met with an uptick in police intimidation. A Tulsa police major said police were shooting black people 24 percent less than they should be; police were caught on video aggressively pinning down a black child before arresting him for jaywalking. Then the mayor of this city went on national television to insinuate that my unarmed brother was somehow at fault for his own killing.
We were already on high alert when it was reported that President Donald Trump would be delivering "a race speech at a venue important to black people with an amazing civil rights backdrop" and his campaign spent the following days boasting of the hundreds of thousands who would be attending the Trump rally in Tulsa during the Juneteenth weekend as we approach the centennial of the 1921 massacre.
We have been here before. Intimidate. Erase. Replace.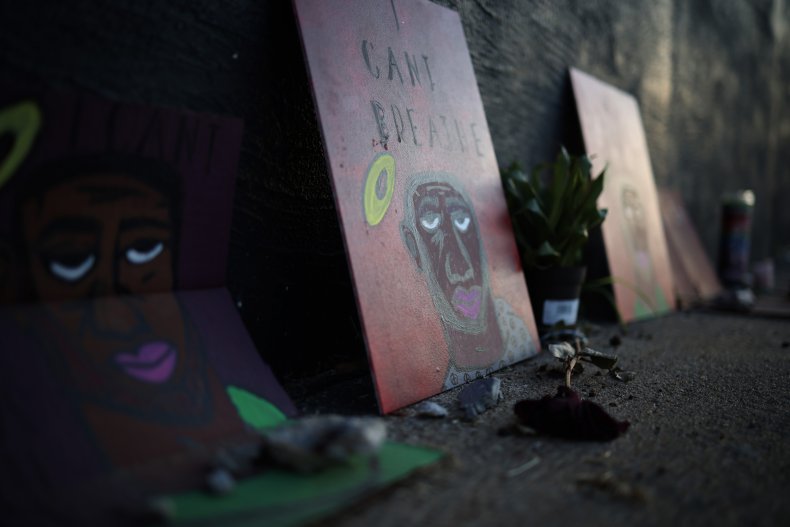 Here is another story, a true story from Tulsa today. We are gathering in our Greenwood neighborhood of Tulsa on Juneteenth weekend to celebrate our ongoing struggle for emancipation. We are afraid of the crowds descending on our city in support of a president who has upheld rather than rejected tenets of white supremacy. But we are also empowered by each other and by our alliances with our white neighbors and business leaders who are working with us to protect Greenwood and to protect the space we are opening to honor one of our most sacred weekends.
Juneteenth is a holiday when we remember that emancipation is not easily won. So we are gathering in thousands to demand a just Tulsa. We are demanding justice for Terence. We are calling out for our brothers and sisters serving extreme sentences in Oklahoma's prisons, and for Julius Jones on death row. We are honoring our ancestors and telling the truth about how they were robbed of their thriving community and autonomy and orphaned and beaten and killed. We are gathering in defense of black lives across the nation.
We—all of us across America—get to choose what stories we tell, what history books we read, whose truths we believe and what we pass down to our children. We—all of us—get to choose what we carry forward into Tulsa's future: the trauma and erasure of our past or the fight for justice.
We are demanding a just Tulsa, and I am asking you to join us.
Dr. Tiffany Crutcher is the founder of the Terence Crutcher Foundation. Her twin brother, Terence Crutcher, was unarmed and killed by police in Tulsa, Oklahoma, on September 16, 2016.
The views expressed in this article are the author's own.