Biden Gun Speech Updates: What Biden Called for in His Gun Control Speech
House Judiciary Committee Debates Gun Laws
The House Judiciary Committee met Thursday to markup a proposed gun legislation called the "Protecting Our Kids Act" amid a recent slew of mass shootings across the country.
Committee Chair Jerry Nadler blasted his Republican colleagues for saying it is "too soon" to take action and that Democrats are "politicizing" these tragedies.
"Too soon? Our friends, what the hell are you waiting for?," Nadler said, after listing several mass shooting events from Columbine to Tulsa.
He said "no one believes" violent videogames and movies are to blame for mass shootings, as other countries engage with the same media.
"Only in the U.S. do we ask the parents of elementary school children to stand in line so we can match their DNA to the remains of their children," he said. "Because only the United States is awash in 400 million guns."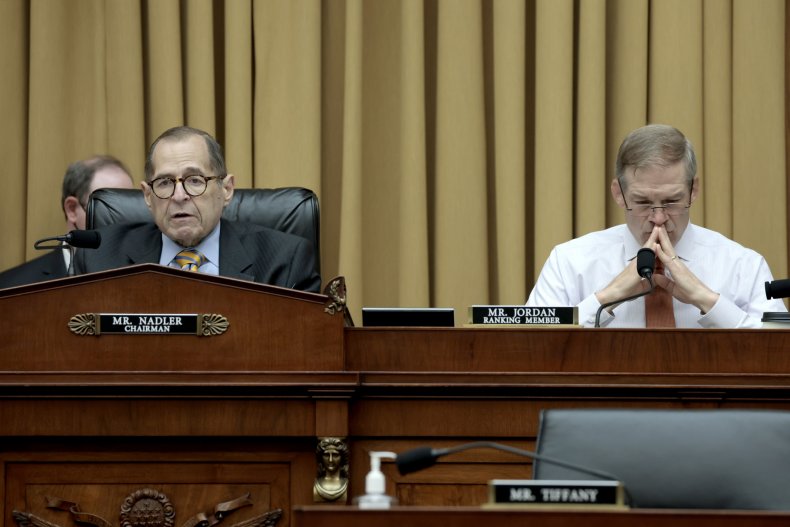 Nadler said this bill links together "important, sensible, overwhelming popular" proposals that will scale back the scope of gun violence in the U.S.
This bill includes measures to:
Raise the lawful age to purchase an AR-15 semiautomatic assault rifle from 18 to 21 years old
Make it a federal offence to import, sell, manufacture, transfer or possess large capacity magazines for civilians
Establish new federal offenses for gun trafficking and straw purchasing, where the vast majority of firearms used in criminal activity are transported into cities from states with weak gun laws
Ensure that ghost guns are subject to existing federal firearms regulations
Establish standards for safe residential firearm storage and award grants for safe firearm storage programs
Build on existing regulations banning the manufacture, sale or possession of bump stocks for civilian use
"The Protecting Our Kids Act will not save every life we might potentially lose to gun violence. But it could save many," the fact sheet from House Judiciary Democrats said. "And it might have saved those innocent children and teachers in Uvalde or those elderly shoppers in Buffalo."
Republican Representative Jim Jordan, the ranking member of the Committee, said the gun law package was "political theater."
"No one wants another tragedy, no one wants this to happen again," he said. "That's why it's regretful that Democrats have rushed to a markup today in what seems more like political theater than a real attempt at improving public safety or finding solutions."
He said Democrats did not reach out to Republicans to seek their input on this legislation, adding that "this is not a real attempt in my judgment to find solutions."
Other Democrats urged for immediate action to save lives amid a gun violence crisis. Representatives called for restrictions on the Second Amendment, like those on the First Amendment.
Republicans, however, said these laws are unconstitutional and ineffective. Many argued that Democrats only seek to punish law-abiding citizens who own guns and strip Americans of their rights with these proposed gun laws.