Who Is Tulsi Gabbard's Husband? Abraham Williams Volunteered For Wife's Political Campaign and Other Interesting Facts
Hawaii Representative Tulsi Gabbard will go head-to-head with Democratic hopefuls during the latest round of 2020 presidential primary debates in Ohio Tuesday.
She is set to join Vice President Joe Biden; Senators Elizabeth Warren, Kamala Harris, Cory Booker, Bernie Sanders and Amy Klobuchar; Mayor Pete Buttigieg; former housing secretary Julián Castro; entrepreneur Andrew Yang and billionaire Tom Steyer.
As Gabbard, 38, takes center stage, her husband, Abraham Williams, will be cheering her on from the sidelines.
The couple has been married since 2015, but their history goes back even farther.
Here's what to know about Williams, who could one day be First Gentleman.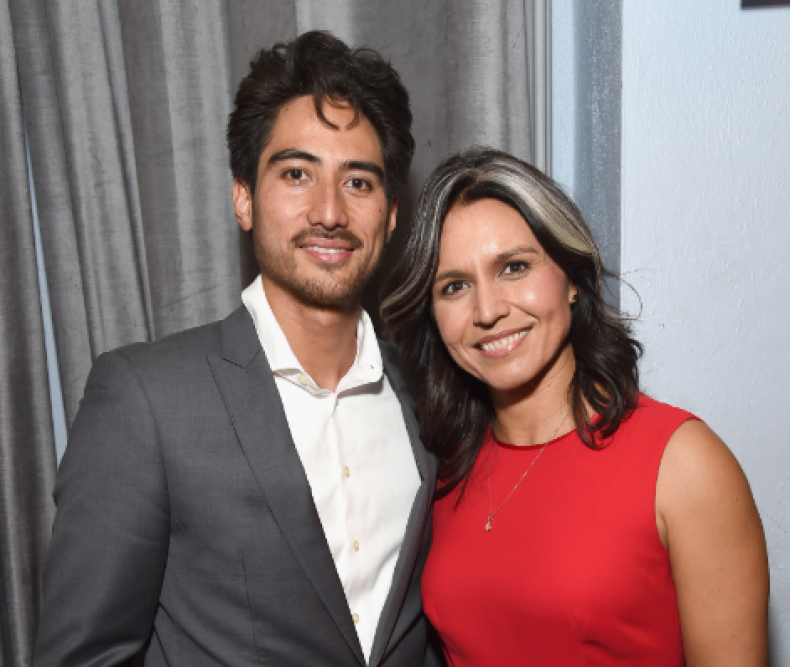 He volunteered on her 2012 political campaign
Before Williams met Gabbard, he was as a volunteer in her 2012 run for a seat in the House of Representatives. Williams, 30, worked as a photographer and was responsible for many of the notable snapshots used for her campaign. It wasn't until about a year-and-a-half later when Williams finally worked up the nerve to ask Gabbard out on a date.
In a 2015 interview with New York Times, Gabbard revealed a mutual friend threw a birthday party for her, which led to the pair finally having a moment to "kick back, relax and really talk on a personal level." The sweet moment sparked a true friendship that turned into romance, which ultimately led wedding bells in 2015.
Williams continues to photograph his wife's political moments. His mother, Anya Anthony, manages Gabbard's district office in Honolulu.
He's a cinematographer
Williams also specializes in film. He's directed and produced a number of short films, some of which he also worked on as a Steadicam operator. He's filmed a number of Gabbard's political ads—for film spots and print ads—however, many of his projects focus on global humanitarian efforts. He's also shot shorts for government officials, including former Hawaii Governor Neil Abercrombie.
He used the couple's shared love of the ocean in his proposal
Williams shares a love for an active life in the outdoors with his wife, who was a captain in the Hawaii National Guard. Spending time in Hawaii's lush landscape played an integral role in their blossoming romance, too. Gabbard told NYT the couple often went on hikes and took long walks when they were dating, and actually played a game of pickup volleyball on their very first date. However, it was their love of the ocean that really brought them together.
Gabbard said their "friendship and relationship developed over our mutual love for the ocean and surfing." So it was no surprise to their friends and family that Williams popped the question during one special sunset surf.
"He paddled quickly out to the lineup, way ahead of me, and waited as I slowly made my way out. Then he paddled over, pulled out a double-tethered contraption attached to a gold duct-tape-covered flotation device, with a beautiful ring attached, and said, 'I have a question for you: Will you marry me?'" Gabbard told NYT in 2015.
Williams is Gabbard's second husband
The Congresswoman was married to Eduardo Tamayo for nearly four years before her marriage to Williams. They divorced in 2006, six years before Williams began working on Gabbard's political campaign.