The hosts of the fifth Democratic primary debate were accused of suppressing candidates Andrew Yang and Rep. Tulsi Gabbard after the two received less speaking time than their rivals.
The hashtags #LetYangSpeak and #LetTulsiSpeak began to trend on Twitter as the debate in Atlanta, Georgia, prompted complaints from a number of people who felt the two had not received sufficient time.
Gabbard, a U.S. veteran who represents Hawaii's second district, led the accusations on Twitter.
"So much for the promise of equal time for all candidates," Gabbard said.
"Andrew Yang got half the time as the usual media favorites. Typical."
A number of other Twitter users joined in the criticism of The Washington Post and MSNBC who hosted the debate.
"I'd never vote for Andrew Yang or Tulsi Gabbard, but they appear the most genuine and engaged and deserve the chance to be heard," one Twitter user said.
"Media bias is very real no matter what side of the issues you are on," another wrote. "Shame on MSNBC for not giving equal time to all the candidates. You won't decide who we elect president, WE will."
Complaints were further fueled when data showing each candidate's approximate speaking time was released.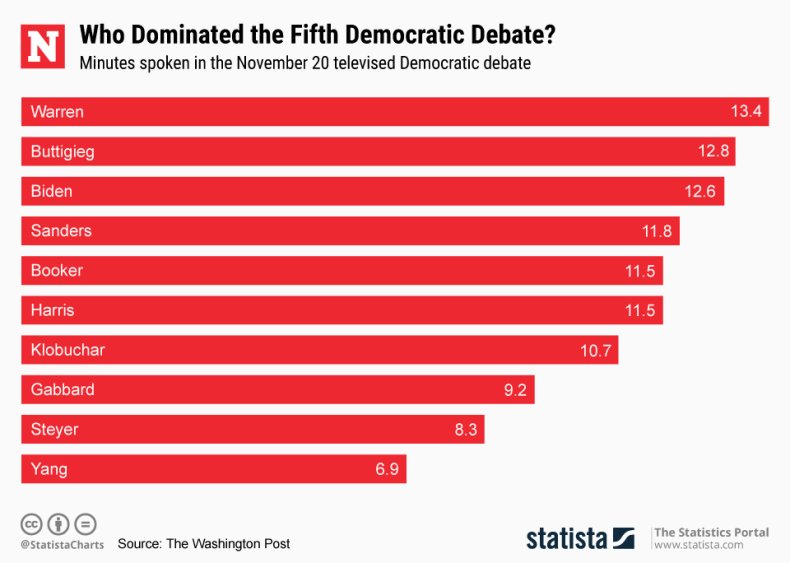 According to The Washington Post figures, seen in the infographic above provided by Statista, Sen. Elizabeth Warren led the way with 13.4 minutes of speaking time, followed by Pete Buttigieg—the mayor of South Bend, Indiana—who was recently gaining in the polls and received 12.8 minutes of speaking time.
Former Vice President Joe Biden trailed them slightly with 12.6 minutes and was followed by Sen. Bernie Sanders (11.7 minutes), Sen. Cory Booker (11.5 minutes) and Sen. Kamala Harris (11.5 minutes).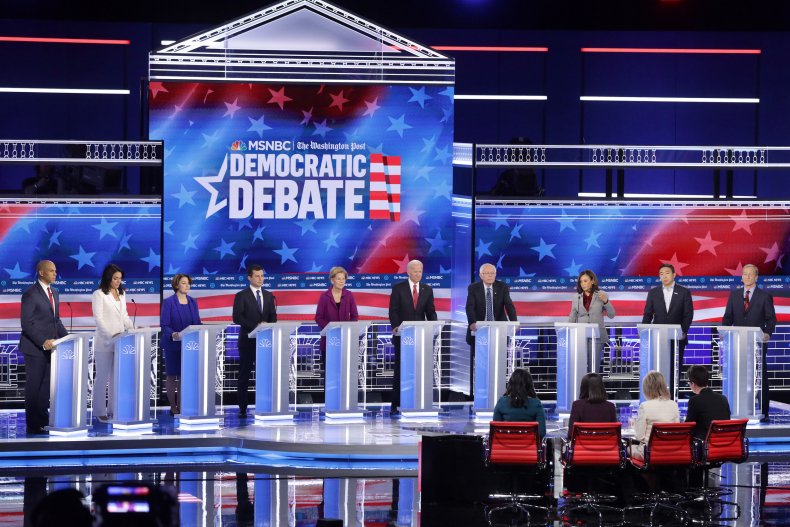 The Senator from Minnesota, Amy Klobuchar, spoke for approximately 10.7 minutes and all the other candidates—Yang, Gabbard and billionaire Tom Steyer—spoke for less than 10 minutes.
Gabbard had 9.2 minutes, Steyer had 8.3 minutes and Yang trailed the pack with a total of 6.9 minutes of speaking time.
Yang also had to wait 30 minutes in total before answering his first question.
"When the media ignores Andrew Yang, they're also ignoring hundreds of thousand of donors and millions of supporters across the country," a Twitter account for the political podcast The Zach and Matt Show wrote.
"They think our voices don't matter, that our votes don't count. Time to flood their mailrooms, emails, phones, and even organize protests."
The next Democratic debate will take place on December 19 at Loyola Marymount University in Los Angeles, California, and will be moderated by PBS NewsHour and Politico.
The Washington Post and MSNBC did not respond to requests for comment.