Rep. Alexandria Ocasio-Cortez (D-N.Y.) and Rep. Tulsi Gabbard (D-Hawaii) are calling for universal basic income (UBI) in response to the growing COVID-19 coronavirus pandemic.
Gabbard introduced legislation Friday that would provide a UBI payment of $1,000 per month to every American adult until the Department of Health and Human Services declares the outbreak is over.
"The coronavirus pandemic has created a threat to the health and well-being of the American people, as well as to our country's economic stability. While some in Washington are focused on taking care of Wall Street, everyday Americans get left behind. That's wrong," said Gabbard in a statement.
"I've introduced a resolution that prioritizes people so our economic relief is placed directly into the hands of every American, rather than getting stuck in bureaucracy or ending up in the pockets of big corporations," she added.
The idea of UBI was recently popularized by former Democratic presidential candidate Andrew Yang, who also proposed a monthly $1,000 payment, although not as a temporary emergency measure.
Ocasio-Cortez took to Twitter on Thursday to express her support for UBI as one of several programs intended to help ease financial burdens during the crisis.
"This is not the time for half measures. We need to take dramatic action now to stave off the worst public health & economic affects," tweeted Ocasio-Cortez on Thursday. "That includes making moves on paid leave, debt relief, waiving work req's, guaranteeing healthcare, UBI, detention relief (pretrial, elderly, imm[igrants])."
Although passing UBI could be a tall order even during a national emergency, more conventional relief efforts were moving through Congress with some difficulty. House Democrats introduced a bill intended to alleviate financial burdens by providing paid sick leave, boosting unemployment benefits and providing nutritional aid while guaranteeing free tests for COVID-19.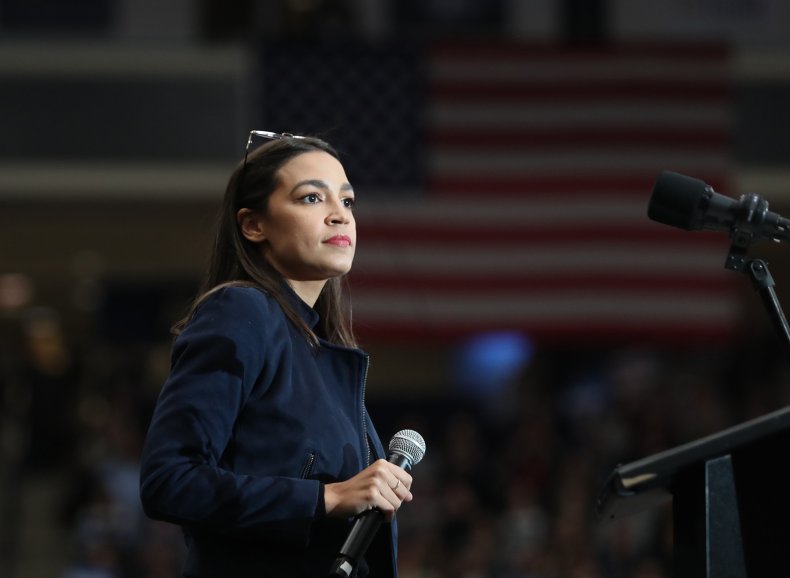 The measure was initially opposed by Republicans and President Donald Trump, who said that the omission of unspecified "certain things" meant the bill was unacceptable. House Speaker Nancy Pelosi (D-Calif.) announced Friday evening that Democrats had come to an agreement with Trump, although details were not immediately available.
Trump had been pushing for cuts to payroll taxes in response to the crisis. Critics including lawmakers from both parties largely dismissed the idea, saying the plan didn't go far enough while noting that it won't do anything to help workers who are sick or laid off due to the virus.
Reps. Ro Khanna (D-Calif.) and Tim Ryan (D-Ohio) proposed separate legislation Friday that would use an earned income tax credit to provide an emergency payment of between $1,000 and $6,000 to anyone who earned less than $65,000 last year.
"We must soften the blow for workers as large gatherings and events are canceled and hours are cut. A payroll tax cut is not sufficient," said Khanna in a statement. "This plan is about providing real, urgently needed relief to middle and working-class families."
COVID-19 infections continued to multiply Friday, with more than 145,000 worldwide including over 5,400 deaths and nearly 71,000 recoveries. Domestic totals rose to 2,269 with 48 deaths and 31 recoveries.