Could Andrew Yang or Tulsi Gabbard Qualify For December Debate? Without Them, Only White Candidates Will Take The Stage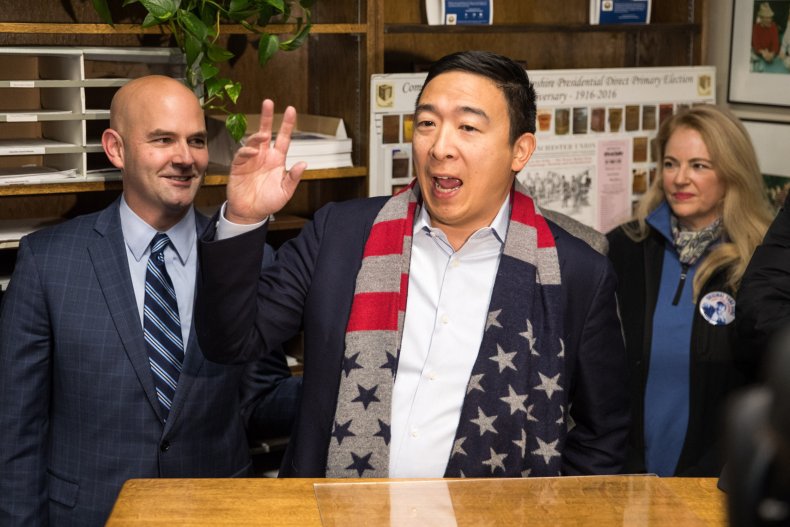 Six Democratic primary candidates have qualified for the party's upcoming debate—and the lineup so far will feature only white candidates. There are just days left before the Democratic National Committee (DNC) will cease to admit additional candidates to the stage.
Before Sen. Kamala Harris of California announced the end of her run, the 2020 Democratic primary had been the most diverse presidential nominating contest in U.S. history, making it all the more noteworthy that the debate-stage field has narrowed to an all-white crowd. The three candidates of color who could make it are tech entrepreneur Andrew Yang, who is Taiwanese American, Rep. Tulsi Gabbard of Hawaii, who is Samoan-American, and Sen. Cory Booker of New Jersey, who is black. Whether they will make it to the sixth Democratic debate in Los Angeles may be determined by polls from New Hampshire, where census figures put the white population at 93 percent.
Race and ethnicity, however, are only one factor that Granite State voters will consider to put any candidate over the top in December, analysts said.
"Even though New Hampshire is a predominately white state, Massachusetts is just over the border and most of the population is essentially suburban Boston," Andrew Smith, director of the University of New Hampshire's survey center, told Newsweek. "So it's not like we're this outpost where you only see white folks; we're exposed to a big, diverse city that most people have a lot of interaction with. New Hampshire Democrats have historically been very liberal on social and racial issues."
Another factor, analysts said, is the outsize role ground-game politics plays in the New Hampshire. The state's voters favor candidates who set up shop in the state and conduct outreach in person, something that is not impossible because of the state's 300,000 or so registered Democrats.
Of the three, Gabbard and Yang have the best shot, David Paleologos, the director of Suffolk University's political research center, told Newsweek. "If you drive through New Hampshire, in the two most populated counties, you see terrific visibility for both," he said. "The Gabbard signs are everywhere. It does show a level of enthusiasm that I think is disproportionate to Iowa and Nevada."
A lack of minority candidates in the debate may mean that African Americans' concerns won't be addressed.
"To the degree that black issues come up, it's largely been due to the black people on the stage," Avis Jones-DeWeever, founder of the Exceptional Leadership Institute for Women, told Newsweek. "Now that neither Kamala Harris nor Cory Booker will likely be there, I don't expect those issues to come up. And that's a hugely unfortunate thing."
To qualify for the December debate, candidates must meet stringent conditions, which have been further tightened since November. Candidates must attain least 4 percent support in four qualified polls (or at least 6 percent in two early-state polls) and a donor base numbering at least 200,000 people.
So far, Yang, Gabbard and Booker have met only one of those thresholds. All three have cleared the bar for donations—but Booker has not yet qualified for any of the specified polls.
"Yang has quite a bit of money and has built a decent organization in the state. His campaign has done a lot of outreach to students," Smith said. "Gabbard has taken another really old-fashioned strategy, putting up yard signs wherever possible and buying out every billboard in the state. I don't think she has anywhere near the organizational strength of other candidates, but just that visibility is important."
Booker, analysts said, faces an uphill battle in part because he is competing with memories of President Barack Obama.
"If you're an African American male and you're running for president, who are you running against? You're running against Barack Obama," Mattie Thomas, co-chair of the South Carolina Democratic Party's Black Women Caucus, told Newsweek. "He's got to snatch our hearts out of our bodies like Obama did."
Jones-DeWeever added: "The reality is that black people at this point have gotten over the honeymoon phase of the Obama presidency.
"Any subsequent black candidate running for president has had to overcorrect and make up for the fact that there is a feeling that people got all caught up with the historic nature of having a black person be president, and then we walked away and said, 'Hey, there's no black woman on the Supreme Court.' There are other specific issues that we didn't see as much traction on," she said.
While Booker may be left trying to rebuild the fractured Obama coalition, the state of New Hampshire's Democratic base could offer Yang or Gabbard a lifeline in an otherwise narrowing race.
To date, Yang and Gabbard have both achieved 4 percent or higher in three national or state polls accepted by the DNC, and need just one more qualifying poll in that category to appear in Los Angeles. Between the two candidates, five of these six polls have been statewide polls recognized by the DNC.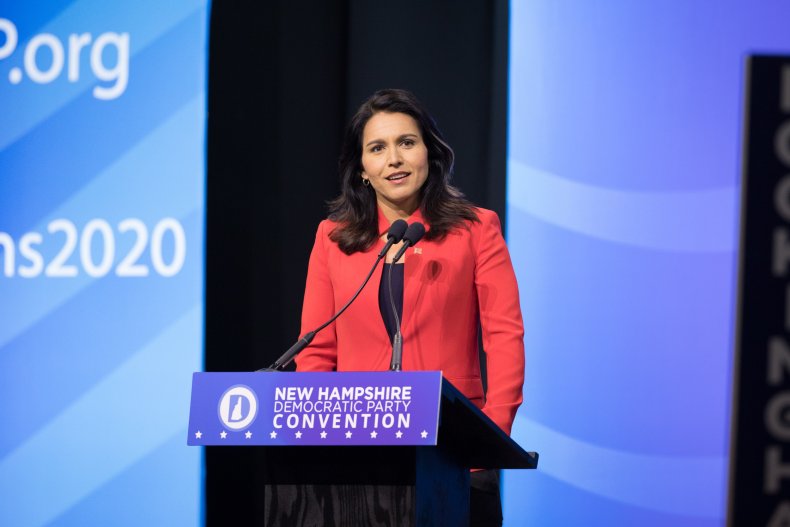 Two of the three surveys for which Gabbard has qualified so far are New Hampshire polls, an early-voting battleground where she has spent a lot of time. Her support in the state is, on average, higher than in other early states, suggesting that another New Hampshire poll might be the one to put her over the top.
Yang qualified in the same two New Hampshire polls, in addition to a South Carolina survey. The businessman has made New Hampshire a mainstay of his campaign, appearing at least 70 times in the state this year and spending hundreds of thousands of dollars on ads there, according to CBS News.
While the pair's previous successes in the Granite State suggest further polling there could propel their campaigns forward, a quirk in the DNC's qualification process might make such a prospect challenging. The rules require that candidates use different qualifying poll sponsors for the 4 percent pathway. The two polling sponsors behind both candidates' New Hampshire surveys—Quinnipiac University and CNN/University of New Hampshire—are among the largest and only surveyors of New Hampshire opinion accepted by the DNC.
Because these prominent surveys are now off the table, there are limited, future opportunities to eke out a successful polling result in New Hampshire.
Only a few other organizations, such as CBS News/YouGov and Monmouth University, regularly poll in the state and meet the DNC's standards. An exception to the different-sponsor rule could benefit Gabbard, however.
If she achieves at least 6 percent in a survey sponsored by Quinnipiac University or CNN/University of New Hampshire, both polls Gabbard has already used to meet the party's debate-stage qualifications, the different-sponsor rule would no longer apply, giving her additional leeway.
"There's an old saying about New Hampshire politics, which is that Republicans fall in line and they elect the candidate they think is supposed to win the nomination, whereas Democrats like to fall in love," Smith added. "And you fall in love with a new person."
For Gabbard and Yang, their novelty in New Hampshire that may be what keeps them afloat as they make their case for the Democratic nomination.