Tulsi Gabbard Pushes Bill to Block Transgender Girls from Women's Sports
Democratic congresswoman Tulsi Gabbard has introduced a bill that would use Title IX rules to block transgender girls from competing in women's sports programs and activities run by federally funded schools.
Releasing a statement on the "Protect Women's Sports Act" bill Thursday, Rep. Gabbard said states were "misinterpreting" Title IX provisions against sex-based discrimination to create "undue hardship" for female athletes.
The Hawaii representative added that her bill, co-sponsored by the Republican Rep. Markwayne Mullin of Oklahoma, sought to protect the "original intent" of Title IX protections, which she claimed were based on biological sex.
"Title IX is being weakened by some states who are misinterpreting Title IX, creating uncertainty, undue hardship and lost opportunities for female athletes," Gabbard said in a statement. "Our legislation protects Title IX's original intent which was based on the general biological distinction between men and women athletes based on sex."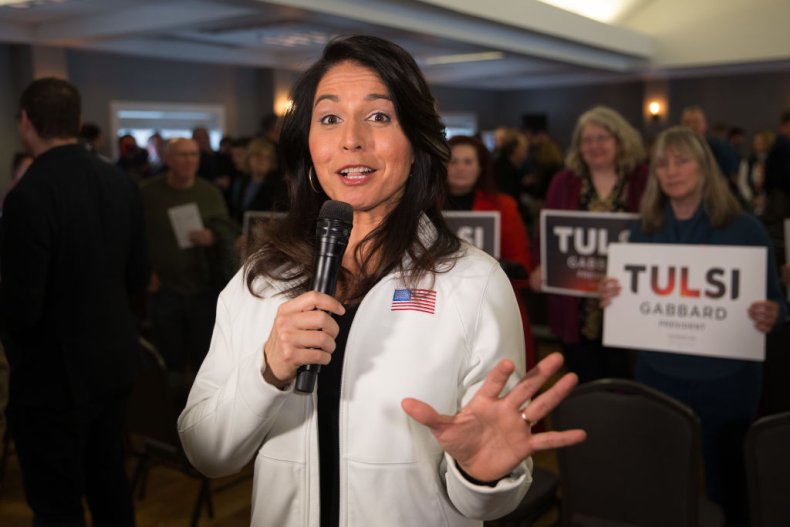 The former Democratic primary candidate added that it was "critical" that Title IX ensured that women and girls were allowed to "compete and excel on a level playing field" in sports teams and contests.
Her Republican co-sponsor Rep. Mullin made similar arguments as the pair introduced the bill, arguing that it would "safeguard" the integrity of women's sports contests.
"Allowing biological males to compete in women's sports diminishes that equality and takes away from the original intent of Title IX," he said. "As the father of three girls involved in athletics, I want them to be able to compete on a level playing field."
According to bill text shared by the KITV4 reporter Tom George on social media, the "Protect Women's Sports Act" would make it a violation of Title IX protections in the Education Amendments of 1972 for federally funded schools to allow people born as male to compete in women's sports programs and activities.
Newsweek has contacted Rep. Gabbard's office for further details and comment. This article will be updated with any response.
Republican senators proposed a similar law that would have made it a Title IX violation to allow transgender women to compete in women's sports at federally funded schools.
The Protection of Women and Girls in Sports Act was co-sponsored by Sens. Kelly Loeffler of Georgia, Tom Cotton of Arkansas and three other GOP lawmakers in late September. At the time of writing, the bill is still stuck with the Senate Health, Education, Labor and Pensions committee.
Releasing a statement at the time, Sen. Loeffler said: "Title IX established a fair and equal chance for women and girls to compete, and sports should be no exception.
"As someone who learned invaluable life lessons and built confidence playing sports throughout my life, I'm proud to lead this legislation to ensure girls of all ages can enjoy those same opportunities."