Tulsi Gabbard Calls Democrats' House Gender Language Rules 'Opposite' of Empowering Women
In an interview with Fox News' Tucker Carlson on Monday, former Hawaii Representative Tulsi Gabbard criticized the House's decision to eliminate gendered language.
"It absolutely does the very opposite of [empowering women], and it's the height of hypocrisy for people who claim to be the champions of rights for women to deny the very biological existence of women," said Gabbard.
"It's mind-blowing because it shows just how out of touch with reality and the struggles of everyday Americans people in Congress are," Gabbard continued. "Their first act as this new Congress could have been to make sure that elderly Americans are able to get the COVID vaccine now...but instead of doing something that could actually help save people's lives, they're choosing to say, 'Well you can't say mother of father in congressional language.'"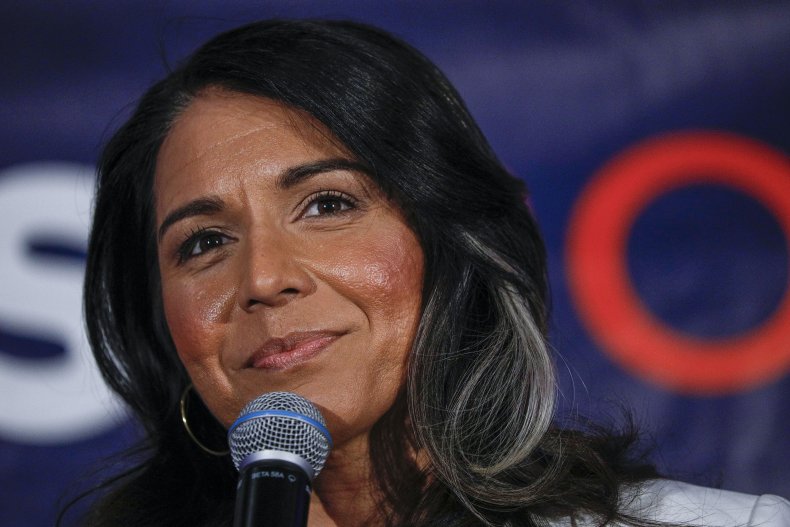 House Speaker Nancy Pelosi and Rules Committee Chairman James P. McGovern introduced a new code of conduct on Friday ahead of the 117th Congress. Among other things, it establishes an Office of Diversity and Inclusion and attempts to honor "all gender identities by changing pronouns and familial relationships in the House rules to be gender-neutral."
The House approved the new code on Monday in a 217- 206 vote along party lines.
The change came as a record number of LGBTQ lawmakers join Congress.
There are now nine LGBTQ members in the House: David N. Cicilline of Rhode Island, Sharice Davids of Kansas, Chris Pappas of New Hampshire, Sean Maloney of New York, Mark Pocan of Wisconsin, Mark Takano of California, Angie Craig of Minnesota, Mondaire Jones of New York and Ritchie Torres of New York.
They are joined by two LGBTQ senators, Tammy Baldwin of Wisconsin and Kyrsten Sinema of Arizona.
The new code of conduct follows activists and linguists across the world pushing for more gender-inclusive language over the last few years by creating new terms and repurposing existing ones, according to The Washington Post.
Several Republican lawmakers, however, have denounced the change, including House Minority Leader Kevin McCarthy of California, who called it "stupid" in a Twitter post on Friday.
Senator Kelly Loeffler, who is running against Reverend Raphael Warnock in Georgia's runoff elections, called the change the "far-left's priorities" in a Twitter post Saturday.
In response to GOP criticism, Democrats have defended the change.
"From my standpoint, the gender-neutral language is just consistent with an effort for the House, in the best tradition of the House, to reflect the gorgeous mosaic of the American people in the most sensitive fashion possible," Representative Hakeem Jeffries of New York told reporters, according to Fox News.
Newsweek reached out to Gabbard but didn't hear back in time for publication.