Hawaii Representative Tulsi Gabbard told Fox News host Sean Hannity on his program Monday that Democratic National Committee chair Tom Perez should resign from his position after the delayed results from the Iowa caucus.
Perez has taken the brunt of the blame for the perceived failure of the Iowa caucuses to announce the statewide winners quickly and accurately.
Gabbard, who is running for the Democratic Party's presidential nomination, said Perez has had a "failure of leadership."
"Voters in this primary need to have the confidence that their votes will be counted and their voices will be heard," Gabbard said. "Unfortunately, [Perez] has had a failure of leadership in being able to uphold that faith and that trust."
"We've got a lot of primaries, a lot of elections between now and the convention, and we need to be able to get back on track," Gabbard continued.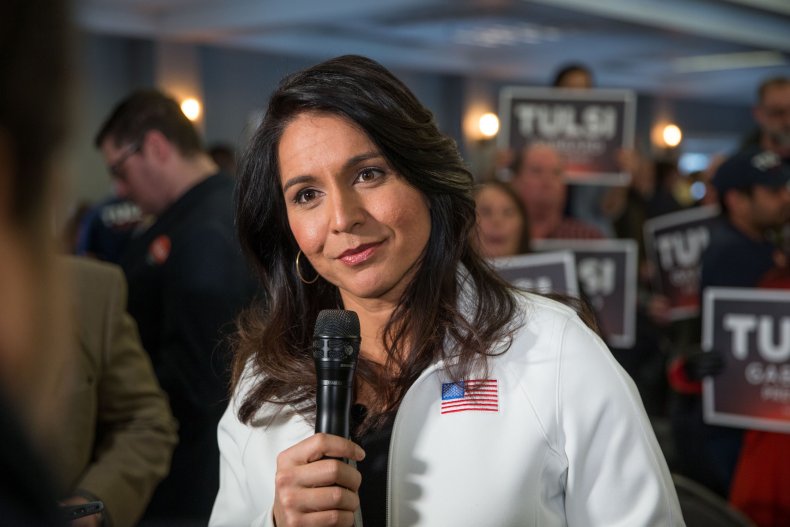 DNC National Press Secretary Brandon Gassaway told Newsweek, "Tom Perez is not going anywhere. He's led us to victory in 2017, 2018 and 2019, and is focused on beating Donald Trump in 2020. He won't let anything distract him."
Perez has previously stated that he will not step down from his position, telling CNN's Jake Tapper on Sunday that the Democrats have been "winning."
"My job when I came in was to rebuild our infrastructure, to win elections," Perez said. "When you do that, sometimes you have to make tough decisions."
"We're barely out of the starting gate and the angst is elevated because we have the most dangerous president in American history," Perez added. "But here's the good news. We've been winning elections in 2017, 2018, 2019. We are better positioned to hand our nominee an infrastructure for success than ever before."
Results from the Iowa caucuses were thrown into disarray after what Iowa Democratic Party (IDP) chair Troy Price described as a "coding error" affected a voting app designed to relay results for tabulation. When the app went down, Iowa voting precinct workers relied on a telephone-based backup system which also failed, with callers placed on hold for hours.
Within that chaos, both former South Bend, Indiana Mayor Pete Buttigieg and Vermont Senator Bernie Sanders claimed victory on the night of the caucuses although the results from all precincts had not been released.
In what was initially perceived to be the final tabulation released on Friday, Buttigieg was allocated 13 Iowa delegates which effectively gave him victory in the caucus. Sanders, who came in second, received 12 delegates.
In the percentage votes, the margin between Sanders and Buttigieg was narrow with only one-tenth of a point separating the two. Buttigieg received 26.2 percent of the viable votes while Sanders received 26.1 percent.
However, both Sanders and Buttigieg have requested partial recanvassing of certain Iowa districts. Recanvassing is a new comparison of the reported votes against paper records from the selected districts, conducted in order to verify accuracy.
"Today, the Sanders and Buttigieg campaigns filed requests for recanvass for 28 precincts and 66 precincts respectively, a total of 85 after removing duplicities," read a news release from the IDP. "In accordance with the IDP Delegate Selection Plan, the Recount/Recanvass Committee will review the requests to determine whether each meets the required standard."