Tulsi Gabbard Calls to Suspend Flights From Brazil After COVID Cases Skyrocket
Many foreign nationals are already blocked from coming to the United States if they've been in Brazil because of a surge in COVID-19 cases, but former Representative Tulsi Gabbard wants the government to go further by "suspending" flights.
Brazil's President Jair Bolsonaro was criticized for underplaying the COVID-19 crisis for months and the World Health Organization officials described the outbreak as a "raging inferno." Spikes in cases present opportunities for concerning mutations take hold and American officials have described the vaccination effort as a "race" against variants.
On Sunday, Gabbard, who made a bid for president in 2020, posted on Twitter that the United States needs to do "everything possible" to slow the spread of a Brazilian variant.
"Suspend flights now!" Gabbard tweeted.
In May, former President Donald Trump restricted travel from Brazil amid another surge in cases. It denied entry to "all aliens" who had been in Brazil two weeks prior to their planned travel to the United States. He lifted that restriction in January before leaving office.
President Joe Biden reinstated the travel restrictions on most foreign nationals coming to the U.S. from Brazil upon taking over the presidency. The ban will be in effect until Biden determines it's safe to lift, and a White House spokesperson previously told Newsweek guidelines and restrictions are implemented based on what the administration knows about slowing the spread of the virus and some variants.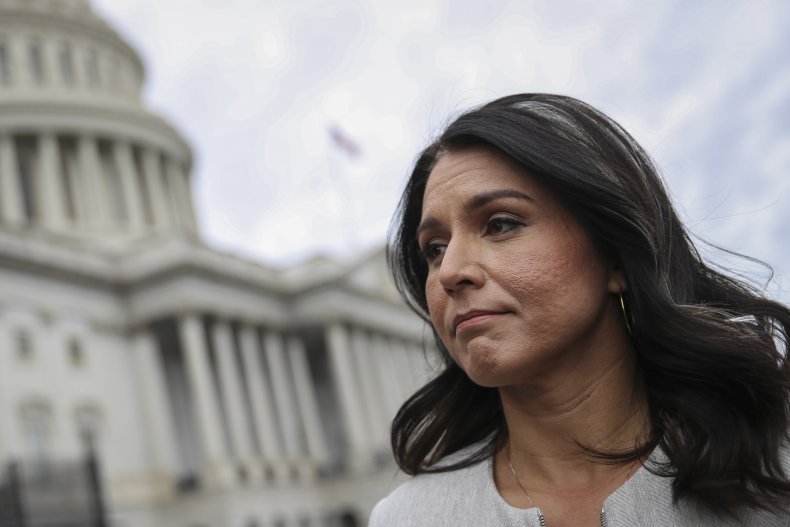 There's no definitive end date for when people will be able to freely travel from Brazil and press secretary Jen Psaki said they'll be in place as long as it's necessary to keep the public safe.
Newsweek reached out to the White House and Tulsi Gabbard for comment but did not receive a response in time for publication.
The Centers for Disease Control and Prevention (CDC) put Brazil on the highest travel advisory marked "do not travel." The organization warned there could be border and airport closures, stay at home orders and they warned even fully vaccinated travelers could be at risk for getting and spreading COVID-19 variants.
Brazil's variant, P.1, has already been identified in the United States, and officials worry that vaccines aren't as effective against it and that it's more transmissible.
"I'd like to make sure we match it up against the antibodies the vaccine induces. If the variant eludes the vaccine then I get more worried about it," Fauci told WTTG. "What might happen is that when you get these new variants, some of them may not be protected against when you're talking about mild-to-moderate disease, but at the same time, people are not going to get severely ill and wind up dying."
Cases are on the rise in Brazil and more than 350,000 people have died, the second-highest death toll in the world. Bruce Aylward, senior adviser to the World Health Organization, said the South American country is dealing with a "raging inferno of an outbreak" and Brazilian public health experts told CBC it could be a "global threat."