Former KKK Leader David Duke Endorses Tulsi Gabbard 2020 Presidential Campaign, Says She'll Put American Interests Over Israel
White supremacist and former GOP Louisiana state senator David Duke appeared to endorse Hawaii Rep. Tulsi Gabbard's 2020 campaign for president as other Democrats are being blasted by pro-Israel lobbyists and publications.
Duke, who was head of the Ku Klux Klan in the 1970s, posted a set of tweets endorsing Gabbard's 2020 presidential run and changed the background of his Twitter account Monday, which boasts more than 50,000 followers. A "Tulsi Gabbard for President" banner features the banner tagline, "Finally a candidate who will actually put America First rather than Israel First!"
Duke also endorsed Donald Trump during the 2016 presidential election, although the then-Republican candidate Trump denied any knowledge of the former KKK Grand Wizard in a March 2016 interview with CNN's Jake Tapper. Duke again lauded Trump's presidency following the deadly Charlottesville, Virginia rally in which Trump claimed there were decent people on "both sides."
Gabbard has received fairly supportive coverage from pro-Israel and Jewish media publications despite her mild criticism of Israel during last May's border crisis in Gaza. She was highly touted by pro-Israel lobbyists and U.S. conservatives after criticizing former President Barack Obama for refusing to use the phrase "radical Islamic terror" during his tenure.
"Tulsi Gabbard is currently the only Presidential candidate who doesn't want to send White children off to die for Israel," Duke tweeted Monday evening in a now-pinned post showing a picture of Gabbard meeting with a U.S. military member and his child in a hangar. However, Gabbard is not mentioned once in The New York Times article Duke shared about the president calling to keep U.S. troops in Iraq to "watch Iran."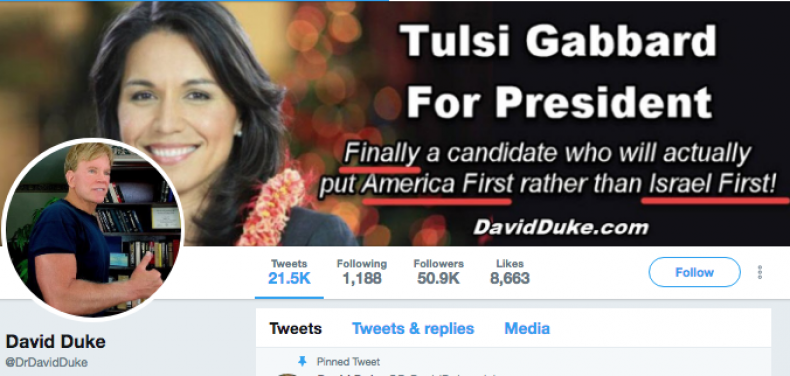 Gabbard is of Samoan heritage and a military veteran, having served with the Army National Guard in Iraq from 2004 to 2005. She was first elected to office in Hawaii in 2013 and announced her run for president last week. Gabbard received this bizarre, perhaps disingenuous trolling endorsement from the virulent anti-Semite Duke despite several moves signaling her potential support for Israel. American Evangelicals, Israel and U.S. Jews have a long and at times hypocritical political relationship.
Gabbard, unlike many Democrats under the Obama administration, attended Israeli Prime Minister Benjamin Netanyahu's controversial March 2015 speech to Congress.
Israeli media ranging from Haaretz to the Times of Israel are blasting Democrats this week for refusing to support Republican Sen. Marco Rubio's "anti-BDS" legislation that would block any Boycott, Divestment and Sanctions moves against Israel. Newly elected Democratic Rep. Alexandria Ocasio-Cortez of New York and the first two Muslim women elected to Congress this past year -- Michigan's 13th District Rep. Rashida Tlaib and Minnesota 5th District Rep. Ilhan Omar -- are being lambasted by criticism from conservative Israeli figures.
The BDS, pro-Palestinian movement backed by those Democrats and many others is particularly focused on companies conducting business in disputed territories occupied by Israel, including the West Bank and Gaza Strip. The powerful pro-Israel lobby in America is set to face off against the American Civil Liberties Union (ACLU) over the BDS legislative moves in Congress.
Gabbard gained national fame from liberal voters in February 2016 when she made the politically risky move to resign her position as vice chair of the Democratic National Committee (DNC) after allegations first arose of the organization's collusion with Hillary Clinton's campaign against Independent Vermont Sen. Bernie Sanders.
Duke has continued his support of Gabbard via social media, updating his Twitter background asking, "Tulsi is being unjustly banned from the Dem Debate. Why?...She opposes the insane Neocon wars!"