Tulsi Gabbard Declines to Join December Democratic Debate Regardless of Qualification
Rep. Tulsi Gabbard of Hawaii, and 2020 Democratic presidential candidate announced Monday evening she would not be a part of the Democratic debates on December 19.
"For a number of reasons, I have decided not to attend the December 19th 'debate' — regardless of whether or not there are qualifying polls. I instead choose to spend that precious time directly meeting with and hearing from the people of New Hampshire and South Carolina," Gabbard wrote.
To be invited to the December debates, candidates need to meet one of two polling requirements—either two polls showing the candidate at 6 percent or more in Iowa, New Hampshire, Nevada and South Carolina, or four polls at 4 percent or more in those states or in national surveys—and have at least 200,000 unique donors to their campaign.
As of this writing, Gabbard has met the donor threshold, but not the polling threshold. According to the New York Times, one poll shows her at at least 6 percent in the four early nominating states, and three polls showing her at 4 percent or more.
Thus far, six candidates have qualified for the December debate: Former Vice President Joe Biden, Sen. Elizabeth Warren of Massachusetts, Sen. Bernie Sanders of Vermont, South Bend, Indiana Mayor Pete Buttigieg, Sen. Amy Klobuchar of Minnesota and billionaire Tom Steyer. The New York Times rates businessman Andrew Yang and Gabbard as both being "on the cusp" of qualifying. Kamala Harris would have qualified for the debate, but she dropped out of the race earlier this month.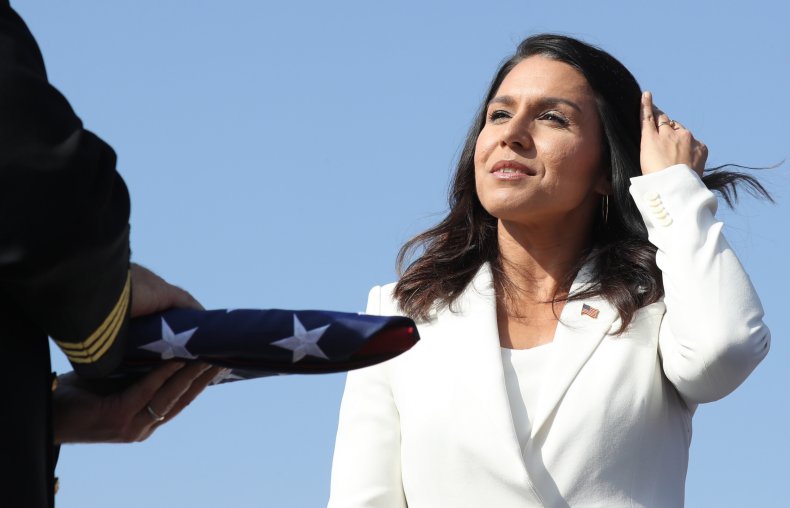 This month's Democratic debates have been controversial in the days leading into them. Critics have complained that the field of candidates has gotten much less diverse. Harris was the only candidate of color who qualified, but with her leaving the race, the qualifying candidates are all white.
In addition, the Democratic National Committee (DNC) has rejected a Boston Globe poll showing Gabbard at 6 percent. If the DNC accepted this poll, Gabbard would qualify for the debate. Though based in Massachusetts, the Globe is one of the highest-circulation newspapers in New Hampshire, one of the four qualifying states.
"Again, this is another example of the DNC being arbitrary and inconsistent. New Hampshire is the first in the nation presidential primary, but the DNC has not shown its voters the respect they deserve," Rep. Gabbard said in a statement. "The Boston Globe is the largest newspaper in New Hampshire. The pollster the Globe uses is recognized by the DNC for other media outlets, there is no reason the DNC should not recognize this Boston Globe poll, other than adherence to a subjective, non-transparent process where party elites try to dictate to the primary voters."