In breaking with some of her opponents for the Democratic presidential nomination, Representative Tulsi Gabbard defended President Donald Trump's decision to fire Lieutenant Colonel Alexander Vindman.
Trump dismissed Vindman from his position at director for European affairs for the United States National Security Council (NSC) on Friday. Vindman, who was on the July 25 call at the center of Trump's impeachment, testified before the House of Representatives in November, prompting critics of the president, including presidential candidates, to argue his firing was Trump exacting revenge.
Senator Elizabeth Warren posted on Twitter that Vindman did his "patriotic, constitutional duty" and during Friday's Democratic debate in New Hampshire, which Gabbard did not qualify to attend, former Vice President Joe Biden said Vindman deserved the Presidential Medal of Freedom. He also asked the audience to give him a standing ovation to show their support.
On Saturday, Fox News host Neil Cavuto asked Gabbard if she agreed with the comparison of Vindman's firing to October 20, 1973, when President Richard Nixon's attorney general and deputy attorney general resigned instead of firing Watergate special prosecutor Archibald Cox. The congresswoman responded that she has been outspoken about her dissenting opinions on many of Trump's decisions, especially with regard to foreign policy. In this case, though, she said Trump could make whatever choice he wanted.
"Ultimately, whether people like it or not, there are consequences to elections and the president has, within his purview, to make the decisions about who he'd like serving in his Cabinet," Gabbard told Cavuto.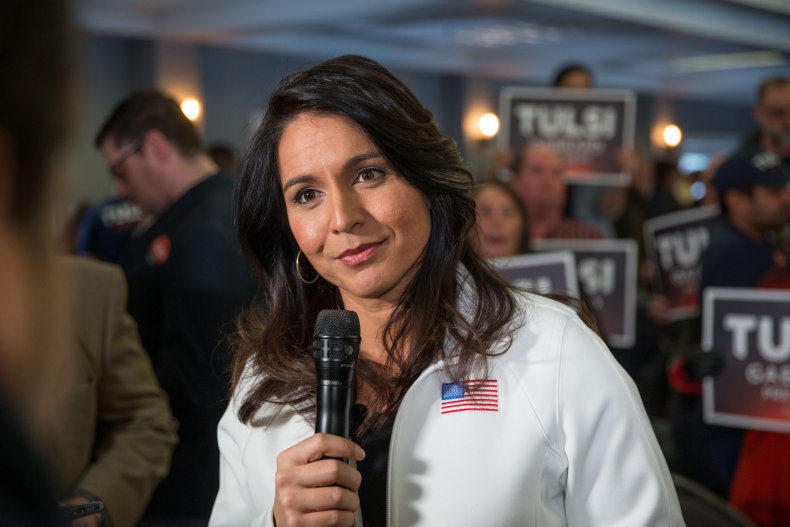 Newsweek reached out to Gabbard's campaign but did not receive a response in time for publication.
Trump posted on Twitter that he fired Vindman because he was "very insubordinate" and "reported contents of my 'perfect' calls incorrectly." In addition to those issues, Trump wrote that he was "given a horrendous report by his superior…who publicly stated that Vindman had problems with judgment."
Vindman's attorney, David Pressman, pushed back against the president's claims, calling them "obviously false" in a statement. He added that they conflict with the personnel and impeachment records.
After Vindman's firing, Pressman implied that his client was fired because of his public testimony, saying there was "no question in the mind of any American" as to why he no longer held his position. The attorney claimed Trump "buoyed by the silent, the pliable and the complicit" decided "to exact revenge."
Along with Vindman, his brother Lieutenant Colonel Yevgeny Vindman, a senior lawyer and ethics official at the NSC, and Gordon Sondland, ambassador to the European Union, were fired. Sondland also testified during the House impeachment hearings. In November, Trump told reporters the ambassador's testimony that the president told him he didn't want a quid pro quo was proof the inquiry was "all over."