Where Is Tulsi Gabbard? Hawaii Congresswoman Didn't Qualify for Sixth DNC Debate, But Wouldn't Have Attended Anyway
When seven Democratic presidential candidates take the debate stage for the sixth Democratic presidential primary debate in Los Angeles, California, Thursday night, Rep. Tulsi Gabbard of Hawaii, who thrust herself into the spotlight with her "present" vote on President Donald Trump's impeachment, will not be joining them.
Gabbard, along with seven other Democratic candidates, did not meet the Democratic National Committee's (DNC) strict requirements to qualify for the sixth Democratic debate, according to The New York Times. However, Gabbard said she wouldn't attend anyway, even if she had met the requirements.
On December 9, Gabbard tweeted her decision not to attend. "For a number of reasons, I have decided not to attend the December 19th "debate"-regardless of whether or not there are qualifying polls. I instead choose to spend that precious time directly meeting with and hearing from the people of New Hampshire and South Carolina," she wrote.
On Thursday, Campaign Manager Cullen Tiernan explained: "As every major Presidential candidate now states publicly, the DNC has engaged in an unfair, non-transparent process to determine the outcome of the primary before a single voter has gotten to cast a ballot. This is something our campaign has been talking about for months," he said in a statement to Newsweek. "Debates should be open and fair and provide voters the opportunity to hear the candidates and their platforms on equal footing. The DNC and other media outlets colluded together to avoid fair, transparent and honest debates."
Instead of the debate, Gabbard will be attending "An evening with Tulsi and Friends" at The Rex Theater in Manchester, New Hampshire from 6 to 8:30 p.m. EST, according to her campaign website. "It will be a night filled with songs, stories and a lot of love," the event description read.
Gabbard also threatened to boycott the October 15 debate. "The 2016 Democratic Primary election was rigged by the DNC and their partners in the corporate media against Bernie Sanders," the candidate said in a video, posted to her campaign site and YouTube. She also slammed the debates, calling them "commercialized reality television meant to entertain, not inform or enlighten."
Four days later, Gabbard decided to attend the debate, ABC reported.
The campaign also threatened to not attend future debates. "Our campaign refused to attend this upcoming 'debate' and may continue to refuse to attend until the process becomes fairer and the debates provide real opportunity for substantive discussions on the issues facing Americans."
In order to attend the debate, candidates were required to meet one of two polling requirements and to acquire 200,000 unique donors and a minimum of 800 donors per state in at least 20 states, territories or Washington D.C. by December 12 at 11:59 p.m. Despite meeting the funding threshold, Gabbard did not meet the polling requirement, according to The New York Times.
Gabbard trended after a "present" vote on both articles of impeachment against Trump Wednesday. "After doing my due diligence in reviewing the 658-page impeachment report, I came to the conclusion that I could not in good conscience vote either yes or no," she said, according to CNN.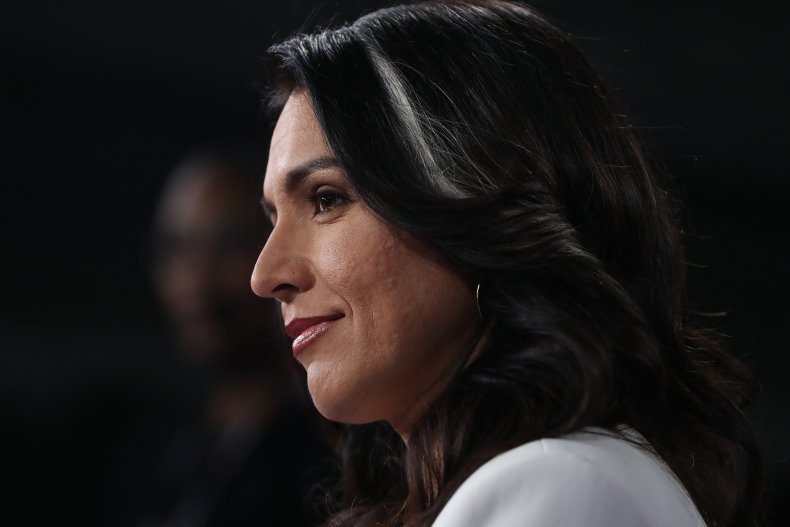 Update Dec. 19, 1:46 p.m.: The story was updated to include a statement by Gabbard's campaign manager, Cullen Tiernan.