Tulsi Gabbard Blasts Trump for Awaiting 'Instructions from His Saudi Masters,' Says He's Making U.S. 'Saudi Arabia's Bitch'
Democratic presidential candidate Representative Tulsi Gabbard slammed President Donald Trump on Saturday evening, suggesting that he was waiting for "instructions from his Saudi masters."
"Trump awaits instructions from his Saudi masters. Having our country act as Saudi Arabia's bitch is not 'America First,'" Gabbard, who represents Hawaii posted to Twitter, retweeting a post by Trump.
The president's original post discussed the Saturday attack on Saudi Arabia's oil fields, saying that he was waiting for the kingdom's assessment before taking action.
"There is reason to believe that we know the culprit, are locked and loaded depending on verification, but are waiting to hear from the Kingdom as to who they believe was the cause of this attack, and under what terms we would proceed!" he wrote.
Get your unlimited Newsweek trial >
Yemen's Houthis, who are allied with Iran, claimed responsibility for the attack, which disrupted 5 percent of the world's oil supply. Saudi Arabia's state-owned oil company Aramco is one of the largest producers of oil in the world, with the kingdom being responsible for about 10 percent of the current daily global supply. The attack was carried out by drones, which set the kingdom's oil fields ablaze.
Secretary of State Mike Pompeo blamed the attack squarely on Iran in a Saturday tweet, claiming that there was "no evidence" the assault came from Yemen, despite the Houthis taking responsibility.
"Amid all the calls for de-escalation, Iran has now launched an unprecedented attack on the world's energy supply," he wrote. "There is no evidence the attacks came from Yemen."
Get your unlimited Newsweek trial >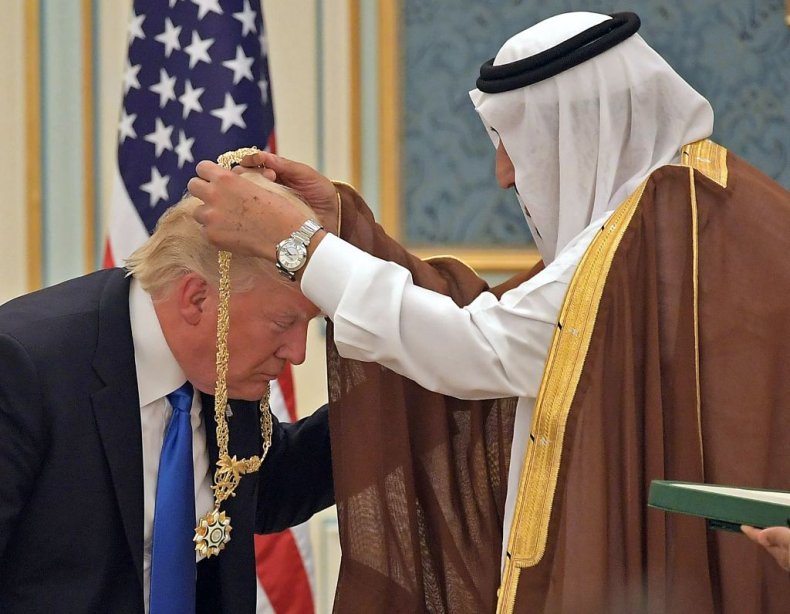 Iranian officials dismissed the accusation, saying it was a "maximum falsification" and "maximum deceit" to blame Iran.
"In international relations, even 'hostility' [should have] a minimum degree of credibility and logical frameworks, but the U.S. officials have ignored even such minimum principles," Abbas Mousavi, a spokesperson for Iran's Foreign Ministry, said in a Sunday statement.
Saudi Arabia has been leading a coalition against Yemen's Houthis since 2015, when the group ousted the country's government. The U.S. has continued to support the coalition, despite significant bipartisan opposition in Congress, which has been blocked by Trump. The kingdom's malign activities, particularly the grisly murder of Washington Post journalist and U.S. resident Jamal Khashoggi last year by Saudi agents, and the large number of civilian casualties, as well as an ongoing humanitarian crisis in Yemen, have led many Republicans and Democrats to oppose continued U.S. support for the Saudi-led coalition.
On Monday, coalition spokesperson Colonel Turki Al-Maliki announced that the investigation into the drone attack was ongoing. However, he said "all indications are that weapons used in both attacks came from Iran," according to the Saudi Gazette.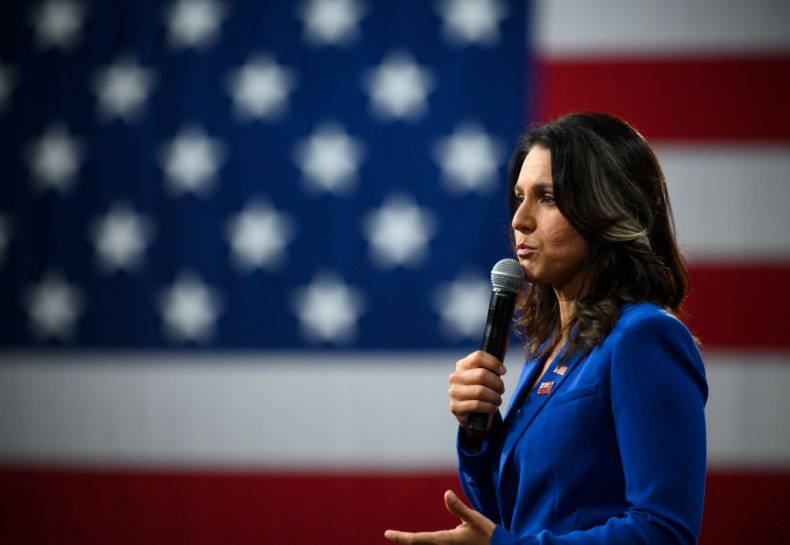 Gabbard, along with others, has criticized Trump's close ties with Saudi Arabia in the past.
Back in November, after Trump defended Saudi Arabia in the wake of the murder of Khashoggi, Gabbard made the same argument to criticize the president.
"Hey @realdonaldtrump: being Saudi Arabia's bitch is not 'America First," she tweeted at the time.
Gabbard is veteran of the war in Iraq and continues to serve in the National Guard. She is a staunch critic of U.S. interventionist wars and has sharply criticized Trump for withdrawing the U.S. from the 2015 Joint Comprehensive Plan of Action, commonly known as the Iran nuclear deal. The president withdrew from the international treaty in May of last year and then reimplemented harsh financial sanctions on the country, despite consistent reports from the United Nations nuclear watchdog showing that Iran remained in compliance with the deal.
Tulsi Gabbard Blasts Trump for Awaiting 'Instructions from His Saudi Masters,' Says He's Making U.S. 'Saudi Arabia's Bitch' | U.S.