Tulsi Gabbard Backs Trump in Section 230 Battle, Accuses Lawmakers of 'Kowtowing' to Big Tech
Democratic congresswoman Tulsi Gabbard backed President Donald Trump in his fight to repeal Section 230 protections for tech platforms, and accused some lawmakers of "kowtowing" to the interests of monopolies in the sector.
Appearing on Fox News, the Hawaii Democrat and former presidential candidate said "many" lawmakers had refused to "take action" against Section 230 of the Communications Decency Act of 1996. The law protects tech firms from liability for the content its users post and allows tech firms to moderate content in good faith on their platforms without being open to civil liabilities.
She also accused her fellow lawmakers of failing to do "the right thing" after a bipartisan draft of the National Defense Authorization Act released on Thursday failed to include repeal of the controversial law.
Reacting to a post by Trump railing against Section 230 on Thursday, Gabbard tweeted: "Donald Trump I fully support you on this. Please don't back down. The freedom and future of our country is at stake."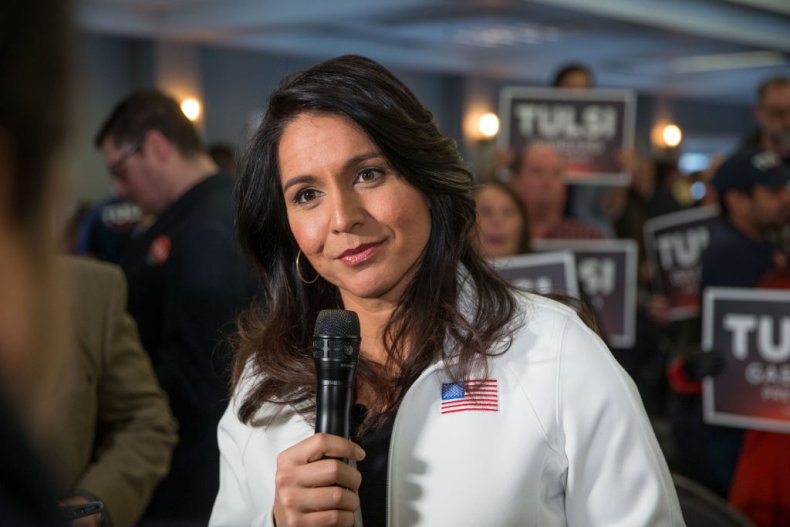 Speaking to Fox News on the same night, Gabbard also said: "So many members of Congress refuse to take action to get rid of this legal immunity that allows them to abuse that power as a big tech monopoly.
"This is why I tweeted in support of President Trump, why I think it's a good thing that he's laying on the heat, especially when Senate Republicans are urging them to get rid of [Section 230]."
The Hawaii Democrat later added: "It's unfortunate, again, that there's so many members of Congress that are supposed to be representing the people, are actually kowtowing to the big money special interests of the big tech monopolies, and not doing the right thing."
Gabbard backed the president's push to repeal Section 230 as he threatened to veto the annual defense spending bill if lawmakers did not include a provision for scrapping the controversial rule.
"If the very dangerous & unfair Section 230 is not completely terminated as part of the National Defense Authorization Act (NDAA), I will be forced to unequivocally VETO the Bill when sent to the very beautiful Resolute desk," the commander-in-chief tweeted on Wednesday.
Trump and his allies have repeatedly argued that Section 230 enables political discrimination against conservatives on various platforms—including varied censorship of the president's own posts about supposed voter fraud.
The $740 billion defense bill, largely built on routine funding for basic military functions, has been passed on an annual basis for the past 59 years. The possibility of the bill being blocked has raised alarm in some quarters.
Defending the draft of the bill, Republican Sen. Jim Inhofe of Oklahoma told reporters: "First of all, 230 has nothing to do with the military. I agree with his sentiments. We ought to do away with 230, but you can't do it in this bill. That's not a part of the bill."