Tulsi Gabbard Becomes Most Disliked Democratic Primary Candidate After Voting 'Present' on Trump's Impeachment, Poll Shows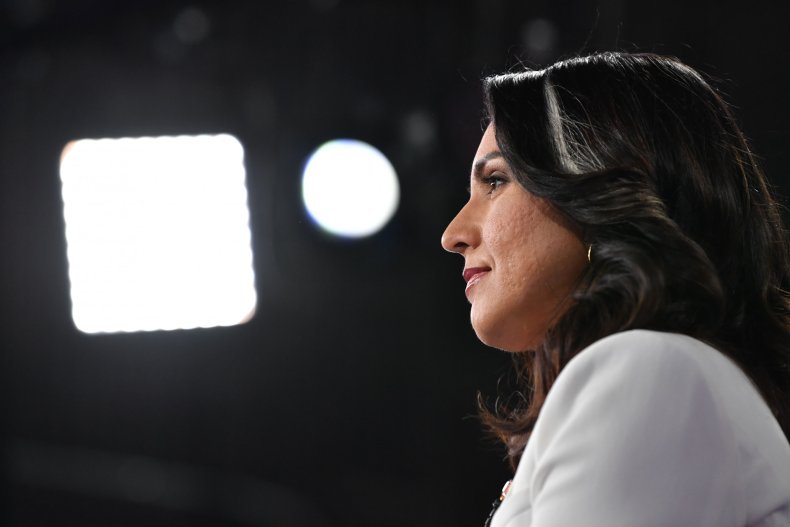 Congresswoman Tulsi Gabbard, the Hawaii Democrat running for her party's 2020 presidential nomination, is seeing her favorability slip among primary voters after voting "present" on articles of impeachment against President Donald Trump last week.
According to a new survey from Morning Consult, her unfavorability rating stood at 23 percent, already a high number, in the week preceding the impeachment vote. However, just days following her decision to buck the vast majority of her party and vote neither "yea" nor "nay," Gabbard has seen her unfavorability rating climb to 30 percent.
She is now the field's "most disliked candidate"—overtaking former New York City Mayor Michael Bloomberg, according to Morning Consult.
Gabbard's campaign has not yet responded to Newsweek's request for comment.
"I could not in good conscience vote against impeachment because I believe President Trump is guilty of wrongdoing," she explained in a statement following the impeachment vote. "I also could not in good conscience vote for impeachment because removal of a sitting President must not be the culmination of a partisan process, fueled by tribal animosities that have so gravely divided our country. When I cast my vote in support of the impeachment inquiry nearly three months ago, I said that in order to maintain the integrity of this solemn undertaking, it must not be a partisan endeavor. Tragically, that's what it has been."
While an agnostic vote might help Gabbard among impeachment skeptics, the Democratic Party is firmly behind impeaching the president.
Morning Consult found that 85 percent of registered Democrats support impeaching the president. About the same proportion also favors a conviction in the Senate.
Gabbard has already said that she won't seek re-election to her House seat in order to focus on the primary race.
On Monday, former Hawaii Gov. Neil Abercrombie, a Democrat, called on her to resign from Congress ahead of the 2020 election in part because of her "present" vote.
While Gabbard's statement cited the "partisan" nature of the impeachment process as the reason behind her vote, the American public does not largely back her reasoning.
Morning Consult determined that a 45 percent plurality of all registered voters thinks the House's decision to impeach Trump was based on the facts of the case. Just 40 percent feel that partisan politics were at play, a slightly smaller number than the share of voters who disapproved of impeaching the president in the first place.
While her favorability ratings may have been rocked slightly by the "present" vote, her standing in the polls has not changed. According to Morning Consult's rankings, Gabbard remains at 2 percent among primary voters, unchanged since the last pre-debate poll.
Gabbard did not meet the necessary polling threshold in order to appear on stage at the December event, although she said she did not plan on attending even if she had qualified.