Tulsi Gabbard Responds to Kamala Harris' 'Assad Apologist' Comment, Says She'll Meet Dictators to Protect Americans: 'I Will Never Apologize'
Tulsi Gabbard hit back against the accusation by Kamala Harris that she is an "apologist" for Syrian dictator Bashar al-Assad, and suggested the focus on his regime's brutality against its own people is a distraction from the "central issue" of American troops dying in the country.
Gabbard, a Democratic congresswoman from Hawaii, and Harris, the U.S. senator for California, are both running in their party's primary for the presidential nomination at the 2020 election.
They clashed at a CNN primary debate on Wednesday night after Gabbard, a veteran, tore into Harris' record as a former prosecutor in California in a standout moment from the evening, accusing her of perpetuating America's broken justice system and saying she should apologize.
Harris defended her record, insisting she led reforms of the justice system in California that served as a model for the rest of the country and that she was proud of what she had done. In a post-debate interview with CNN's Anderson Cooper, Harris attacked Gabbard over Syria.
Gabbard, who met Assad in 2017 during a Middle East trip, does not want America to be involved militarily in Syria, where Assad has waged war against his people, committing atrocities such as chemical weapons attacks on civilians and torturing and murdering his opponents.
"This, coming from someone who has been an apologist for an individual, Assad, who has murdered the people of his country like cockroaches," Harris said in response to Gabbard's criticism of her prosecutorial record.
"She who has embraced and been an apologist for him in a way that she refuses to call him a war criminal. I can only take what she says and her opinion so seriously and so I'm prepared to move on."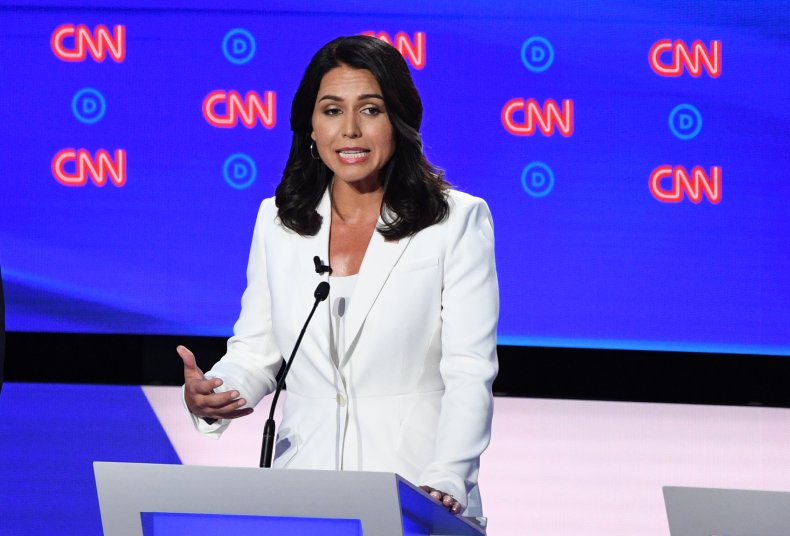 Gabbard also sat down separately with Cooper after the debate. He asked her to respond to Harris's criticism about her stance on Assad.
"I think it's unfortunate and a disservice to voters in this country that she resorts to cheap smears rather than actually addressing her record, the issues that I have raised, and the fact that she has said she is proud of this record," Gabbard said.
"If that's the case then voters deserve to hear about why she is so proud of the lives she has negatively impacted, the families that she has torn apart in California."
Cooper pressed Gabbard on her position over Assad and Syria, and asked if she agreed that the dictator is a torturer and a murderer.
"My take is one of a soldier, where I've seen the cost of war firsthand. In Iraq, serving in a medical unit, every single day confronted with that high human cost of war," Gabbard said.
"So, I will never apologize for doing all that I can to prevent more of my brothers and sisters from being sent into harm's way, to fight counter-productive regime-change wars that make our country less safe, that take more lives, and that cost taxpayers trillions more dollars. So if that means meeting with a dictator, or meeting with an adversary, absolutely. I would do it. This is about the national security of our country."
The CNN host again pushed Gabbard on whether she regarded Assad as a murderer. "That's not what this is about. I don't defend or apologize [for] or have anything to do with what he has done to his own people," Gabbard replied.
She referred to past presidents and their pragmatic relationships with dictators as a model for how she would lead America, citing, among others, war-time relations between President Franklin D. Roosevelt and the Soviet Union's Joseph Stalin.
Cooper suggested that Roosevelt would have at least acknowledged the millions of deaths under Stalin even though they had a practical relationship during World War II.
"I've been very outspoken about this before," Gabbard said. "These are things that are being used as detractions away from the central issue which is we are still waging a regime-change war in Syria today. We still have troops in Syria today, troops who are dying. That's my focus. That's why I'm running for president, to bring about this sea change in foreign policy."
When pushed one last time on whether or not she agreed, on a factual basis alone, that Assad is a murderer, Gabbard said: "I don't dispute that."
The graphic below, provided by Statista, illustrates the spike in Google search traffic for Gabbard during the debate.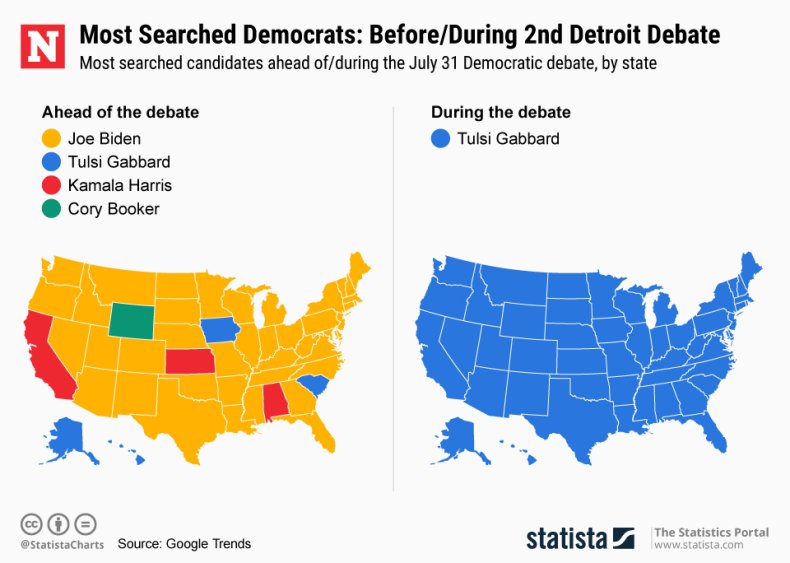 This article was updated to include an infographic.