Tulsi Gabbard, With Only Two Delegates, Isn't the First Candidate to Stay In the Race This Long
Representative Tulsi Gabbard is often left out in current news stories about the Democratic primary. The race has become centered on two candidates who've emerged as the clear frontrunners: Vermont Senator Bernie Sanders and former Vice President Joe Biden.
It's unclear why the Hawaii congresswoman, who's so far only amassed two delegates and remains at the bottom of polls, remains in the race with virtually no chance to clench the nomination. But history suggests Gabbard may feel that while the delegate math would not allow her to become the nominee, she can still influence policy and the direction of the Democratic Party.
Gabbard, a former combat veteran whose candidacy has been largely focused on advocating against "regime change wars" and U.S. military intervention abroad, told ABC News last week that her campaign is "an opportunity to speak to Americans every single day about the sea change we need in our foreign policy."
In the last two decades, there's been few White House hopefuls—Republican and Democrat—who stayed in the race as long as Gabbard has and with as few delegates.
But there was at least one candidate: Dennis Kucinich.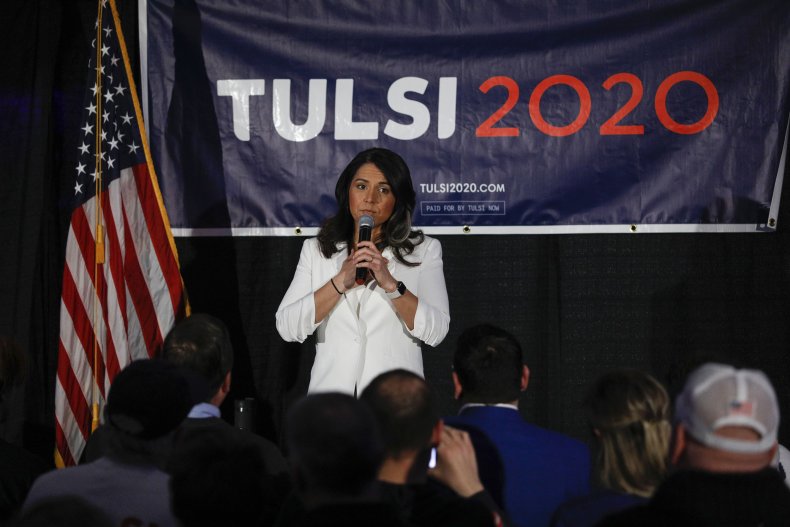 Kucinich was a Democratic representative from Ohio who served from 1997 to 2013. His presidential bid in 2004 against fellow Democrats John Kerry and John Edwards is largely reminiscent of Gabbard's in that it was unsuccessful in accumulating a significant number of delegates—less than 100—and featured an anti-war stance.
"Math is not my major, but I can count... I understand that Kerry has enough delegates to be nominated. I can count, but I can also figure,'' Kucinich told The New York Times in May 2004. ''The reason I have not dropped out of the race is that we may have a nominee, but the future direction of the Democratic Party has not yet been determined.''
Kucinich refused to bow out of the contest until just days before the Democratic National Convention in July 2004 when Kerry won the nomination.
Gabbard's campaign did not respond to Newsweek's request for comment.
The lawmaker, who's said she won't seek re-election in the House this year, has accused the Democratic National Committee of "arbitrarily" sidelining her by stiffening the qualifying rules for debates as the primary process progresses. She cited the DNC's previous rules change regarding the number of donations a candidate must acquire, which paved the way for billionaire and former New York Mayor Mike Bloomberg, who self-funded his campaign, to qualify for debates.
".@JoeBiden @BernieSanders I'm sure you would agree that our Democratic nominee should be a person who will stand up for what is right," Gabbard wrote in a Friday night tweet. "So I ask that you have the courage to do that now in the face of the DNC's effort to keep me from participating in the debates. #LetTulsiDebate."
The next debate in Arizona on Sunday requires candidates to have at least 20 percent of the total pledged delegates that have so far been doled out. As of Monday, Gabbard had earned about .15 percent.
As of the end of January, her campaign had just over $2 million cash on hand and around $600,000 in outstanding bills, according to the Federal Elections Commission. Gabbard told ABC News that she can afford to continue campaigning and has outlasted some of her former competitors because of a frugal operation.
"A lot of other candidates who have outraised and outspent us by multiple times have not been able to stay in the race," she told the outlet. "I have been very fiscally responsible with the dollars that people are contributing to our campaign to maximize their effect and being able to get our message out to voters in the early states and across the country."