Tulsi Gabbard's Policies, Explained: Hawaii Representative Is an Outlier on Foreign Policy
A dozen Democrats vying for their party's nomination for president will square off for the first time in a month in Westerville, Ohio, Tuesday evening.
The event will mark the fourth and most crucial of its kind to date, offering candidates the opportunity to set themselves apart from the pack as states' primaries and caucuses creep closer by the day.
Among the 2020 hopefuls is Rep. Tulsi Gabbard (D-Hawaii), a lawmaker in her fourth term who's struggled to gain popularity of more than 1 percent in the polls with such a crowded field. Leading up to the debate this week, she backed down from a threat to boycott the event altogether, which she was considering in order to "bring attention to DNC/corporate media's effort to rig 2020 primary."
But the Hawaii congresswoman is also a military combat veteran who served overseas, and her isolationist foreign policy views often afford her the opportunity to stand out from her Democratic colleagues. And with recent events that have rapidly unfolded in Syria, including President Donald Trump's announcement he will withdraw all U.S. troops from the northern region of the Middle Eastern country, Gabbard—for better or worse—will likely be afforded a chance to again set herself apart.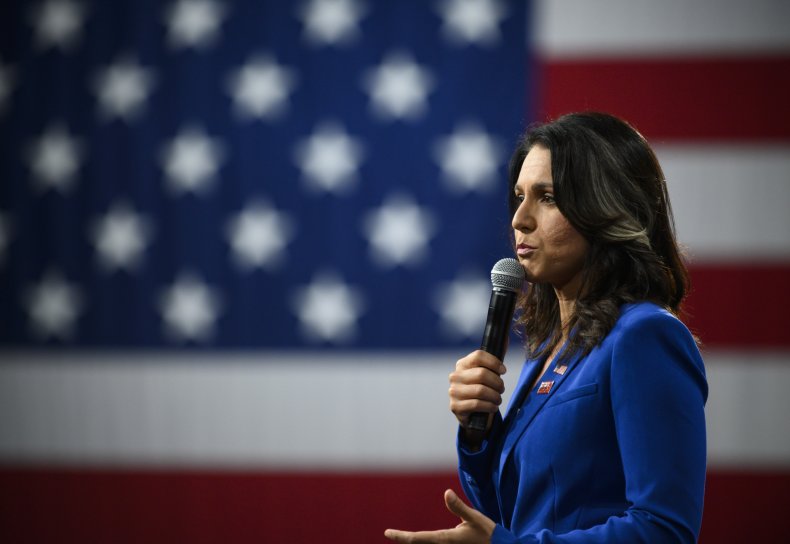 Bipartisan anger has escalated in recent days among members of Congress, who've accused Trump of abandoning the Syrian Kurds by not aiding their defense against a Turkish military offensive. For years, the U.S. fought alongside the Kurds in an effort to eradicate ISIS from Syria.
With Congress' first day back from a two-week recess being Tuesday, lawmakers in both chambers are expected to take swift action that would seek to overturn the president's decision to withdraw U.S. military personnel and to place harsher sanctions on Turkey.
Gabbard's stances on Syria and abroad
The Iraq war veteran makes her anti-war and anti-interventionist stances well-known, something that can often be at odds with how members from either party believe some international issues should be handled. Gabbard went after Democrats and Republicans in a February speech when she launched her presidential bid, saying both sides "never tire of war."
The Democrat has received prior criticism for her stance on Syria. In 2017, she visited Syrian President Bashar al-Assad as the dictator was being internationally condemned for using chemical weapons against his own citizens amid a civil war that's led to one of the worst humanitarian crises in decades. Later that same year, Gabbard rebuked Trump for conducting airstrikes against the Assad regime that were levied in response to the chemical weapons attack.
In her candidacy, Gabbard has distanced herself from Assad, labeling him as a "brutal dictator" this summer. But she's also continued to signal her disapproval for U.S. troops to be in the region, stating America is not the "world's police" and that "regime change wars" waged by the U.S., such as in Iraq and Libya, don't ever succeed.
Sharing an exclusive Newsweek story last week about Turkey apparently attacking U.S. forces in Syria by accident, Gabbard demanded that Trump "remove our troops from Syria now!"
"You've put them in harm's way w/ no clear mission/strategy. They're not helping the Kurds or going after AQ," she wrote in a tweet. "It's been 1 year since you promised to bring them home—long enough to have done so 'carefully.'"
Gabbard also said in a video posted to her account that Turkey was committing "ethnic cleansing" of the Kurds in Syria because Trump "refuses to end our efforts to overthrow the Syrian government." Her stance differed than that of other lawmakers, who have blamed the sudden influx of fighting on the U.S.'s decision to pull out troops. Democrats and Republicans have said the move amounted to a "green light" for Turkish-backed forces to advance against the U.S.-backed Kurds.
"Trump lied to the Kurds, promising them our support while simultaneously preventing them from reconciling with the Syrian government and coordinating a common defense against Turkish invasion," Gabbard said.