CNN analyst Bakari Sellers—a former member of the South Carolina House of Representatives—called 2020 candidate Hawaii congresswoman Tulsi Gabbard "a puppet for the Russian government" during a panel appearance on Tuesday, hours before the fourth Democratic debate is set to take place in Westerville, Iowa.
"There is a change that Tulsi's not just working for the United States of America, but I digress," Sellers said during a CNN panel discussion of the upcoming debate.
"What does that mean?" CNN host Alisyn Camerota asked.
"That's not just an allegation. I firmly believe that Tulsi Gabbard stands on that stage and is the antithesis to what the other 11 individuals stand for. Especially when it comes to issues such as foreign policy," Sellers explained. "There is no question that Tulsi Gabbard, of all the 12, is a puppet for the Russian government."
"Woah oh oh, that is strong," CNN political analyst April Ryan said.
"How is there no question?" Camerota asked, clearly stunned by Sellers' remarks.
Sellers replied by pointing to Gabbard's alleged "affection" for people like Syrian leader Bashar al-Assad. "Her admiring somebody who we know to be a war criminal propping them up," he said. "I think that those are questions that will have to be answered."
"That was very strong," Ryan said again.
The New York Times on Saturday published an article titled, "What, exactly, Is Tulsi Gabbard Up To?" According to the author, Lisa Lerer, Gabbard's previous threat to boycott the Tuesday's Democratic debate has "some Democrats wondering what, exactly, she is up to in the race, while others worry about supportive signs from online bot activity and the Russian news media."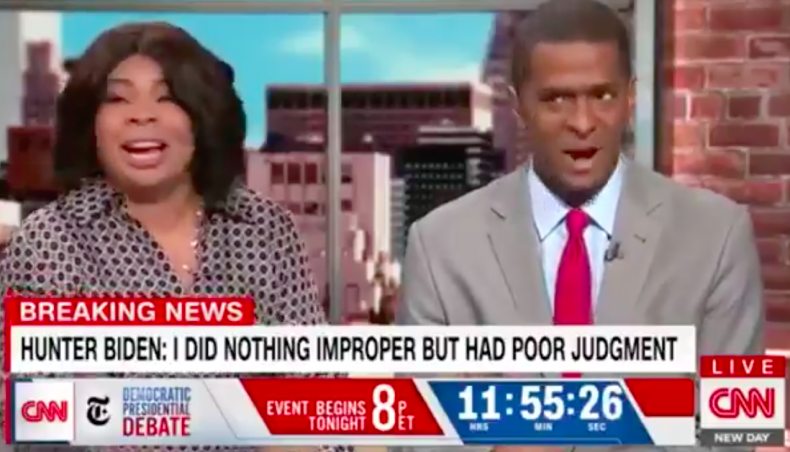 "Alt-right internet stars, white nationalists, libertarian activists and some of the biggest boosters of Mr. Trump heap praise on Ms. Gabbard," Lerer wrote. "They like the Hawaiian congresswoman's isolationist foreign policy views. They like her support for drug decriminalization. They like what she sees as censorship by big technology platforms."
Gabbard was accused of receiving support from Russia after the hashtag #KamalaHarrisDestroyed began trending on Twitter shortly after the candidate criticized her opponent Senator Kamala Harris during the July Democratic debate. The hashtag "appeared to be amplified by a coordinated network of bot-like accounts," the Times wrote.
Last Thursday, Gabbard accused the Democratic National Committee of "rigging" the battle for the 2020 Democratic nomination against the candidates polling in the lower tier.
"I am seriously considering boycotting October 15 debate to bring attention to DNC/corporate media's effort to rig 2020 primary," she tweeted. However, Gabbard later confirmed she "will be attending the debate," in a tweet on Monday.