Tulsi Gabbard Says Donald Trump Is 'Unfit to Serve' After President Commends Her For Voting 'Present' on Impeachment
Two days after President Donald Trump gave Representative Tulsi Gabbard "respect" for casting a neutral vote on his impeachment, she tweeted an earlier interview in which she said he was unfit to serve as commander in chief.
When it came to both impeachment articles—obstruction of Congress and abuse of power—Gabbard, a Democrat and presidential candidate, was the only member of the House to cast her vote as "present" instead of yea or nay on December 18.
Despite her decisive break with the Democrats, Gabbard doesn't seem interested in accepting this past weekend's praise from Trump—a move that seems emblematic of the candidate's careful dance on impeachment thus far. While she's said the president committed wrongdoing, she's also blasted Democrats for the "tribal animosities" that have fueled their investigation to date.
"I give her respect. She didn't vote the other day. I give her a lot of respect. Because she knew it was wrong. She took a pass," Trump said Saturday in West Palm Beach, Florida, according to USA Today.
In an apparent response, Gabbard posted her interview on The Hill TV's Rising segment on Monday. In it, she declined to explain her neutral vote on impeachment but maintained that the president's foreign policy decisions were counter to American interests and national security.
"Look, there is no question in my mind that Donald Trump is unfit to serve as president and commander in chief. I've said this over and over again," Gabbard told hosts Krystal Ball and Saagar Enjeti. "I am running for president to defeat him for that reason.
"He launched an illegal and unconstitutional attack launching missiles into Syria," Gabbard continued. "We don't see any of the talk in Congress about that."
She added that the president also tore up the Iran nuclear agreement and brought the United States closer to war with that nation.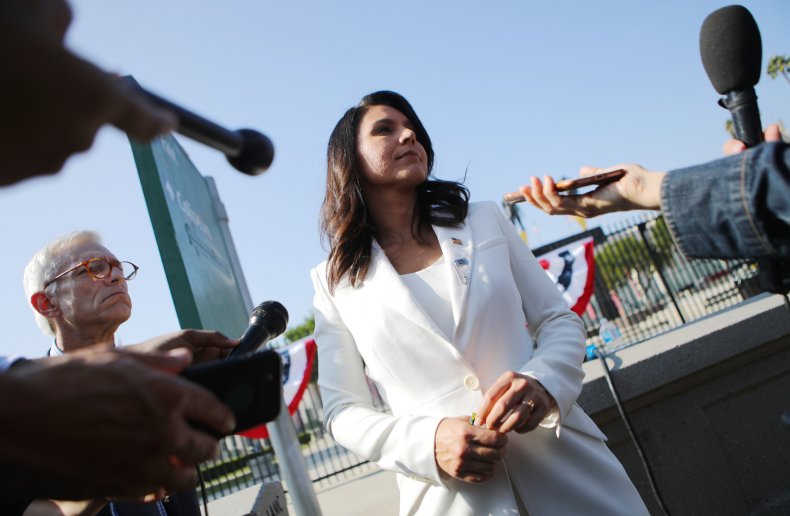 When Gabbard first addressed her impeachment vote, she said that after reviewing the House Judiciary Committee's 658-page report, she decided the inquiry was simply too partisan, despite mounting evidence that Trump used U.S. foreign policy to serve his 2020 bid for re-election.
"I am standing in the center and decided to vote 'present,'" Gabbard said in the video. Though Trump violated the public trust and is "guilty of wrongdoing," she continued, the "removal of a sitting president must not be the culmination of a partisan process, fueled by tribal animosities that have so gravely divided our country."
Gabbard's campaign did not immediately respond to Newsweek's request for comment.