Tulsi Gabbard Says Her Sick Friend and Three Others Were Denied Coronavirus Testing in Hawaii
Hawaii Congresswoman and 2020 Democratic hopeful Tulsi Gabbard claims her friend and three others have been denied coronavirus testing in her home state.
"My friend is sick, has had contact with someone who tested positive for COVID-19. He's at Urgent Care Hawaii to get tested & was rejected, saying he doesn't meet the criteria. In the hour he's been there, three other sick people were turned away," Gabbard tweeted on Friday afternoon.
In her post, she tagged the social media accounts for the Hawaii government, the Centers for Disease Control and Prevention (CDC), and the Food and Drug Administration (FDA). She also ended the tweet by seemingly asking Hawaii Governor David Ige for an explanation, writing: "Gov. Ige??"
In a second tweet, she explained that her friend was allegedly turned away because he didn't have a fever, "even though he's been exposed and is sick and has traveled to identified countries." She added that he lives with his elderly mother-in-law and five children, who will at be "at risk if he's positive."
Newsweek has reached out to Gabbard's 2020 campaign for more information but has yet to receive a response.
The number of coronavirus cases across the country has exceeded 1,600, with at least 41 deaths, according to the latest data from the CDC. The outbreak was recently declared a pandemic by the World Health Organization (WHO).
On Friday afternoon, President Donald Trump issued an emergency declaration over the outbreak. The measure will allow his administration to use the Stafford Act, which governs disaster-relief efforts, to provide as much as $50 billion in funding to state and local governments.
"I am officially declaring a national emergency, two very big words," Trump said, addressing reporters and news cameras in the Rose Garden at the White House.
Before Trump's declaration, Gabbard introduced her own resolution calling for emergency universal basic payment in response to the coronavirus pandemic. Her proposal includes giving $1,000 per month to every American adult to help them "weather the storm created by this crisis."
"The coronavirus pandemic has created a threat to the health and well-being of the American people, as well as to our country's economic stability. While some in Washington are focused on taking care of Wall Street, everyday Americans get left behind. That's wrong," Gabbard said in a statement.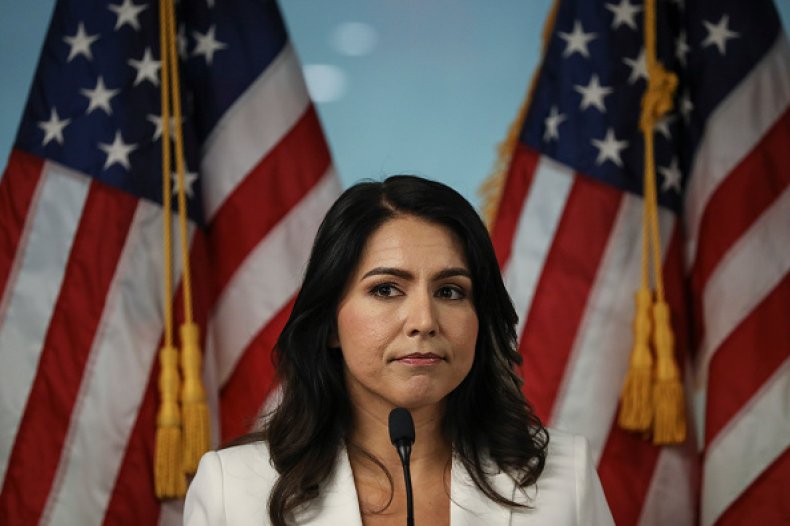 Trump has claimed that the country has "tremendous testing set up" but data shows the United States is lagging behind other nations.
According to the CDC, a total of at least 11,000 people have been tested since January. By contrast, South Korea has tested more than 210,000 people and is testing roughly 20,000 people each day, while United Kingdom has tested nearly 30,000 people and is carrying out more than 1,000 tests per day, according to the BBC.
Former Vice President Joe Biden, the current front-runner in the Democratic primary, slammed Trump for his response to the outbreak in a press conference on Thursday.
"The administration's failure on testing is colossal and it's a failure of leadership, planning and execution," he said. He proposed that there should be free testing for anyone who needs it, drive-through testing sites, emergency paid family and medical leave, and multi-hundred-bed temporary hospitals.