Tulsi Gabbard Says Hillary Clinton's Russia Remark 'Has Hurt Me' In Democratic Race
Tulsi Gabbard's feud with Hillary Clinton hasn't helped the Hawaiian congresswoman and presidential candidate, according to her interview with WYFF News in Greenville, South Carolina.
In mid-October, Clinton implied that the GOP may be "grooming her to be the third-party candidate," referring to Gabbard. That would hurt the Democrats' chances of beating President Donald Trump, Clinton claimed.
She also referred to Gabbard as a "Russian asset," an accusation that the congresswoman claims has brought down her polling numbers, which have been dismal, heading into the 2020 race's first nominating contest, in Iowa in February.
"Do you feel like when that happened it may have hurt numbers?" reporter Taggart Houck of WYFF News asked Gabbard in the interview, published Tuesday.
"It has hurt me," a solemn Gabbard replied. "Unfortunately, some people believe what she said. And it hasn't been helped by those in the media who fail to do their job in saying, 'You make such a serious accusation. Back it up. Where's your evidence?'"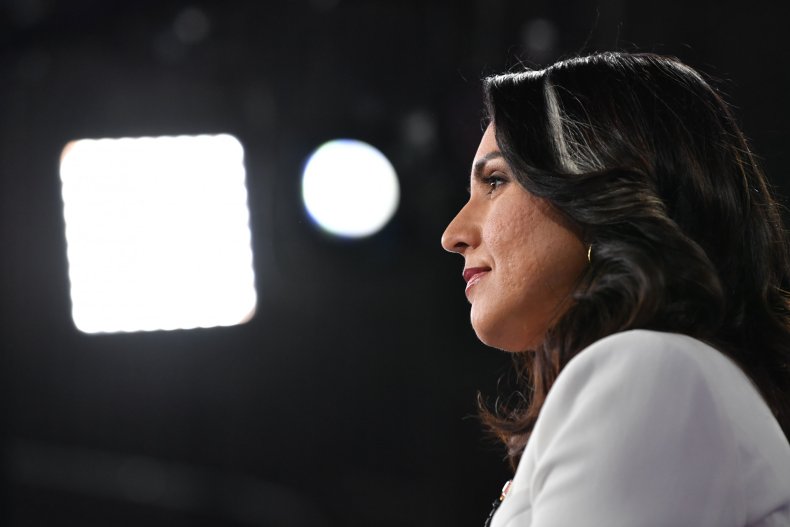 The congresswoman has defended herself against Clinton's "Russia asset" remarks by saying that that the former secretary of state was angry about Gabbard's early endorsement of Senator Bernie Sanders during her presidential bid in 2016. At the time, she was serving as a Democratic National Committee vice chair but left her position, amid other disagreements with the DNC, to publicly support Sanders for president.
In an email exchange obtained by Politico, Clinton's campaign team had a pointed reaction to Gabbard's endorsement of Sanders.
"We were very disappointed to hear that you would resign your position with the DNC so you could endorse Bernie Sanders, a man who has never been a Democrat before," former Clinton Foundation director Darnell Strom wrote in the 2016 note to Gabbard. He added that he would not help the congresswoman raise money for her future campaign efforts.
The email made its way to John Podesta, Clinton's campaign head, and Huma Abedin, Clinton's close aide, "to gloat about the verbal beatdown," Politico reported. "Hammer dropped!" Strom said in the chain with colleagues.
Nonetheless, Clinton's team has maintained that the Russia comments represented legitimate concerns about national security. While the Republican party could have its eye on Gabbard to disrupt the general election, Moscow is quietly supporting the congresswoman from afar, according to Clinton.
She added: "She's the favorite of the Russians. They have a bunch of sites and bots and other ways of supporting her so far." Clinton added that Green Party candidate Jill Stein was "also" a Russian asset.
Gabbard, who's still serving as a major in the Army National Guard, can seem to be Russia-friendly. In 2015, she appeared to support Russian President Vladimir Putin's involvement in Syria, tweeting: "Al-Qaeda attacked us on 9/11 and must be defeated. Obama won't bomb them in Syria. Putin did."
In 2017, she met with President Bashar al-Assad and has since been "skeptical" that the Syrian dictator, a Putin ally, has used chemical weapons in Syria's civil war.
Whether or not the congresswoman serves Russian interests—and she's said, emphatically, that she doesn't—the squabble between the two powerful Democrats hasn't gone unnoticed by state-sponsored outlets in Moscow, according to an analysis published by NBC News.
"Hillary Clinton's attacks on Tulsi Gabbard sow more Democratic division than Moscow could ever dream of," said Russia Today on October 20.
Correction Dec. 20, 2:26 p.m.: An earlier version of this story incorrectly described former presidential candidate Hillary Clinton's comments about Rep. Tulsi Gabbard. Her comment about "grooming" Gabbard referred to the Republican party and came in response to a question about the party's strategy.