Tulsi Gabbard Is Still in the 2020 Presidential Race Despite Having Only Two Delegates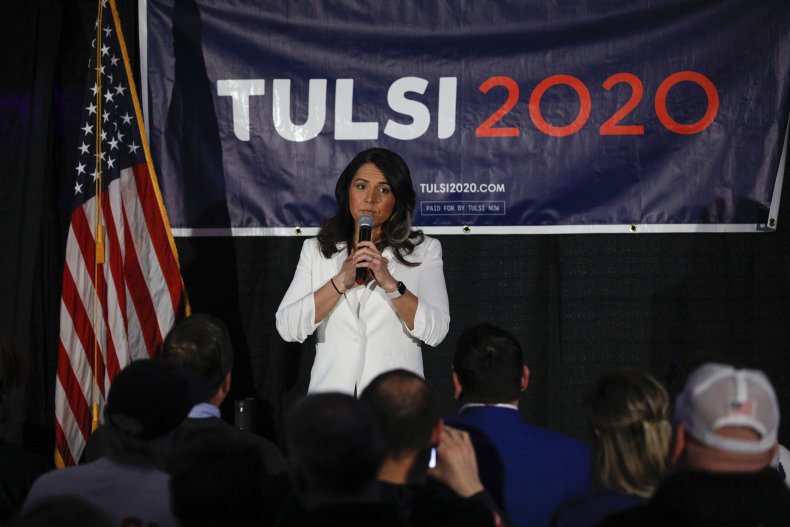 Hawaii Congresswoman Tulsi Gabbard remains in the race to become the 2020 Democratic presidential nominee, despite having only two delegates.
On Thursday, Massachusetts Senator Elizabeth Warren dropped out of contention after failing to finish first in any of the Democratic primaries and caucuses held thus far. She declined to say which of the two front-runners--former Vice President Joe Biden and Vermont Senator Bernie Sanders--she would endorse.
Gabbard is now the only woman and person of color left in what has essentially become a two-person race between Biden and Sanders.
Super Tuesday saw Biden's delegate count go up to 609 so far, as he carried 10 of 14 states across the country. Sanders' delegate count is up to 541, according to The Associated Press. Warren dropped out with a delegate count of 64.
Meanwhile, Gabbard received a total of two delegates, which came on Super Tuesday from the caucuses held in American Samoa. To win the Democratic nomination, a candidate will need to secure 1,991 delegates.
Gabbard currently qualifies to participate in the 11th Democratic debate, which will be held in Phoenix on March 15. As the Democratic debate rules stand, a candidate who earns at least one delegate in the primaries will automatically qualify for the debate.
But that may soon change, according to Xochitl Hinojosa, communications director for the Democratic National Committee. Hinojosa tweeted out this past Tuesday that the threshold to qualify for the remaining debates would increase:
"We have two more debates--of course the threshold will go up," she wrote. "By the time we have the March debate, almost 2,000 delegates will be allocated. The threshold will reflect where we are in the race, as it always has."
Gabbard would have to perform exceptionally well in the Democratic primaries on March 10 when 352 delegates will be up for grabs in six states to meet any new threshold for the debate. This will be a virtually impossible task as FiveThiryEight forecasts Gabbard will not win a single delegate from the participating states.
Democratic strategist Chris Kofinis of Park Street Strategies told Newsweek in an email that the Hawaii congresswoman is not even a margin-of-error candidate. When asked if Gabbard's remaining in the race would help or harm the two current front-runners Biden and Sanders, Kofinis said that Gabbard would "have zero impact on the nature or direction of this race."
Newsweek reached out to the Gabbard campaign for comments regarding why the Democratic representative is remaining in the race, but received no response in time for publication.