'Tulsi Gabbard' Trends After 2020 Democrat Votes Present on Both Articles of Impeachment
As the House of Representatives cast their votes for both articles of impeachment against President Donald Trump on Wednesday evening, "Tulsi Gabbard" began trending across America after the Democratic Congresswoman from Hawaii cast her first "present" vote.
In a historic vote that saw Trump became the third U.S. president to be impeached by the House, only a few Democratic members broke from party ranks. Following numerous hours of debate, at around 8.40 p.m. ET, the lower chamber voted 230-197-1 on the abuse of power article and 229-198-1 on the obstruction of Congress article.
Congressmen Collin Peterson from Minnesota and Jeff Van Drew from New Jersey were the only Democrats to defect on both articles of impeachment, while Congressman Jared Golden from Maine voted for only the abuse of power charge.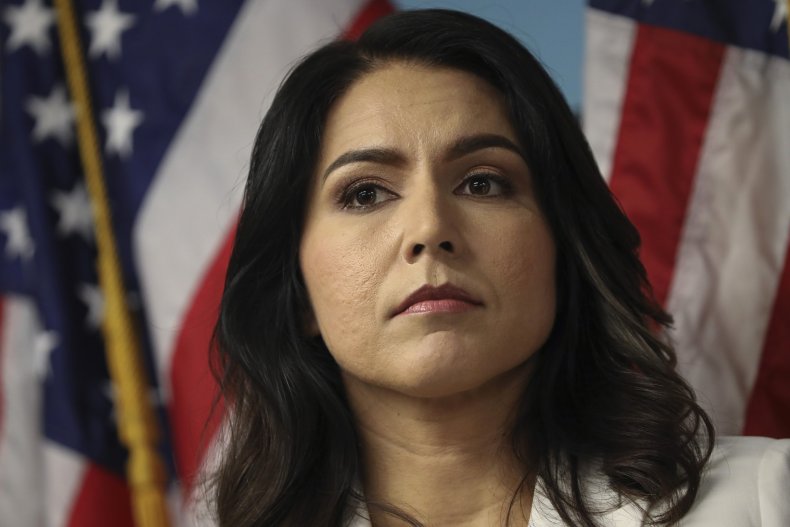 Gabbard, who's also a 2020 presidential candidate, decided not to vote for the president to be tried on charges of abuse of power and obstruction of Congress. Instead, she voted "present" for both of the articles of impeachment. In a statement released after the historic vote, Gabbard said that she "could not in good conscience vote either yes or no... I am standing in the center and have decided to vote 'Present.'"
"My vote today is a vote for much needed reconciliation and hope that together we can heal our country," Gabbard said, after rebuking both Democrats and Republicans for devolving the impeachment proceedings into what she called a "partisan endeavor."
Tens of thousands of Americans took to Twitter to discuss Gabbard's unexpected present votes. Shortly after voting ended on Wednesday evening, "Tulsi Gabbard" rose to the fourth most-trending topic on the social media platform in the United States, with over 60,000 users mentioning her name.
"Tulsi Gabbard just made about the worst decision you can make in this important moment in history," political analyst Matthew Dowd tweeted. "She voted Present. Not yes or no. How does she run in Democratic primary after this?"
"Tulsi Gabbard gets a chance to show off her decision-making skills, and... votes "present," Media Matters' Parker Molloy tweeted.
"Let the notice that Tulsi Gabbard voted 'present' be the last time we ever have to speak of her," author Tom Nichols tweeted.
"I can't believe Tulsi Gabbard voted: 'Eh, I could eat,'" comedian Josh Gondelman tweeted.
"Tulsi Gabbard doesn't vote on impeachment ? Present ? What the hell is that ?," actor John Cusack tweeted.
"Tulsi Gabbard is hanging out on the Republican side having a conversation," Daily Beast reporter Betsy Swan tweeted.
"'When things got tough, I showed up. Literally. I was physically in attendance.' - Tulsi Gabbard to her future grandchildren," author Jason Kander tweeted.
"America: 'Do you think treason is good or bad?' Tulsi Gabbard: 'Present.' #ImpeachmentDay," Human Right Watch's Charlotte Clymer tweeted.