Tulsi Gabbard Accuses CNN's Fareed Zakaria of Goading Donald Trump Into War With Russia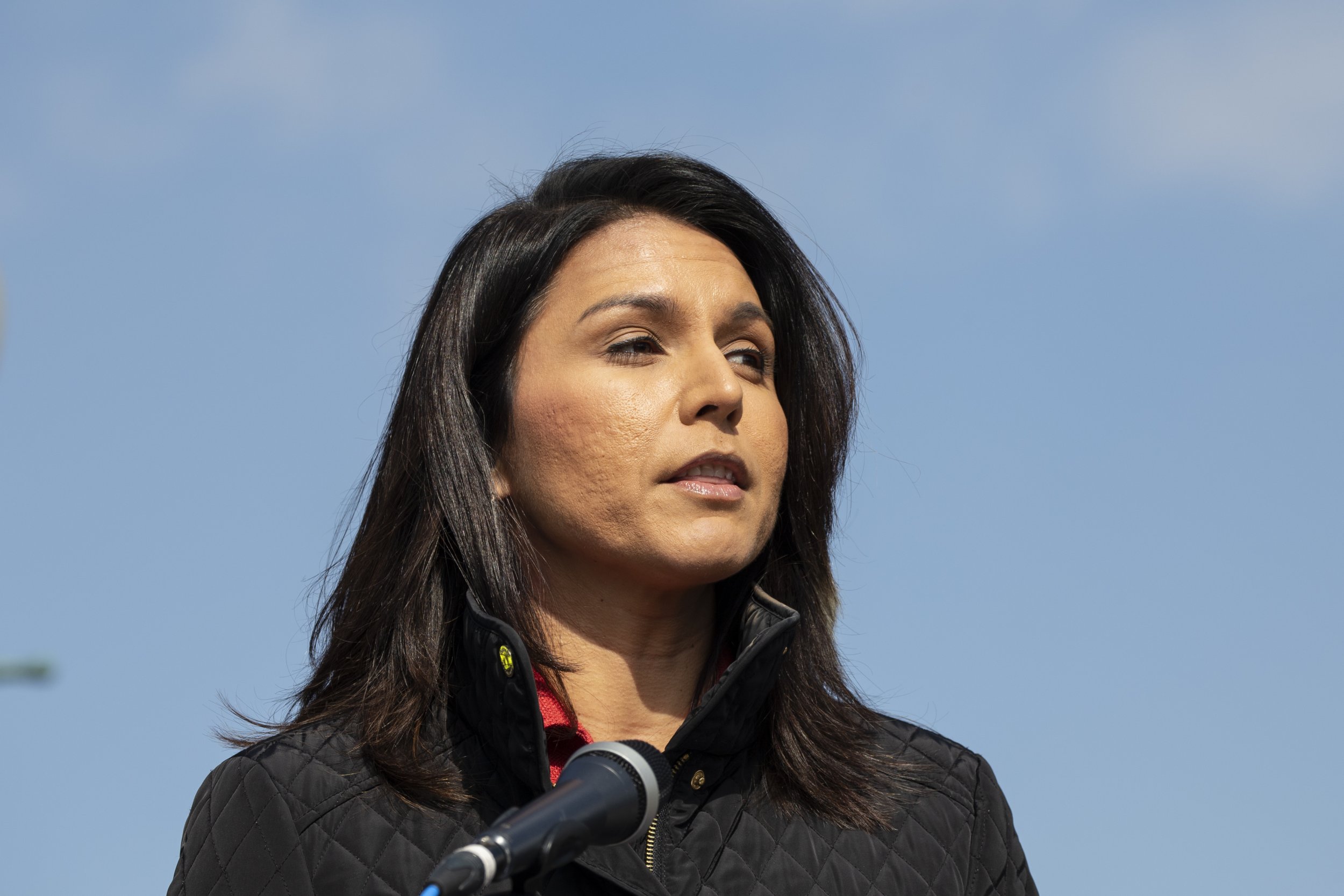 Tulsi Gabbard lashed out at CNN host Fareed Zakaria in an Instagram post on Wednesday, accusing him of goading President Donald Trump into war with Russia over the Venezuela crisis. Trump has told Russia to get out of crisis-stricken Venezuela.
Gabbard is a Democratic congresswoman from Hawaii and a candidate for the party's 2020 presidential nomination. She is also a veteran of the Iraq War and is the first American Samoan and first Hindu to be elected to Congress.
"TV talking heads love trying to goad Trump into going to war w/ Russia," Gabbard wrote in her Instagram post. "Here's just one example: Fareed Zakaria is trying to get Trump to prove he's not guilty of appeasement by going to war with Russia over Venezuela."
The comment accompanied a short video clip from a recent segment on Zakaria's CNN show where he questions if Venezuela will be the moment Trump ends his "appeasement" of Russia and President Vladimir Putin.
In the full segment, Zakaria draws a comparison between the Trump administration's position on Venezuela's Nicolás Maduro regime and President Barack Obama's "red line" on Syria using chemical weapons.
Washington did not follow through on full military intervention against Bashar al-Assad's regime after its use of chemical weapons on civilians. Russia then entered Syria to back the Assad regime in the war, keeping it in power.
The Trump administration views Maduro as an illegitimate leader who must make way for interim president Juan Guaidó, who is endorsed by the National Assembly and says there will be new and credible elections in Venezuela.
Maduro took over from socialist Hugo Chávez after his death from cancer in 2013. Maduro won a 2018 presidential election in Venezuela widely regarded by the international community as improper.
Under Maduro, the long-mismanaged Venezuelan economy has collapsed, millions are fleeing the country, and the streets are filled with protests, as well as some violence. Maduro is attempting to crush the popular uprising.
He has clung to power despite Venezuela's political and economic crisis and Guaidó's recognition as interim president by the National Assembly, the U.S., the European Union and other Western nations.
The U.S. has imposed sanctions on the Venezuelan regime and also transferred control of financial accounts to Guaidó's teams. The Trump administration has said all options are on the table if a full-blown civil war breaks out in Venezuela.
But Maduro has military and financial support from Russia, as well as a passionate core of supporters among Venezuelans and the backing of military leaders who have not switched allegiance to Guaidó. Maduro claims the opposition to him is a U.S.-backed coup.
"The big question for Washington is: Will it allow Moscow to make a mockery of another American red line?" Zakaria said during the segment criticized by Gabbard. "The U.S. and Russia have taken opposing, incompatible stands on this issue. And, as with Syria, there is a danger that if Washington does not back its words with deeds, a year from now we will be watching the consolidation of the Maduro regime supported by Russian arms and money."
He went on: "The administration has been tough on Russian involvement in Venezuela. Trump himself has even declared Russia has to get out. But that is an unusual sentiment from Trump, who has almost never criticized Vladimir Putin and often sided with Russia on matters big and small."
Zakaria then asked: "But the real puzzle remains. Why has Trump been unwilling to confront Putin in any way on any issue, and will Venezuela finally be the moment when Trump ends his appeasement?"
Gabbard drew fire in 2017 after she met with Assad, who is accused of multiple war crimes, and later declared that he is not an enemy.
"Assad is not the enemy of the United States, because Syria does not pose a direct threat to the United States," Gabbard told MSNBC's Morning Joe in February. "My point is that whether it is Syria or any of these other countries, we need to look at how their interests are counter to or aligned with ours."