Tulsi Gabbard Calls Soleimani Strike 'Act of War,' Says Trump Violated the Constitution
Representative Tulsi Gabbard said Friday morning that President Donald Trump violated the Constitution in his decision to authorize a drone strike against a senior Iranian military figure without congressional approval.
"This was very clearly an act of war by this president without any kind of authorization or declaration of war from Congress, clearly violating the Constitution," Gabbard, a Hawaii Democrat who is running for president, said on Fox & Friends. "It further escalates this tit for tat that's going on and on and on, will elicit a very serious response from Iran, and [pushes] us deeper and deeper into this quagmire. And it really begs the question: For what?"
Gabbard is a frequent critic of American intervention overseas, and Trump's decision to take out Quds Force commander Qassem Soleimani is leading to heightened anticipation of a retaliatory response by Iran, which could further draw the U.S. into a sustained, armed conflict in the region.
After reports of the strike started coming out Thursday night, Trump tweeted a cryptic message alluding to its confirmation: an uncaptioned photo of the American flag.
On Friday morning, the president issued a specific response to the news, writing on Twitter that Soleimani "killed or badly wounded thousands of Americans over an extended period of time."
Trump also shared what his defenders are pointing to as justification for the move: an assertion that Soleimani was "plotting to kill many more." Specific evidence was not shared regarding any particular plot, however.
Gabbard, an Iraq War veteran who serves on the House Armed Services Committee, warned on Friday that "going to war with Iran would make the war in Iraq and even Afghanistan look like a picnic."
"It would be far more costly and devastating in American lives and in taxpayer dollars," she added, claiming that Trump's decision to attack Soleimani would contribute to an environment that "further undermines our national security."
Gabbard has taken heat for her occasional, muted statements about Syrian President Bashar al-Assad, who has been accused of committing war crimes during the civil war in his country. Soleimani had helped to prop up Assad during the conflict, which involved factions backed by Iran and the United States.
When pressed by CNN's Chris Cuomo in an August interview, Gabbard called Assad a "brutal dictator," although in previous instances the Hawaii congresswoman has avoided more forceful denunciations of Assad.
The allegation of constitutional violations is renewing scrutiny of her vote during Trump's impeachment in the House, where she was one of a few Democrats not to vote for impeachment, and the only member of her party to simply vote "present." Democrats had argued that Trump's alleged constitutional violations merited impeachment, although they were in response to a different crisis involving Ukraine.
"This impeachment has only proven to further strengthen Trump," Gabbard explained about her vote to Fox & Friends. "It's increasing the likelihood that it'll be harder for us to defeat him. It'll increase the likelihood that Republicans take the House and the Senate, which I don't think is a good thing for the country."
Gabbard's comments are far from the only criticisms by a Democratic presidential candidate of Trump's move. Senator Elizabeth Warren, who serves on the Senate Armed Services Committee, called it a "reckless move" that "escalates the situation with Iran and increases the likelihood of more deaths and new Middle East conflict."
Senator Bernie Sanders released a similarly disparaging statement, saying that Trump "promised to end endless wars, but this action puts us on the path to another one."
"When I voted against the war in Iraq in 2002, I feared it would lead to greater destabilization of the country and the region," he said. "Today, 17 years later, that fear has unfortunately turned out to be true."
Former Vice President Joe Biden said that "every day that Donald Trump directs American national security is a dangerous day for the United States and the world."
The White House did not respond to a request for comment.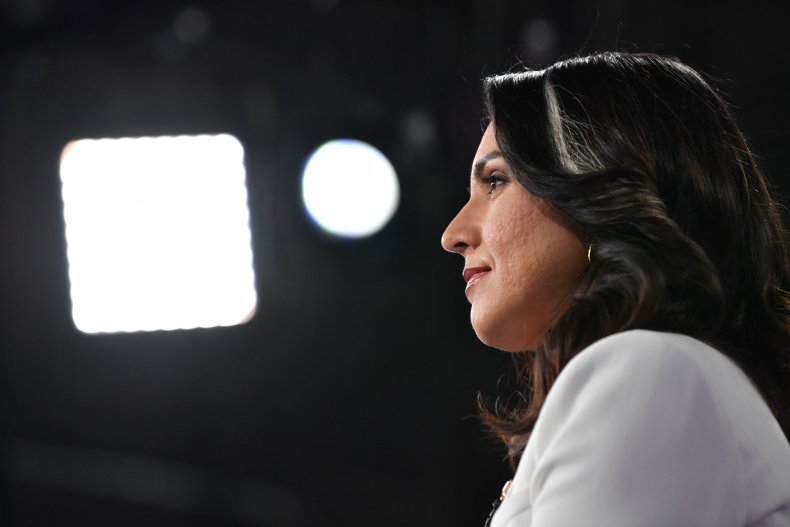 This story has been updated to include additional material about Gabbard's comments toward Syrian President Bashar al-Assad.