Tulsi Gabbard Says It's Time to 'Move Forward' After Trump-Russia Investigation, Twitter Says Not So Fast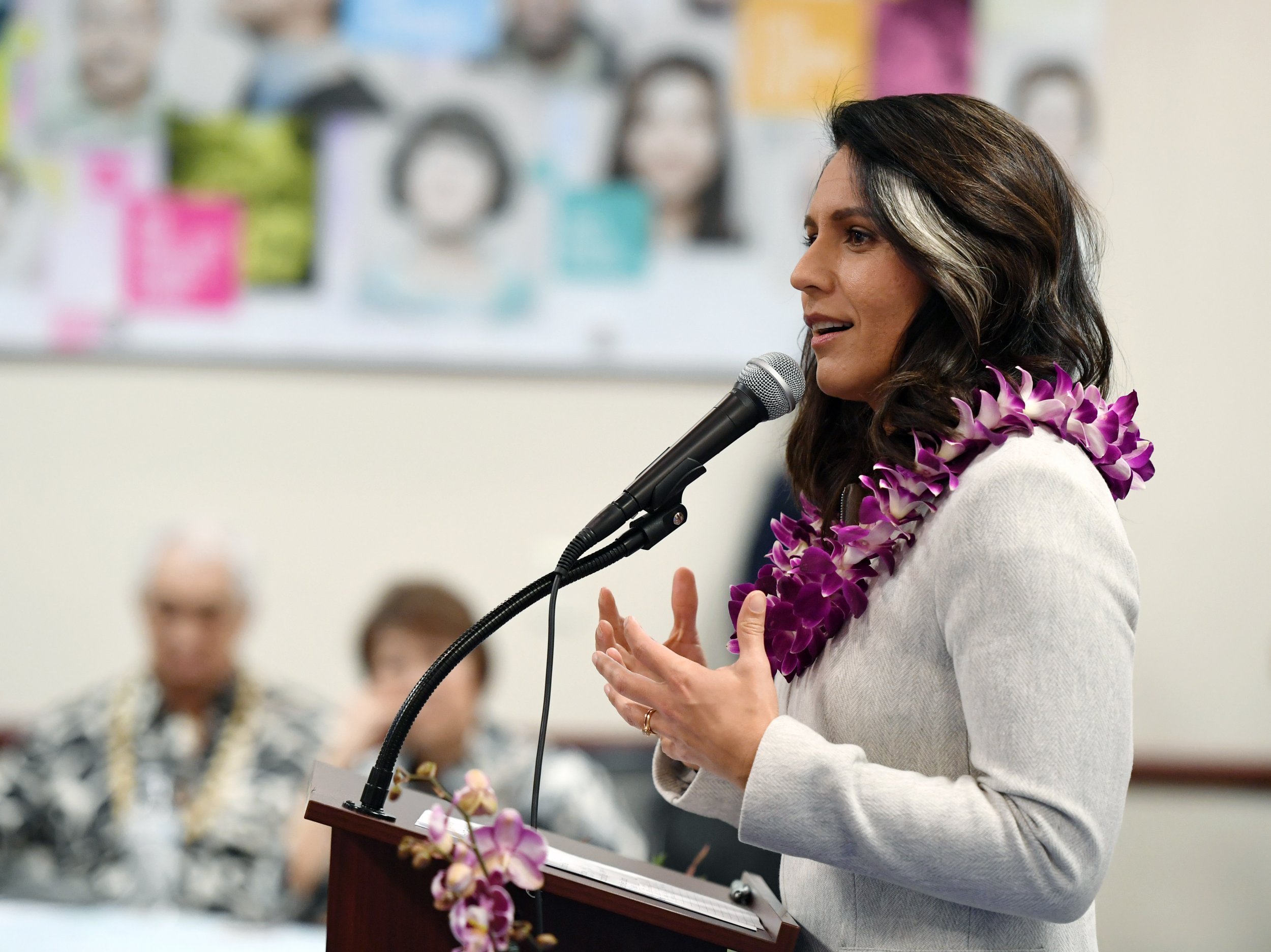 Tulsi Gabbard, a Hawaii congresswoman and Democratic presidential candidate, has a message for Americans on special counsel Robert Mueller's report that is largely in sync with her fellow 2020 contenders: move on.
"Now that Mueller has reported that his investigation revealed no such collusion, we all need to put aside our partisan interests and recognize that finding that the president of the United States did not conspire with Russia to interfere with our elections is a good thing for our country," the four-term representative said in a campaign video Thursday.
But Twitter critics disagreed.
"Mueller has not reported anything," said Soledad O'Brien, a former CNN anchor and CEO of Starfish Media Group. "Why does anyone support this idiotic lady?"
John Sipher, who identified himself as a former CIA clandestine officer, said, "Goodness. Have you seen the report? Also, can you speculate on why Russian propaganda outlets continue to push your candidacy?"
"It's impossible to overstate how tone deaf and dunderheaded this is," said Greg Olear, author of Dirty Rubles: An Introduction to Trump/Russia. "Delete your account."
Issuing a more light-hearted rebuttal, comedian Tony Posnanski said, "you make Michael Avenatti look like a good candidate."
Avenatti was the lawyer for adult-film star Stormy Daniels, who was paid $130,000 in hush-money by former Trump attorney Michael Cohen for an alleged affair. Once someone who considered running for president, Avenatti was charged this week for a $20 million extortion scheme against Nike and in a separate case is alleged to have embezzled a client's money and defrauded a bank.
Gabbard, along with other 2020 candidates and congressional Democrats, advocated for the full release of the special counsel's report be made public by Attorney General William Barr. So far, only Barr's four-page summary of Mueller's principal conclusions has been released, which stated the special counsel "did not find that the Trump campaign or anyone associated with it conspired or coordinated with Russia." However, Barr quoted Mueller's finding that "while this report does not conclude that the president committed a crime, it also does not exonerate him" of the obstruction of justice issue.
"If the president had been indicted for conspiring with Russia to interfere with and affect the outcome of our elections, it could have precipitated to a terrible crisis that could have led to civil war," Gabbard said earlier this week. "We should all be relieved."
Much like her fellow presidential hopefuls and Democratic leaders in the House, the Hawaii congresswoman said the party should refrain from lingering on the Mueller issue and instead push forward with focusing on policy issues.
"Now, we must put aside partisan interests, move forward, and work to unite our country to deal with the serious challenges we face," Gabbard said.
Democrats pounced at the opportunity this week to again discuss health care—a major topic that aided their 2018 successes—after the Justice Department reversed its stance to say it agreed with a federal judge in Texas who ruled the entire Affordable Care Act was unconstitutional. Previously, the administration argued that only certain portions should be struck down, and the new stance has put congressional Republicans, who appeared to be blindsided with the renewed health care fight, in a tough spot.
"If the Supreme Court rules that Obamacare is out, we will have a plan that is far better than Obamacare," President Donald Trump told reporters this week. He also touted that the Republican Party would become "the party of great health care."
Several 2020 candidates have suggested they should focus on how Trump got to the Oval Office rather than how to forcibly remove him.
Minnesota Senator Amy Klobuchar told CBS News this week that Democrats "can do two things at once—ensure the law is followed and make sure we're focusing on an optimistic, economic agenda," while South Bend Mayor and fellow candidate Pete Buttigieg told MSNBC the party needs to "be paying attention to the kinds of conditions that made it possible for him to get here in the first place."
In her campaign video, Gabbard took the opportunity to push her own bill, the Securing America's Elections Act," that would "power every single state to use voter verified paper ballots that would make it impossible for Russia or any other country or rogue actors to come in and manipulate or change the results of our elections."