Democratic presidential candidate Rep. Tulsi Gabbard confronted the hosts of ABC's The View on Wednesday, pushing back against criticism suggesting she is a "Russian asset" and has been supported by far-right leaders.
Gabbard, a veteran of the Iraq War who continues to serve in the National Guard, has faced significant backlash from some Democrats, who have accused her of repeating Russian talking points about U.S. foreign policy. Former Democratic presidential candidate and Secretary of State during the Obama administration Hillary Clinton suggested last month that a current Democratic candidate is "the favorite of the Russians." The congresswoman issued a series of scathing attacks on Clinton in response, calling her the "queen of warmongers."
"Some of you have accused me of being a traitor to my country, a Russian asset, a Trojan horse or a useful idiot was the term I think you used," Gabbard told the day-time talk show's panel of hosts on Wednesday. "Which basically means that I'm naive or lack intelligence to know what's going on. I want to let your viewers know exactly who I am, set the record straight," she said with a smile.
Throughout Gabbard's comments, co-host Joy Behar kept attempting to interject, and talk over the congresswoman, but allowed her to continue, saying "all right."
"I am a patriot. I love our country," the presidential candidate asserted. "I am a strong and intelligent woman of color, and I have dedicated almost my entire adult life to protecting the safety, security and freedom of all Americans in this country," she said, eliciting applause and cheers from the with the studio audience.
Behar jumped in, saying: "I guess we're getting a little bit far ahead of ourselves but [right-wing televangelist and Christian leader] Franklin Graham finds you refreshing. He doesn't find me refreshing."
"Richard Spencer, the white nationalist leader, says he could vote for you," Behar added.
Gabbard, laughing, cut in: "Joy, this is why I'm here."
"I mean you're on [with right-wing Fox News host] Tucker Carlson at least ten times, why don't you go on [Fox News anchor] Chris Wallace's show?" Behar asked. While Carlson is often criticized for his controversial views, Wallace is seen by many as one of the objective journalists on right-leaning Fox News.
"This is why I'm here," Gabbard replied. "Because you and other people continue to spread these innuendos that have nothing to do with who I am."
Behar continued, broaching the spat between Gabbard and Clinton: "You shot back at her, boy, you called her 'the queen of warmongers.'"
"Unfortunately, you double down on the baseless accusations that she made that strikes at the core of who I am," the congresswoman replied. "I'm a soldier ... I've served now for over 16 years. I've deployed twice to the Middle East during the height of the war, where every day I saw the terribly high human cost, which is why I ran for Congress."
Gabbard has pushed an anti-war message during her presidential candidacy, criticizing U.S. involvement in expensive foreign conflicts, which she and many other veterans argue do not benefit the country. The platform aligns with her record in Congress, where she has advocated for a similar agenda. Her opposition to U.S. involvement in wars abroad led her to meet with Syrian President Bashar al-Assad back in early 2017.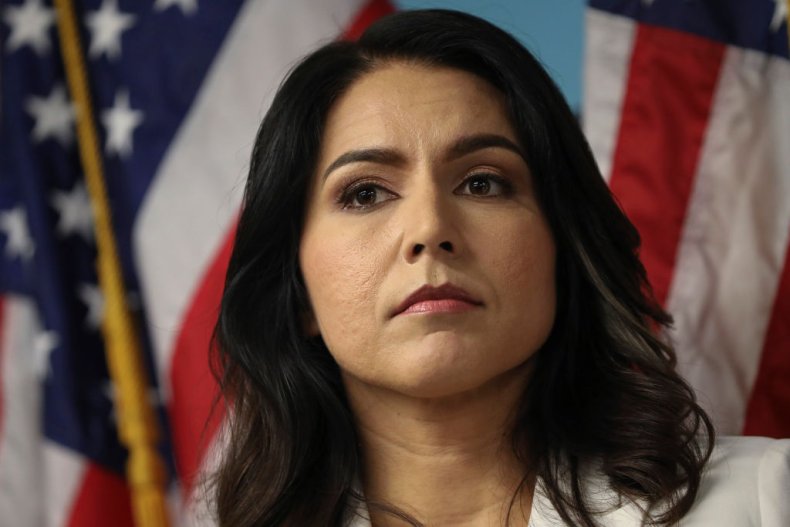 That decision garnered substantial criticism, as Assad is considered a U.S. adversary who is widely viewed as a war criminal, accused of carrying out chemical weapons attacks on his own people. Assad's government is allied with Russia, which has bolstered the Syrian regime in an ongoing civil war in the Middle Eastern nation.
"When the opportunity arose to meet with him, I did so, because I felt it's important that if we profess to truly care about the Syrian people, about their suffering, then we've got to be able to meet with anyone that we need to if there is a possibility that we could achieve peace," Gabbard told CNN shortly after the meeting.
As Behar noted, Gabbard has received positive support from far-right leaders, as well as white nationalists. Richard Spencer, a famous leader of the alt-right movement, tweeted his praise back in 2017, writing: "Tulsi Gabbard 2020." The congresswoman has disavowed support from such individuals and groups however, maintaining that she is campaigning for the best interests of all Americans.
On Wednesday, Gabbard officially qualified for the fifth Democratic primary debate set to take place on November 20. She is one 10 candidates who made the cut.