Tulsi Gabbard vs Mazie Hirono: Hawaii Political Spat Shocks State and Democratic Party
Before announcing her candidacy for the presidency Friday, Representative Tulsi Gabbard of Hawaii criticized fellow Democrats for "weaponizing religion.
In an op-ed in The Hill Tuesday, Gabbard wrote that Democrats had "weaponized religion for their own selfish gain."
The piece was a thinly veiled criticism of party colleague, Senator Mazie Hirono of Hawaii, who had questioned District Court judicial nominee Brian Buescher in hearings over his membership of a Catholic group, Knights of Columbus, and asked about its views on abortion and reproductive rights.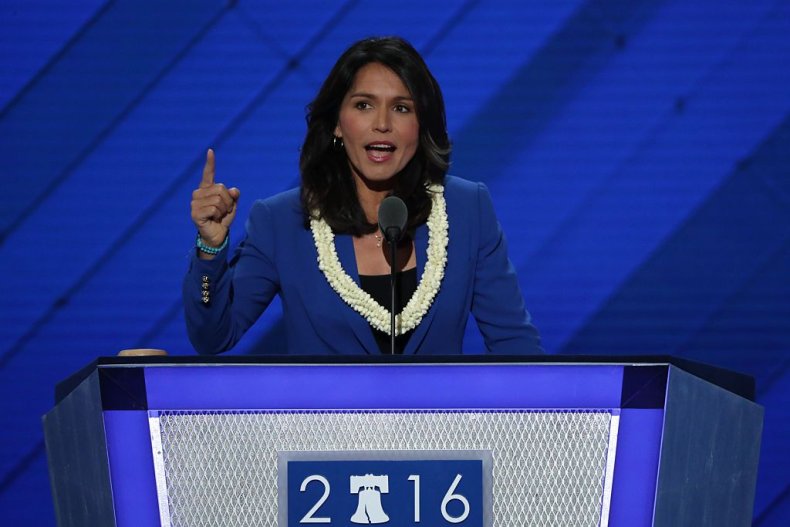 In her op-ed, Gabbard wrote that if "If Buescher is "unqualified" because of his Catholicism," then former President John F. Kennedy, who was also a Catholic, would be "unqualified."
She also criticised Democratic Senator Diane Feinstein of California for her questioning of U.S. Circuit Court nominee Amy Coney Barrett in 2017, and her remark that Barrett's "dogma" was of concern.
"While I absolutely believe in the separation of church and state as a necessity to the health of our nation, no American should be asked to renounce his or her faith or membership in a faith-based, service organization in order to hold public office," she wrote.
Hirono hit back in a statement, accusing Gabbard of echoing right-wing talking points.
"Over the past two years, the Senator has been attacked by right wing ideologues for her examination of Donald Trump's ideologically-driven nominees to the courts. It is unfortunate that Congresswoman Gabbard based her misguided opinion on the far-right wing manipulation of these straightforward questions," Will Dempster, Hirono's spokesman, said in a statement to media outlets.
Hawaii News Now political analyst Colin Moore said that the argument marked a rare division in Hawaii's congressional delegation.
"Congresswoman Gabbard goes so far as to call this a form of religious bigotry, which I think is really shocking. Although she doesn't mention Senator Hirono by name, she's certainly talking about her line of questioning," said Moore. "I think this is quite a shocking break in the delegation."
He went on to speculate that Gabbard—who had been rumored to be mulling a presidential did before formally announcing her candidacy—likely made the comments to distinguish herself from other contenders in what is expected to be a packed field of Democrats vying for the nomination.
Gabbard, 37, is the first Hindu elected to Congress. A veteran of the Iraq war, she supported Senator Bernie Sanders in the race for the 2016 Democratic nomination, who eventually lost out to Hillary Clinton.
The representative is no stranger to controversy, having been criticised by Democrats for meeting with President Donald Trump during the transition after his November 2016 election, and travelling to Syria to meet dictator Bashar al-Assad, and subsequently questioning whether he was responsible for the Khan Sheikhoun chemical attack in 2017.