Tumbleweeds Trap Drivers, Cause Road Closure in Washington State
They called it "tumblegeddon."
On Tuesday, drivers traveling Washington State's SR 240, 20 miles west of West Richland, in the early evening were confronted with an unexpected New Year's Eve surprise: hundreds of tumbleweeds blowing in their direction.
Some drivers were buried under piles of the weeds that reportedly reached 20 to 30 feet high, which ultimately clogged the roadway and closed the highway in both directions. DOT workers were soon out clearing the brush and freeing the five cars and one 18-wheeler semi-truck stuck in the mass of weeds with snow plows, all the while employing the Twitter hashtag #tumblegeddon to track their progress.
"#tumblegeddon After 10 hours of SR 240 being closed last night on New Year's Eve, it was opened around 0430 thanks to @WSDOT_East We still have one abandon car trapped in the tumbleweeds that was found at daylight, luckily no one was in it," tweeted Trooper Chris Thorson, who was on the scene throughout the #tumblegeddon cleanup.
It still took over 10 hours to clear the road, which means workers were stuck clearing brush well past daybreak on New Years' Day, but the road was reopened at 4:30 A.M local time.
No one was hurt during the #tumblegeddon and no accidents were caused, but multiple motorists abandoned their cars in the middle of the highway. DOT workers found one of the cars hours later, as chronicled in the tweet above.
Another driver reported that she'd swerved to avoid the tumbleweed onslaught and landed in a ditch. Buried in tumbleweeds, she was uncovered and managed to get a ride elsewhere, but her car was mired in the weeds for hours as DOT workers moved to free it.
"The plow truck drivers also did a great job of working around abandoned vehicles without hitting them which was a daunting task as they were very hard to see in the thick brush," said troopers, according to KOMO News.
And yes, some of the drivers were stuck celebrating the turning of the new decade in their cars. "People were still stuck at midnight and rung in the new year trapped under the weeds," Trooper Chris Thorson told The Associated Press.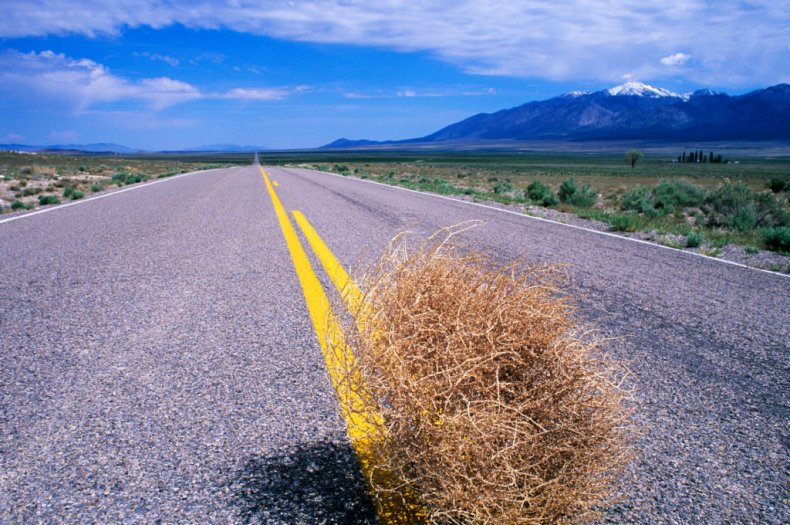 Tumbleweeds are generally considered a nuisance in urban environments, where they can clog roadways. In 2018, the town of Victorville, California was buried in a wave of tumbleweeds caused by high winds. One woman reported that she was trapped in her home for two hours thanks to the weeds.
Tumbleweeds Trap Drivers, Cause Road Closure in Washington State | News