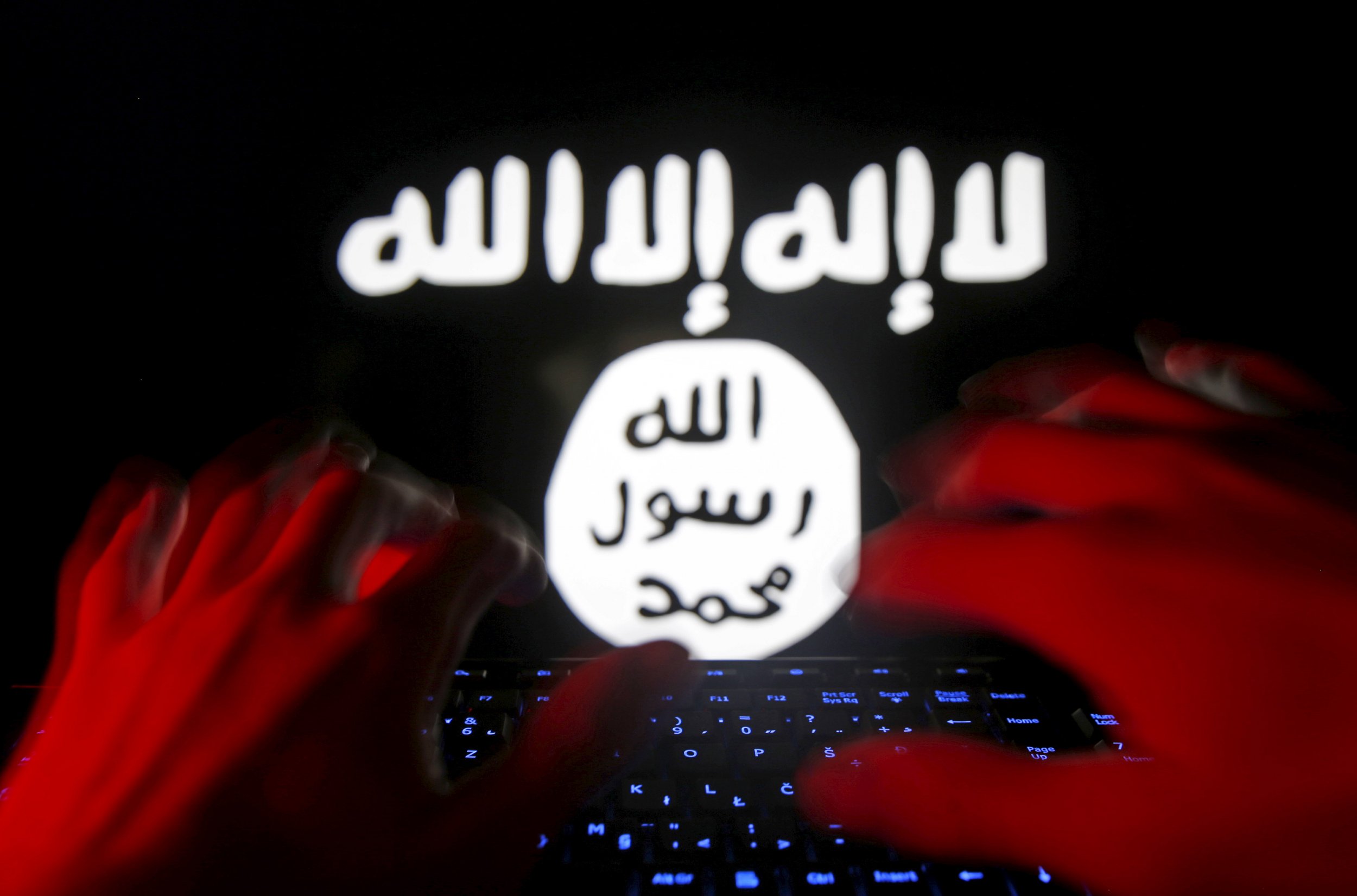 Updated | For several years, pro-Islamic State militant group (ISIS) jihadis have used blogging platform Tumblr to spread their radical Islamist ideology, but the site is now hosting one of the biggest weapons in the militant group's arsenal: its self-appointed news agency, Amaq.
ISIS is advertising the Tumblr page for Amaq on its official website, according to links shared with Newsweek by Jihadoscope, a cyberintelligence company that monitors jihadi activity across the web. The page has been active and sharing ISIS content since August 14 and was live at the time of this writing. Newsweek is withholding the username of the page.
The group has used the news agency since its rise in Iraq and Syria to spread propaganda and push out its latest news, including claims of responsibility for attacks across the Western world and the Middle East, making it the premier jihadi destination for radical Islamist news. It has traditionally published content on the encrypted messaging app Telegram, which has removed Amaq channels, only for them to reappear.
The impact of ISIS's online propaganda cannot be understated. While experts say most of a jihadi's radicalization takes place locally, aided by a mixture of environmental and societal factors, online propaganda can introduce a person to the worldview of that group, or the methods used to conduct an attack and how to carry them out.
But while other platforms have been proactive in removing jihadi content, Tumblr has been "so slow" to take down the news agency's page, says Jihadoscope co-founder Raphael Gluck, that Twitter has already flagged the Tumblr page link as unsafe to share in direct messages or tweets. Newsweek was unable to send the link in a direct message on Twitter and was met by a red warning that said, "Your message could not be sent," corroborating Gluck's assertion.
"The issue here is that Tumblr has zero auto-flagging tools, it seems," he says. "[It] should be able to auto-detect an Amaq image, or gory videos," like Facebook or YouTube.
Tumblr has hosted a variety of jihadi content, including that of a Dutch ISIS fighter of Turkish descent taking questions from readers. Last month, a U.S. court sentenced an Ohio man to 20 years in prison for sharing a GIF on the site that called for attacks on the military in the name of ISIS.
Twitter has been taking down official and pro-ISIS accounts quickly, removing ISIS's latest official page before it could even post its first tweet. Instagram is taking down accounts within hours. But Tumblr is taking weeks to remove ISIS content, allowing radical Islamists to continue to access content from core members of ISIS.
Tumblr acted to take down the pages after Newsweek approached the company about the presence of ISIS material on its platform.
"Neither account in question had been flagged or reported, but we've since taken swift action to remove them both and are investigating whether there are related accounts," a spokesperson for Tumblr told Newsweek in an email.
"Tumblr's Community Guidelines clearly outlines that we do not tolerate malicious speech, including violent threats or statements that 'incite violence, including threatening or promoting terrorism.'"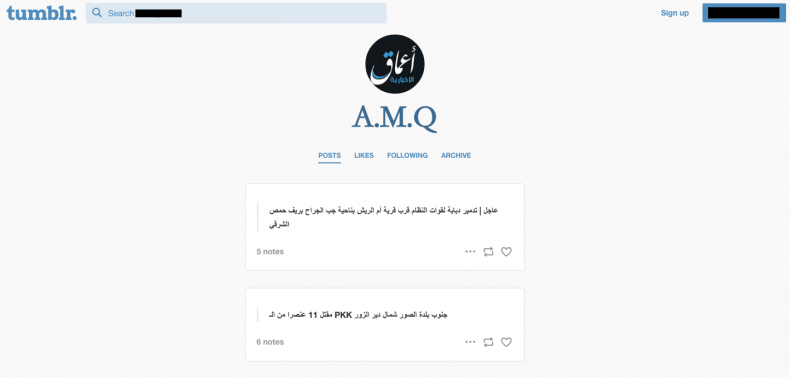 Scores of ISIS fanboys are sharing Amaq's content on their personal pages. One user, who has been active since August 22, has Amaq's logo as the main picture, and the person's first post was an emoji that made comments in Arabic around the updates.
In one, the user uses knife emojis. In another, the user says, "God bless the brothers in Sinai" in regard to the group's news of an explosion that targeted Egyptian security forces in the Sinai Peninsula, and regularly posted "Allahu Akbar" (God is great) in Arabic, alongside Amaq posts.
Tumblr has a history of allowing pro-ISIS accounts not only to proliferate but to remain online for extensive periods. The Dutch jihadi who took questions, Israfil Yilmaz, hosted his Tumblr page for a year before it was deactivated.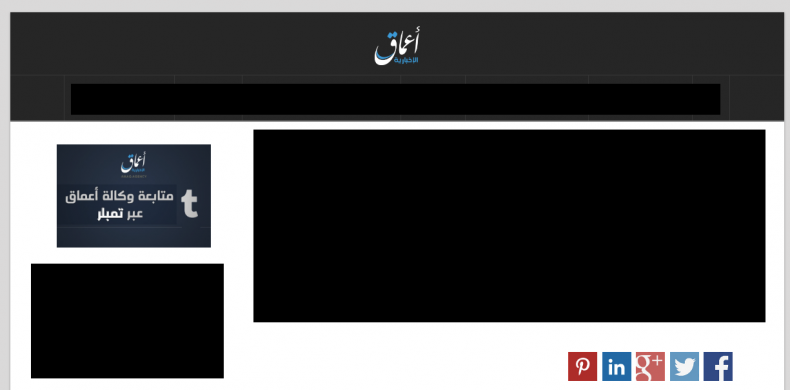 The platform's hosting of Amaq comes at a time when social media companies are under fire from Western governments for allowing jihadi content to spread. Twitter has acted in kind, removing hundreds of thousands of accounts linked to radical Islamist extremism. The social media company publishes a transparency report twice a year. In March, the company announced it suspended almost 377,000 accounts in the second half of 2016 for promoting extremism.
As ISIS continues to suffer battlefield defeats in Iraq and Syria to ground forces backed by the U.S.-led coalition, the group is boosting its propaganda output.
According to Pieter Nanninga, a researcher on jihadi activity at the University of Groningen in the Netherlands, ISIS has published more videos since the beginning of August than in previous months, when it was battling to hold on to Mosul, Iraq, the biggest city it had under its control.
The group published only six official video releases in May, followed by eight in June and another eight in July, for a total of 22. It has already surpassed that number in the six weeks since the beginning of August. It published 21 videos from its official channels in August and had already released 11 propaganda productions by September 14.
While the jihadi news agency continues to operate on Tumblr, the platform may act to bring it down. But, as the group has done before, it will likely morph and present itself elsewhere online, and with platforms and apps, particularly smaller ones, ill-equipped to deal with radical Islamist content on its page, the battle to bring down ISIS content will likely go on.
This story has been updated to reflect Tumblr's response and removal of the ISIS news agency page.