The Radical Self-Interrogation of Tune-Yards' New Album, 'I Can Feel You Creep Into My Private Life'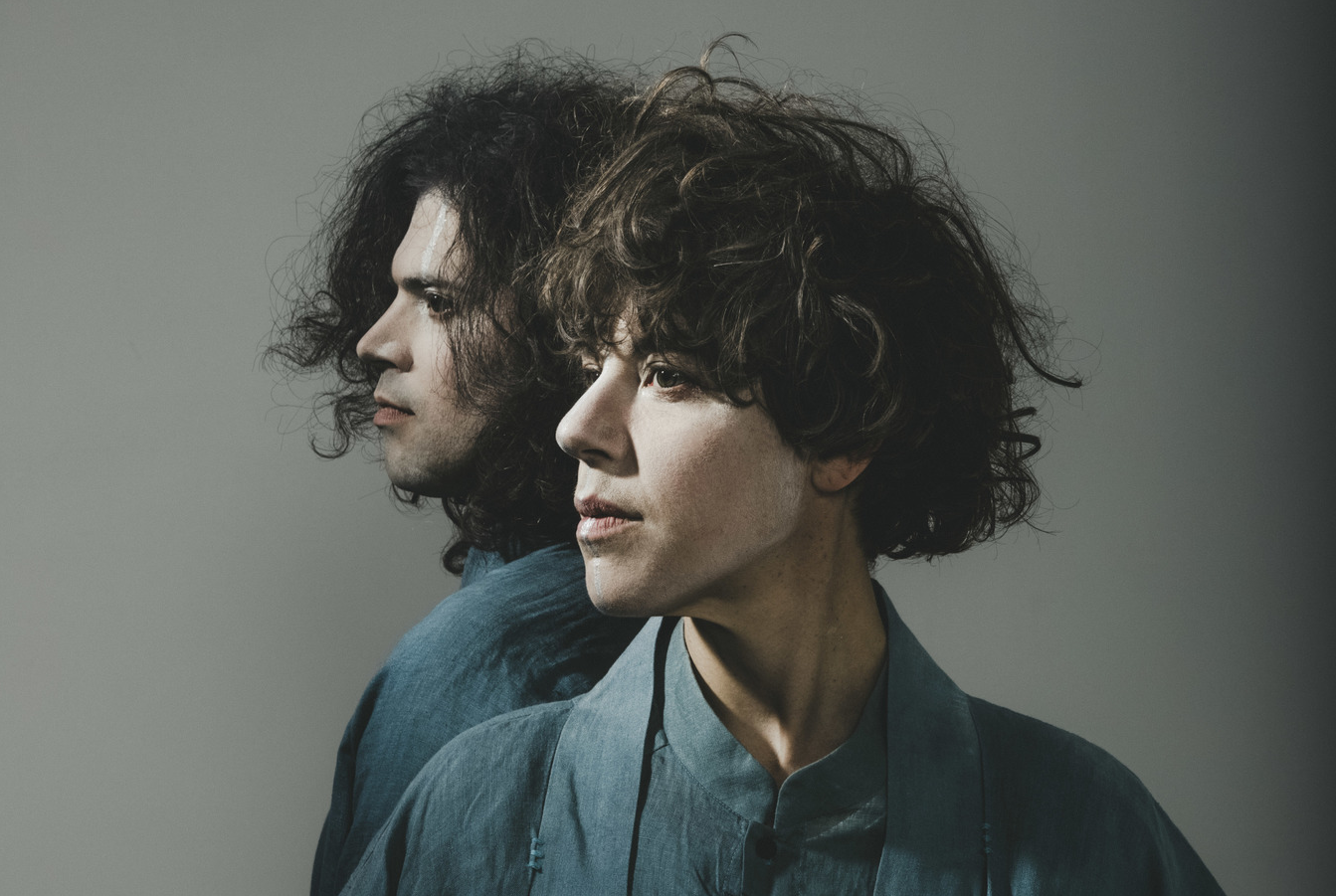 On the night of the 2016 presidential election, Merrill Garbus was DJing.
The singer, best known for her genre-bending musical project Tune-Yards, had spent much of that year learning to DJ. She read Bill Brewster and Frank Broughton's 1999 book Last Night a DJ Saved My Life. She took on a weekly DJ gig at a bar in downtown Oakland, California, near where she lives. Garbus would bring a drum machine with her to the bar to learn how to program and match beats with the records that she was spinning.
And there she was on November 8: spinning records, trying to make people dance, on the night a billionaire demagogue was elected president of the United States. (Trump received less than five percent of the vote in Oakland, a liberal city whose mayor has publicly feuded with the then-candidate.) She was shaken. And scared, though not necessarily for herself. "My first thought was how I was not going to be the one to see the most horrendous impact of this," Garbus, 38, said in a recent interview with Newsweek. Local organizers in Oakland "made it very clear that the first people to be affected were going to be people who didn't have immigration status, people of color, poor people."
This surreal moment of cognitive dissonance—making music while a man who had proposed a ban on Muslims entering the United States was making history—proved prescient. Tune-Yards' new album, I Can Feel You Creep Into my Private Life—written throughout 2016 and the first half of 2017 with longtime collaborator Nate Brenner—has rousing beats and exuberant, chopped up hooks, but it is also suffused with an incisive awareness of what it means to be a person of privilege in Trump's America.
Musically, the material is true to Garbus's frenzied, danceable deconstruction of art-pop, rock, Afrobeat and hip-hop. Lyrically, it is full of timely observations on America's ongoing theater of the bizarre. "My country served me horror coke," Garbus sings on "ABC 123." "My natural freedom up in smoke / My pre-polluted fetus lead us / Into the obscene, I mean."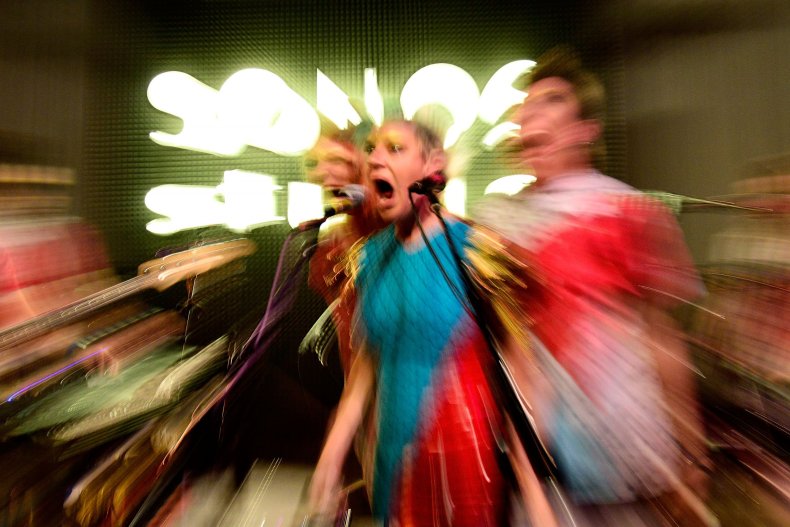 I Can Feel You Creep Into my Private Life is at once funky and probing, a clanging, clattering dance party with an edge of self-interrogation. Garbus's voice ranges from a half-spoken murmur to a sharp yelp, often within the confines of the same song (such as "Now as Then"). (She expanded the dimensions of her voice by taking regular classical voice lessons during the writing of the album.)
Private Life is the fourth Tune-Yards album—and the second since the eclectic and heavily acclaimed w h o k i l l made Garbus an indie-rock household name in 2011. (Among that album's many honors: It is likely the lowest-selling record ever to win the Village Voice's year-end Pazz and Jop poll.) Nikki Nack followed in 2014, around the same time Garbus was playing arenas while opening for Arcade Fire. That touring experience was significant, Garbus said. "They put on an arena rock show every night. They're not hesitant to do that. I feel shy about... I dunno, just going for it, Grammy-style."
What distinguishes this new record from the flurry of protest music that has emerged since Trump took office is its self-awareness: Private Life is rife with reflections on whiteness and privilege, interrogating the singer's own position as a white woman in a racist country. Countless songwriters have used Trump's rise as an opportunity to peer outward at oppression and injustice. Far fewer have turned inward to critique their own power dynamics.
"I was doing a lot of investigation of my own internalized racism, my own privilege—you know, looking at whiteness as a concept," Garbus said. These subjects were not easy to confront. "It feels painful to voice that, particularly in front of friends of color. To really own one's racism feels truly awful." In 2017, though, it also felt necessary.
The best and most striking song, for instance, is titled "Colonizer." The lyrics contain constant references to the singer's own "white woman's voice" ("I use my white woman's voice to interpret my travels with African men / I turn on my white woman's voice to contextualize acts of my white women friends"), set against a thrilling cacophony of samples and beats that rise in intensity as the song proceeds. Garbus cried a lot while making this song. It was inspired by an experience in which she was telling friends a story about a trip to Kenya and noticed that her voice was changing depending on whom she was talking to. "I think a lot of people assume I'm commenting on another white woman or that it's ironic or sarcastic, but it's actually just true."
Garbus's self-interrogation had an academic component as well. After Trump's election, she took a six-month workshop on whiteness at East Bay Meditation Center in Oakland. She read books like White Like Me by the activist Tim Wise and thought extensively about white supremacy culture.
The workshop met twice a month, sometimes for entire days at a time. "It was based in Buddhist tradition, so there was a lot of study about the Buddhist principles, which I still feel like I know just the surface of," Garbus said. "We spent a lot of time meditating, too, and sitting with our reactions to how the violence of white supremacy shows itself in our society."
Related: Deerhoof shares the story behind every song on their protest-heavy new album
Among the most impactful things the singer read during the course was Radical Dharma, a recent text by authors Angel Kyodo Williams, Lama Rod Owens and Jasmine Syedullah. "A lot of it is dialogue that took place between three Buddhist practitioners of color," Garbus said. "And it's really, really powerful. That was, for me, the entryway into anti-racist work that is completely personal." This revelation culminates with the album's final track, "Free," in which Garbus repeatedly belts the words: "Don't tell me I'm free!" "I'm saying, I am affected," the singer explained in an NPR breakdown of the album. "I'm asking, how does it injure me to be living in white supremacy?"
What political message does Garbus hope listeners will take away from the record?
"I don't know," she answered. "I have so many more questions. It's not a time for a Pollyanna-ish 'Don't worry, guys, if we all get together, we'll be fine.'"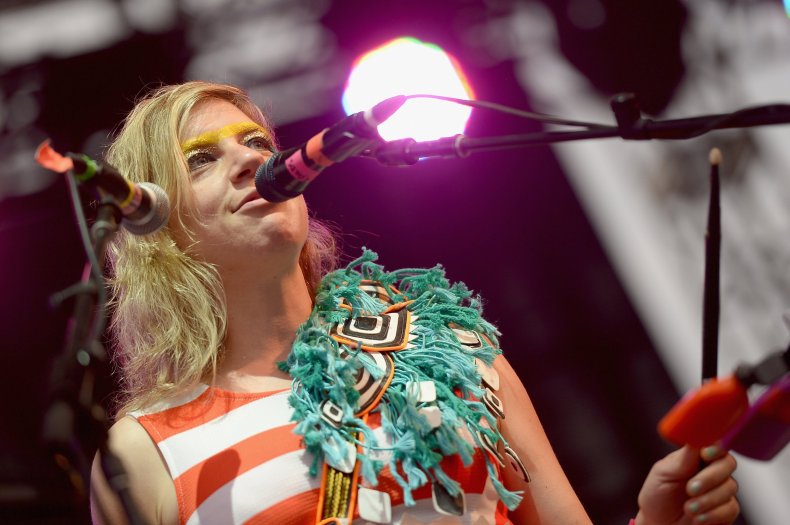 What hasn't changed in the seven years since Tune-Yards rose to prominence is that critics still can't figure out how the hell to classify the band (and is it even a band?). Bird-Brains, the group's 2009 debut, was subjected to an impressive array of tongue-twisting genre assignations: "no-fi pop-folk," "bedroom-murk methodology," "exotic yet homespun pop," "lo-fi so lo-fi it's subterranean," "something akin to field recordings from everywhere." (One critic half-joked that it was "another record to add to the 'Where are HMV going to file it?' list.")
Garbus takes it as a compliment.
"I adore it," she said of writers struggling to label her music. "I love it. There's not a particular genre I grew up in, either. I started playing music in Montreal, during the post-Arcade Fire boom of indie-rock bands. I think I very quickly tired of the limitations of that genre."
What genre would she like people to use when describing Tune-Yards?
"I think it's as impossible a question as, like, what kind of person are you?" Garbus answered. "How do you categorize yourself? Am I white? Am I Jewish? Am I Appalachian? It's just really funny, trying to think about it. So I try not to."