In January, following the Tunisian revolution's tenth anniversary, riots took place across the country. Protesters marched against inequality, corruption and police brutality, despite a COVID-19 curfew.
The rioters were mostly teenagers aged 14-17, according to Khaled Hayouni, interior ministry spokesperson. They clashed with the police, who used tear gas to disperse them. In Tunisia, 15-24-year-olds represent 12.9 percent of the population.
According to human rights groups at least 1,000 people were arrested during six nights of riots. The Tunisian government reported arresting 670 people. The contrast in figures highlights the lack of transparency in the so-called Arab democracy.
The Tunisian League for Human rights (LTDH) stated that those who didn't participate in the riots were arrested arbitrarily and taken by force from their homes. Activists who showed support for the protests on social media were arrested and risk six years imprisonment.
Such was the case of 23-year-old Ahmed Ghram, a Tunisian activist and a human rights league member. He was arrested for "encouraging civil disobedience," following a post he wrote on Facebook saying: "When you steal because you're hungry and poor, they accuse you of being a criminal. When you steal the people's money for years and deprive the poor of their rights, you become a successful businessman, supported by bootlickers."
Fortunately, Ghram was released in late January. His case ended in acquittal.
The treatment in detention centers isn't ideal according to the LTDH's report on the riot arrests. The organization deplored "the serious abuses carried out against minors, who were undressed and threatened of rape," as a means to get confessions. Among the 126 arrested minors, 37 were released and others were sentenced to up to four years in prison.
These police practices remind me of former Tunisian President Zine El Abidine Ben Ali's era of police terror from when I was a child. Although I was too young to remember it well, I recall how adults around me would suddenly change their demeanor whenever they came close to a police car or station.
I'll never forget how uncomfortable they felt whenever a police officer would stop them for a random check. January's violent events brought back the police brutality trauma and made me concerned about my future as a young Tunisian, in a regime that's becoming increasingly more authoritarian.
February 6 marked the eighth anniversary of Chokri Belaid's murder, a leftist politician who was popular in his life. Tunisians viewed him as being honest and humble, attributes lacking most politicians. His political assassination made him a symbol of fairness and integrity in the eyes of the people.
While Belaid's family, along with others, gather every year to demand justice for the late politician on the anniversary of his murder, the protests this year were different.
Aside from commemorating Belaid's death, civil society and activists took this occasion to protest against police brutality. Tunis' center, the symbolic place of the 2011 Jasmine Revolution, has always been the favored place for protests.
Expecting a large rally to take place in advance, an aggressive police presence in downtown Tunis was present. Police were ordered in advance by Prime Minister Hichem Mechichi, who is also the minister of interior. He dismissed the previous PM Taoufik Charfeddine in early January.
The security forces blocked roads, shutting down a large part of Tunis' center. According to Reuters, police deployed cordons, stopped cars and checked people who wanted to access Avenue Habib Bourguiba, a symbolic street of the 2011 revolution.
Activists on social media reported that security forces prohibited young people and those who "look leftist" from going to the city center. Despite the exaggerated police presence which aimed to intimidate and scare off protesters, thousands gathered on the Place des Droits de l'Homme near the Ministry of the Interior and marched until the Avenue Habib Bourguiba.
Backed up by the General Tunisian Union of Work (UGTT), one of the most powerful political organizations in Tunisia, the demonstrators demanded the fall of the regime and an end to police brutality. Protesters reported being brutalized by the security forces. Lawyers complained of assault and pictures posted on social media showed the police beating Abdennaceur Aouini, a Tunisian lawyer.
On Twitter, some media outlets stated that police blocked people from taking pictures and covering the event. Reading these statements made me question the ability of Tunisia to provide a conducive environment for my career.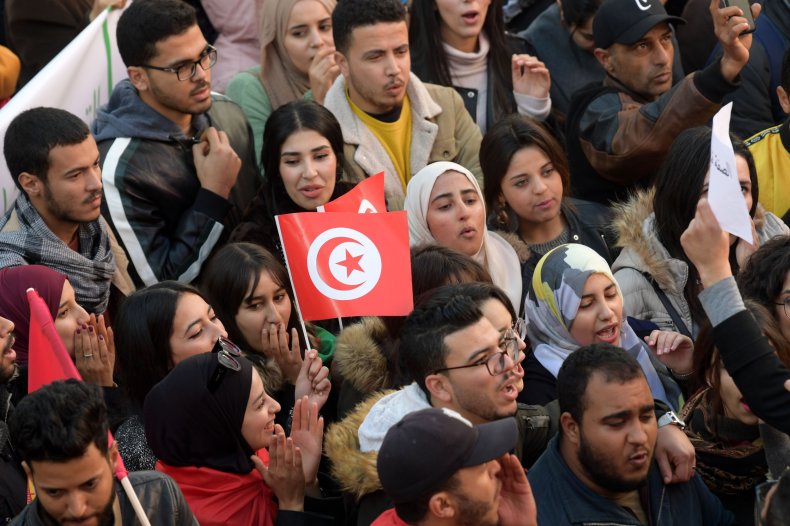 Seeing slogans and people's demands, it made it seem like the Jasmine Revolution was happening again, however, there were some differences this time.
Along with the equality and regime change slogans, the LGBTQ flag was raised with the support of the queer community. Coming out of the closet is a bold move since Tunisian law punishes homosexuality with three years of imprisonment.
During 2011's revolution, Generation X mostly took the lead. Ten years later, it's the Millennials' turn along with people from my generation, Generation Z, to lead a second revolution.
As someone who was raised during the first decade of the revolution with the internet, people like me viewed human rights progress in Western countries from afar. Tunisians realized that the 2011 revolution wasn't enough. People still need their basic human rights.
Minorities like the queer community have been marginalized. They couldn't benefit from the social gains brought by the Jasmine Revolution.
On social media, many Tunisians denigrated young protesters with homophobic insults and accusations of having an agenda and conspiring with foreign lobbies.
Rania Amdouni, a prominent Tunisian feminist and queer activist, raised the LGBTQ flag and was body-shammed on a private Tunisian radio station.
This homophobic bullying outraged many activists who expressed their indignation and full support of Amdouni, who was present during rallies for equality and justice.
She was harassed on social media by police unions. Members of the security forces consider her and those who participated in the February protests to be enemies of the state.
On February 27, Amdouni went to the police station to complain about the online harassment and denigration she suffered and was arrested for offending standards of public decency, which is a classical pretext police use to falsely accuse someone of a crime. Civil society and activists protested this, demanding her release.
Throughout Tunisia's history, the police have been instrumentalized. Under Tunisia's first President Habib Bourguiba and then under Ben Ali, security forces served the interests of dictators at the expense of the people.
After the 2011 Jasmine Revolution, tactics changed progressively and now the government uses propaganda to influence the police, pitting them against activists accused of sowing chaos.
Ten years after the revolution, police brutality didn't disappear but its motives have changed. Now, security agents believe they act out on patriotism and the defense of the nation. This new frame of mind frightens me because it oppresses my freedom of speech as a young journalist and impedes my advocacy work through journalism.
Today is a critical period on all sides for Tunisia. We are witnessing the establishment of a new police regime, arguably one that is more dangerous than what was present during Ben Ali's rule.
As a young Tunisian woman raised with the principles of the revolution, I'm not willing to give up the gains of the last 10 years.
For me and many young people, we need a second revolution—a more inclusive one that will hopefully provide the equality and justice we've been seeking since the last decade.
Tharwa Boulifi is a 19-year-old Tunisian freelancer. She writes in four languages (Arabic, French, English and Spanish) about feminism, Arab and African womens' rights, culture and LGBTQ+ rights. She has written for more than 12 magazines including Teen Vogue, Ms. Magazine, Herizons and The New Arab. You can follow her on Twitter : @TharwaBoulifi
The views expressed in this article are the writer's own.