Tunnelvision? Bears QB Trubisky Wants TV Sets Turned Off Inside Team Training Facility Because of Negativity
Chicago Bears quarterback Mitch Trubisky doesn't need people telling him when he's had a bad day. He's had plenty, and his stats speak for themselves. And so does mounting losses by his team.
The Bears have a 3-5 record and sit in last place in the NFC North, a division they won just last year. The team trains at Halas Hall, which has flatscreen TVs throughout the facility. Some of the screens in Halas Hall have schedules displayed on them, some have motivational sayings and some have playbook information.
Newsweek subscription offers >
Other TVs air sports TV programs from ESPN and the league-owned NFL Network that aren't so kumbaya for the team. Listening to the outside noise has Trubisky wanting to shut off the TVs inside Halas Hall, according to the Chicago Sun-Times.
"Trying to get some of these TVs in the building turned off," Trubisky said before practice on Wednesday. "Because you've got too many people talking on TV about us and what they think about us—what we should do, what we are and what we're not—but they don't really know who we are. Or what we're capable of as people. Or what we're going through. Or what we're thinking.
"It's just the outside viewers looking in."
What the outside viewers are saying is also backed up by stats, especially at quarterback. Here are some of Trubisky's numbers and rankings, and team numbers in general, in the National Football League:
Newsweek subscription offers >
Trubisky ranks 31st in the NFL with 173.9 yards a game
Trubisky has an 80.0 passer rating, 29th in the league
Trubisky has just five touchdowns with three interceptions in seven games
The Bears have not won a game since September
The Bears have a 2.6 percent chance of making the playoffs, per the Sun-Times
Trubisky told the media Wednesday he personally believes he has done a good job of shutting out the outside noise and preparing for the next game.
"So, tunnel vision, ear muffs," Trubisky said. "And just come to work everyday and try to get better and get back to what we know we're capable of doing."
Wide receiver Taylor Gabriel said he does not pay attention to the TV sets inside Halas Hall, and that he has tried blocking all outside noise.
"Now you've made me want to go walk around and see if something's on the TV," Gabriel said. "Me personally? Stay off your phone. Stay off social media," he said. "But at the same time that's hard to do. Because nowadays everyone's on social media. It's just being focused and playing through that."
Gabriel is a six-year pro in his second season with the Bears. He was drafted by the Cleveland Browns in 2014 and played two seasons there before going to the Atlanta Falcons, where he was part of a prolific receiving corps that won the NFC in 2016 and made the Super Bowl.
He said drowning out the extra noise is part of being a professional.
"That's our job. People are going to have their opinion on everything. It's just overcoming," Gabriel said.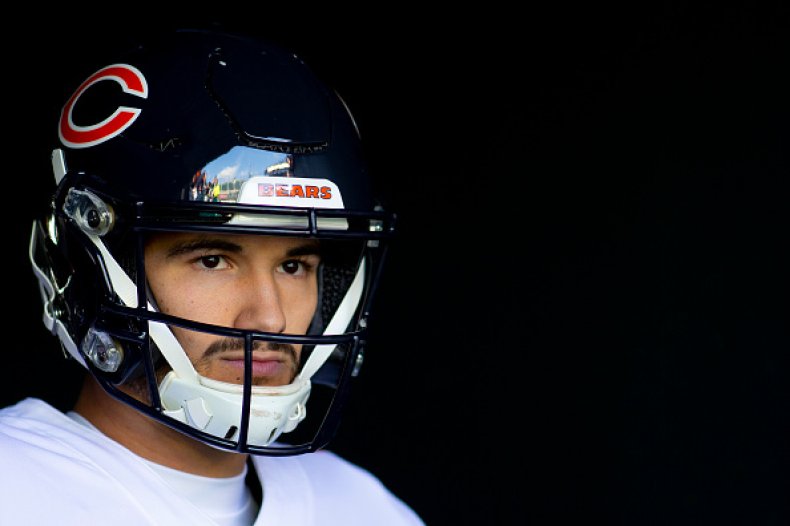 Tunnelvision? Bears QB Trubisky Wants TV Sets Turned Off Inside Team Training Facility Because of Negativity | Sports