Man Named Tupac Shakur Arrested for Aggravated Assault, Possession of Meth
A man named Tupac A. Shakur was arrested on Saturday in Johnson City, Tennessee, on charges including aggravated assault and possession of methamphetamine.
The suspect shares the exact same name as famous rapper Tupac Shakur—who also went by 2Pac—including the same middle initial. The "California Love" rapper's full name was Tupac Amaru Shakur.
Johnson City Police Department booked Shakur, 40, on several charges, including resisting arrest and unlawful drug paraphanaelia, according to a statement released by the department.
Johnson City police tracked down Shakur after receiving a tip that a person with active warrants against them from Carter County Sheriff's Department was at 2215 E Unaka Avenue. Police observed Shakur travel by vehicle and later stopped him at 1908 E Unaka Avenue.
According to Johnson City Police Department, officers tried to detain Shakur but he broke free and then attempted to wave a knife, located in his waistband, at the officers. Shakur was "taken to the ground" after a brief struggle and placed in custody.
The arresting officers found a syringe and multiple bags of meth in Shakur's possession.
The suspect was placed under arrest and taken to Washington County Detention Center, where he is being held on a $18,000 bond.
Shakur is expected to be arraigned Monday at 1:30 p.m.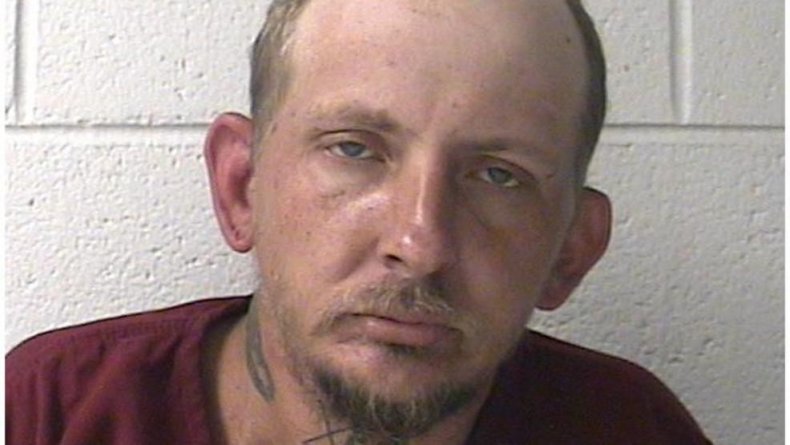 The arrested Shakur's namesake Tupac Shakur was a best-selling rapper in the 1990s, with hit songs including "Changes," "Hit Em Up" and "All Eyez on Me."
Also known as 2Pac and Makaveli, Shakur scored five No. 1 albums on the Billboard 200, three of which he achieved posthumously.
Shakur died from respiratory failure and cardiopulmonary arrest in September 1993, several days after he was shot multiple times in a drive-by shooting in Las Vegas.
Last month, police in Galesburg, Illinois, announced they were looking for a man who looked eerily like Breaking Bad's Walter White on charges including violating his parole from earlier methamphetamine possession charges.
Todd W. Barrick Jr.'s mugshot went viral when it was shared by Galesburg police on Facebook because of his uncanny similarity to meth-dealing Walter White, a.k.a. Heisenberg, played by Bryan Cranston in the hit AMC drama.
"Have you tried Albuquerque? Perhaps at los pollos hermanos," commented one person on the Facebook page, referring to Breaking Bad's New Mexico setting.
Another said, "Brian Cranston is looking rough."
"Well, I guess we have a spoiler for the Breaking Bad movie..." said another comment, referring to the recently released Netflix movie El Camino, events of which take place after Breaking Bad.