Tupelo, Mississippi, Tornado Photos and Videos Show Devastation After 'Life-Threatening' Storm Tears Through Town
Photos and videos show the devastation left behind by a "large and extremely dangerous" tornado in Tupelo, Mississippi, late Sunday night.
Residents woke up Monday to damaged buildings and downed power lines and trees after a tornado touched ground in Tupelo at about 9:30 p.m. local time.
The National Weather Service (NWS) warned people to take cover in what it called "a life-threatening situation," and those in Tupelo, 23 miles from Calhoun City where the tornado first struck, were told to shelter immediately as the tornado rolled through.
"At 9:52 p.m. CDT, a confirmed large and destructive tornado was observed over Tupelo, moving northeast at 45 mph. TORNADO EMERGENCY for Tupelo. This is a PARTICULARLY DANGEROUS SITUATION. TAKE COVER NOW," the NWS warned on Twitter.
Pictures shared on social media showed homes and buildings missing roofs that had been blown away by the storm, as well as streets covered in debris.
The NWS will assess the damaged areas on Monday to determine the number of confirmed tornadoes that passed through central Mississippi. Nearly 10,000 state residents were under a tornado emergency Sunday night. At least 19 tornadoes were reported across the state overnight.
"Damage has been reported in the City of Tupelo. Emergency crews are currently assessing the degree of damage," the city's mayor's office wrote on Facebook late Sunday. "Please do not get out and drive. It is dangerous—there are reports that power lines are down in the roads. We will update you as soon as we know the extent of damage."
The city immediately opened a number of storm shelters across 11 locations.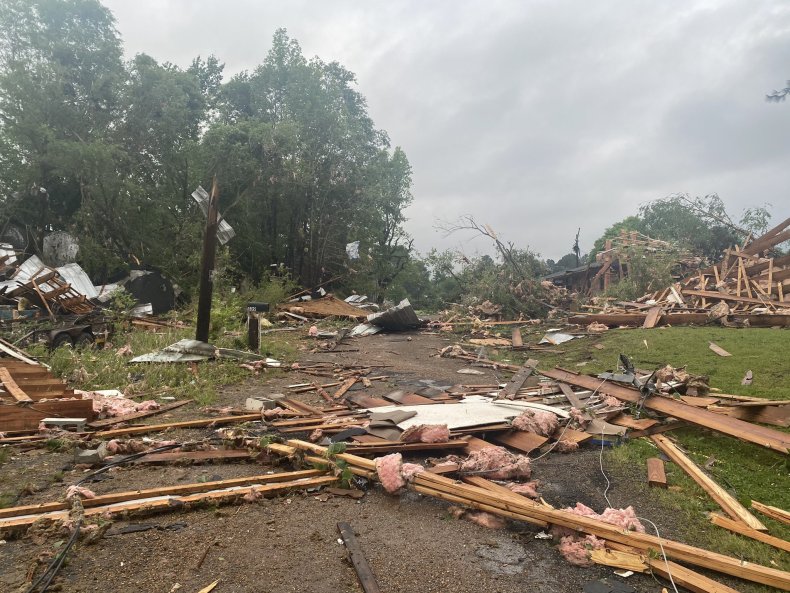 Calhoun County Sheriff Greg Pollan told NBC News that several people were trapped in their homes by the tornado but said first responders were able to extricate them and there were no reports of injuries.
"The town of Calhoun City was hit hard tonight. Light poles have been snapped off. Trees in a few homes. Trees on vehicles. Damage to several businesses. Fortunately we have had no reports at this time of injuries," Pollan wrote in a Facebook post.
The storm continued through to Itawamba County and Tishomingo County and then into Alabama after passing Tupelo, though there were no confirmed reports of a tornado touching down in those areas.
On Monday morning, NWS Memphis said, "Strong storms will continue to move east across north Mississippi and southwest Tennessee early this morning. Gusty winds are the primary concern."
Forecasters are urging residents to remain vigilant, as they anticipate more severe weather through Tuesday.
"Once again we will keep an eye to the sky overnight as strong to severe storms are expected to move through the forecast area late tonight and again on Tuesday," NWS warned. "Stay weather aware tonight, and have multiple ways to receive warnings."
NWS told Newsweek it is expecting its survey to be completed later today. Once two of its teams investigate the damage, it will issue a preliminary report on the path, width, length and strength of Sunday's storms.